Read Time:
6 Minute, 9 Second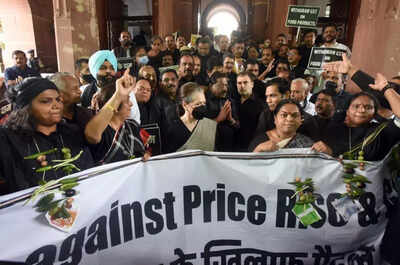 NEW DELHI: Hours after announcing that democracy is dead and what remains of it in India is only a memory, Congress leaders Rahul Gandhi, sister Priyanka Gandhi Vadra and a galaxy of party MPs including Congress president Sonia Gandhi hit the streets on Friday to protest "rising prices and growing unemployment," and to demand a roll-back of GST rates.
Rahul launched a terse attack on the BJP government, drawing parallels between the Modi dispensation and Hitler's regime, saying that the German autocrat also won elections, like Modi, on the strength of his iron grip over all institutions.
"Hitler also came to power after winning elections. How did he win elections? He won because every institution in Germany was under his control. He had the SA paramilitary force as well as control over the entire infrastructure. You give me the entire neutral institutional framework, then I will show you how elections are won," Rahul said, shortly before leading Congress' 'Black march' against price rise from the AICC headquarters and Parliament.
The Congress leader claimed India, built brick-by-brick over the past century, was being dismantled by the current dispensation and the opposition, and anyone else who dared to call this out was being systematically targeted by different institutions now under the control of the BJP and RSS.
"Today, RSS and BJP have financial and institutional monopoly as a result of which the opposition, though it is fighting, is not being able to make an impact," he said, adding that the Gandhi family represents and fights for an ideology and the idea of India.
"When the UPA was in power, the battle was fought between two or three parties, but the infrastructure was not weaponised like it is today.The whole of India knows it. Anybody who stands against this idea of the onset of dictatorship, doesn't matter who he is, where he comes from, which state, which religion, male-female, he is viciously attacked, put in jail, arrested, beaten up," Rahul said.
He also said he was not afraid and, in fact, drew satisfaction from being "persecuted" by the BJP-RSS for his unrelenting criticism of their ways. This, Rahul said, was not only because BJP and RSS are grossly afraid of him speaking the truth, but also because they know that ground realities are starkly different from the perception the government tries to build.
"The idea is that people's issues – price rise, unemployment, violence in society – must not be raised. That is the sole agenda of the government…. My job is to resist the idea of the RSS, and I am going to do it. The more I do it, the more I will be attacked, the harder I will be attacked. I am happy, attack me. Democracy is now a memory in India, it is nothing more and there are consequences to this. You will see, there are going to be devastating consequences to this, because the people of India are not just going to keep quiet," Rahul said.
The former Congress chief also rubbished Finance Minister Nirmala Sitharaman's claims that price rise is not a problem and said he did not think she has "any understanding of what is going on in the Indian economy".
"I think the macroeconomic fundamentals she is talking about is something else. She is there as a mouthpiece. She has absolutely no understanding. Else we would not be in a situation where the entire job creation system of India has been destroyed and small and medium businesses have been wiped out. We have a GST which is a disaster. Please go and ask any state and they will tell you this. We have the highest unemployment in the country. Price are rising across the board and the finance minister is saying there is no problem," Rahul said.
Shortly after his address to the media, Congress leaders, dressed in black to protest being denied permission to raise issues on the floor of both Houses of Parliament began their protest in the Parliament House premises. Party president Sonia Gandhi joined the gathering in raising slogans and marched with Rahul and 64 MPs to the Parliament gates. The group, sans Sonia, then walked to Vijay chowk where they were detained by Delhi Police while attempting to march up the Raisina Hill.
Another Congress contingent, led by Priyanka, attempted to march from the Congress headquarters to ring fence the Prime Minister's residence. Youth Congress workers and Priyanka squared off with Delhi Police personnel and dramatic scene unfolded, with visuals showing Congress leader Priyanka Gandhi Vadra being pushed down into a vehicle by the Delhi Police.
The Delhi Police, however, clarified that Congress was warned against protesting at various sites on account of the prohibitory orders in place ahead of August 15, Independence Day preparations. Delhi Police also alleged that many personnel were "obstructed from performing their duties, manhandled and injured", charges countered by the Congress workers, including Priyanka, who accused the police personnel of highhandedness.
"Again today, Congress MPs denied democratic right to protest against price rise, unemployment and GST. Bundled into police vans at Vijay Chowk. It's clear, only those who are afraid try to instill fear!", Congress communications chief Jairam Ramesh later said on Twitter.
Ramesh also said the announcement of the Kanyakumari-to-Kashmir 'Bharat Jodo Yatra' had rattled the ruling party, leading to the "Dhamki-jeevi (habitual threat givers)" to intensify his "toxic politics of vendetta" and intimidation against the Congress and its leadership.
FOLLOW US ON SOCIAL MEDIA
FacebookTwitterInstagramKOO APPYOUTUBE
For more news update stay with actp news

Android App

Facebook

Twitter

Dailyhunt

Share Chat

Telegram

Koo App