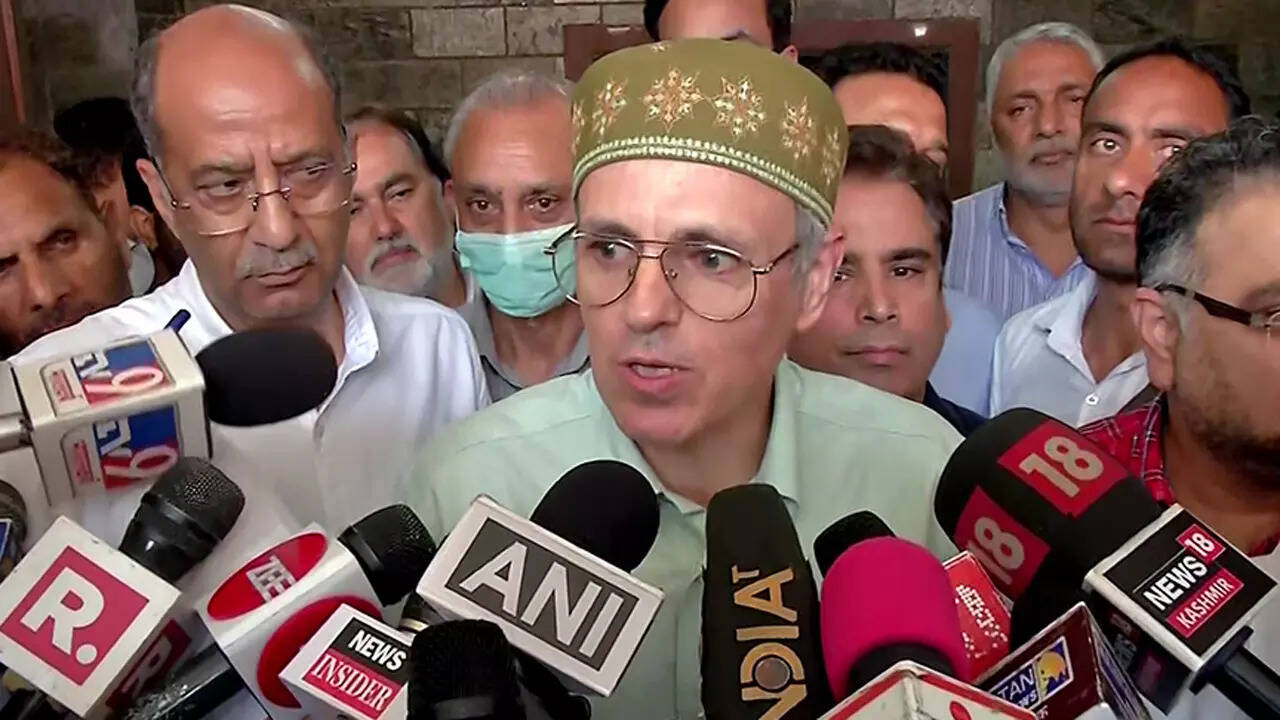 SRINAGAR: Accusing successive governments at the Centre of weakening the National Conference (NC), Omar Abdullah on Wednesday said abrogating Article 370 would not have been impossible if his party had not been weakened.
The NC vice-president made these comments while addressing a special meeting of the party's north zone functionaries at Drang Tangmarg, in Baramulla district of north Kashmir.
"It is a bitter truth that August 5, 2019 would not have been possible if National Conference had not been weakened," Abdullah said.
The Centre abrogated Article 370 of the Constitution – which gave special status to J&K – on August 5, 2019. The Centre also divided the erstwhile state into two Union Territories of J&K and Ladakh.
"When did the people of Delhi not try to weaken the NC? From 1953 until today, they have been continuously trying to find its way to destroy it," Abdullah said.
Despite millions of efforts and conspiracies, the NC and the symbol of the plough (party's symbol) continues to remain embedded in the hearts of the people here, he added.
The former chief minister said it is "unfortunate that the communication between the government and the people is nowhere to be seen" in Jammu and Kashmir.
"Decisions are being taken without getting the real stakeholders on board. Whether it is regarding ration, installation of smart meters, increase in electricity tariffs, or employment avenues, there is a crisis everywhere. The current rulers are only busy in pomp and shoddy PRs. Ground situation is contrary to what is being claimed," he said.
Abdullah alleged crores of rupees were wasted to "show off" in the name of G20 event which was held here last month.
"Where is the development? Where are those lakhs of jobs? Crores (of rupees) were wasted to show off in the name of G20, it is not a hidden matter. One day, a commission will be set up on this and it will be known who is responsible for wasting the public money. No sooner had the G20 guests left, all the underway works on projects were left midway," he said.
On the delay in conducting the assembly elections in Jammu and Kashmir, Abdullah questioned that "when the situation in the valley was apt for G20, why not assembly elections?"
"When it (the situation) is favourable for DDC, panchayat, local body and parliamentary elections, why not legislative assembly elections? In reality, it's the BJP which is finding the situation unfavourable for them. They know that an electoral rout is awaiting them, therefore, assembly elections are not being held here. They are hiding behind the Election Commission," he alleged.