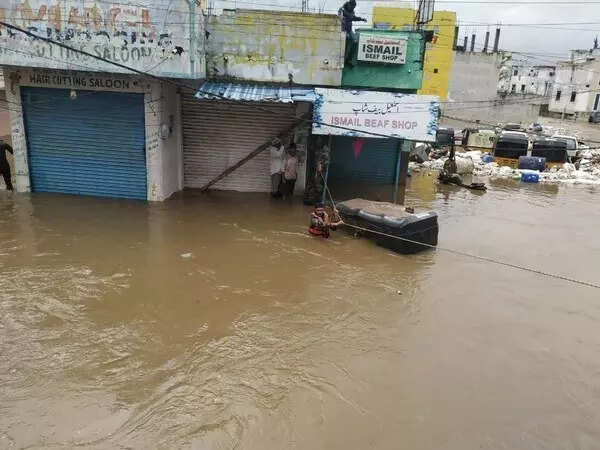 JAIPUR: Rajasthan chief minister Ashok Gehlot on Tuesday conducted an aerial survey of Jalore, Sirohi and Barmer districts that have been severely hit by the recent rains in the state and took stock of the situation.
The chief minister reached Chauhtan area in Barmer this afternoon as a part of a two-day tour of the rain-affected areas and said those affected would be given compensation as per norms.
Due to "heavy" to "extremely heavy" rainfall in Jalore, Sirohi, Barmer, Pali and nearby areas on Saturday and Sunday, a flood-like situation occurred and normal life was thrown out of gear.
As many as seven persons died in different rain-related incidents in the state while many areas in these districts were submerged in rainwater.
The rains occurred due to the impact of cyclone 'Biparjoy' that entered Rajasthan from Gujarat in the form of "depression".
After conducting an aerial survey of Barmer, Gehlot told reporters that the situation is being monitored.
"We had already made preparations so that no matter what kind of calamity comes, the people do not get hurt," he said.
Gehlot said the administration has already shifted 15,000 to 17,000 people in the affected districts to safer places. As a precaution, two columns of the Army were called.
"The district administration is surveying the damage caused to livestock and houses as per the rules of SDRF. The affected will be compensated," he said.
Gehlot said that a large number of electric poles have been uprooted due to the rains, and 2,000 power transformers besides many roads have also been damaged.
The chief minister was scheduled to go to Bundi, Kota and Jhalawar today for reviewing inflation relief camps but he cancelled the visit and reached Barmer, Sirohi and Jalore districts
Gehlot will review the situation in Pali and Jodhpur districts on Wednesday.
According to the Meteorological Department, the area of low pressure is currently formed over north-eastern Rajasthan and adjoining the Uttar Pradesh region.
Ajmer, Bhilwara, Dhaulpur, Baran, Chittorgarh, Bundi, Sawaimadhopur, and Karauli districts have recorded "heavy" to "very heavy" rainfall in the last 24 hours ending at 8.30 am on Tuesday.
During this period, Dholpur recorded a maximum of 188 mm of rainfall followed by 149 mm in Ajmer.
Several areas in Dholpur and Ajmer faced water logging. The Ana Sagar lake in Ajmer was overflowing and water reached colonies in its surrounding areas.
Today there is a possibility of "heavy" to "very heavy" rain at some places in Bharatpur, Dhaulpur, and Karauli districts and heavy rains at some places in Sawai Madhopur, Kota, Baran, and Bundi districts.
A Met official said that there will be a depletion in heavy rains from June 21, whereas, from June 24 to 25, there is a possibility of an increase in rain activities once again in east Rajasthan.