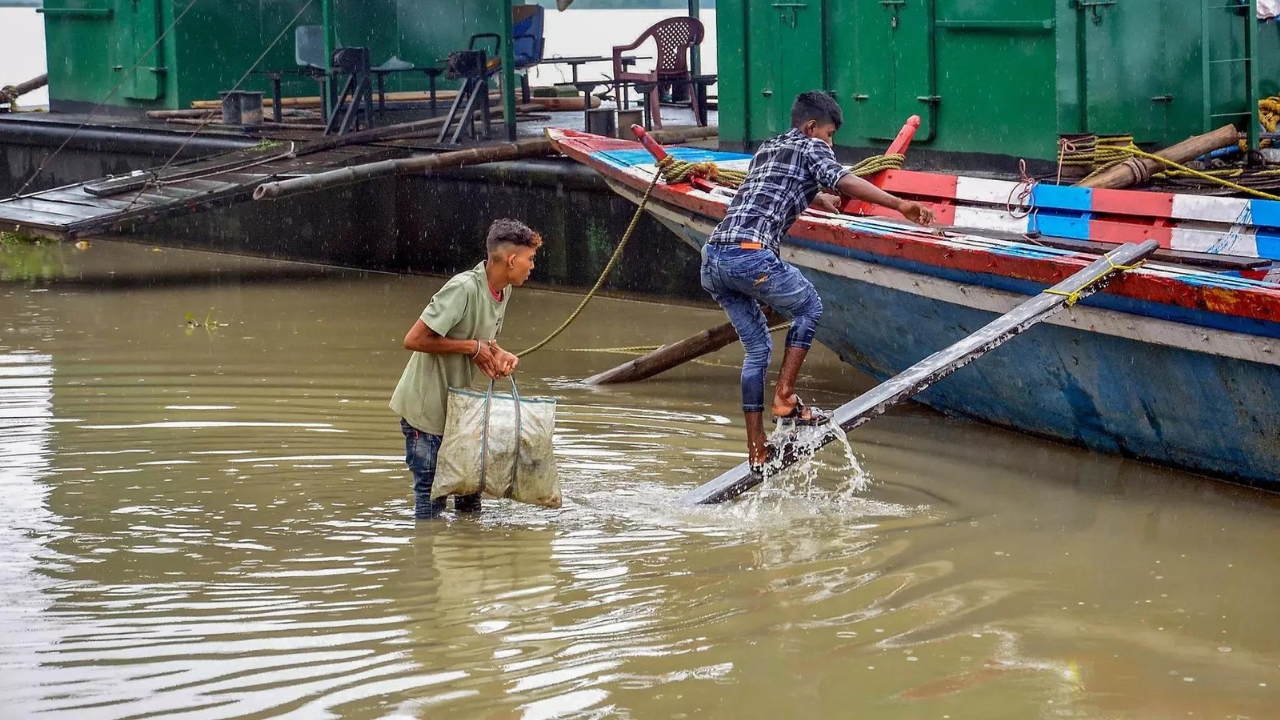 GUWAHATI: The India Meteorological Department on Sunday issued a 'red' alert, predicting very heavy rainfall across several districts of Assam in the next five days. The warning comes at a time when Assam is witnessing the first wave of flood this year due to incessant rain across the state in the last few days.
In a special weather bulletin, IMD's Regional Meteorological Centre in Guwahati issued the 'red' alert for Sunday and Monday with prediction of "heavy (7-11 cm in 24 hours) to very heavy (11-20 cm in 24 hrs) with extremely heavy rainfall (over 20 cm in 24 hours)" in lower Assam districts of Kokrajhar, Chirang, Baksa, Barpeta and Bongaigaon.
During the same period, "heavy to very heavy" rainfall is likely in Dhubri, Kamrup, Kamrup Metropolitan, Nalbari, Dima Hasao, Cachar, Goalpara and Karimganj districts, it added.
The RMC has issued an 'orange' alert for Tuesday, and a 'yellow' warning for the subsequent two days.
'Red' alert signifies taking immediate action, while the 'orange' warning implies to be prepared for action and the 'yellow' one stands for watch and be updated.
"Moisture incursion is very likely to continue due to strong low-level Southerly/Southwesterly winds from the Bay of Bengal to Northeast India during the next five days.
"Under its influence, fairly widespread rainfall activity with heavy to very heavy with extremely heavy rainfall/thunderstorm with lightning is very likely to continue over Assam during the next five days," RMC said in the bulletin.
It also said temporary disruption of traffic due to water logging in roads, and uprooting of trees are likely to happen.
The uprooting of trees may cause power supply disruption.
"Heavy rainfall may damage the standing crops and vegetables in the maturity stage. Lightning may injure people and cattle in open places," the report said, adding that flash floods and landslides are also likely to occur in many areas.
The bulletin also said that there is a likelihood of moderate flash floods over a few watersheds and neighbourhoods of Assam and Meghalaya.
According to an Assam State Disaster Management Authority (ASDMA) report, 37,535 people in 10 districts of the state have been affected by the flood till Saturday.