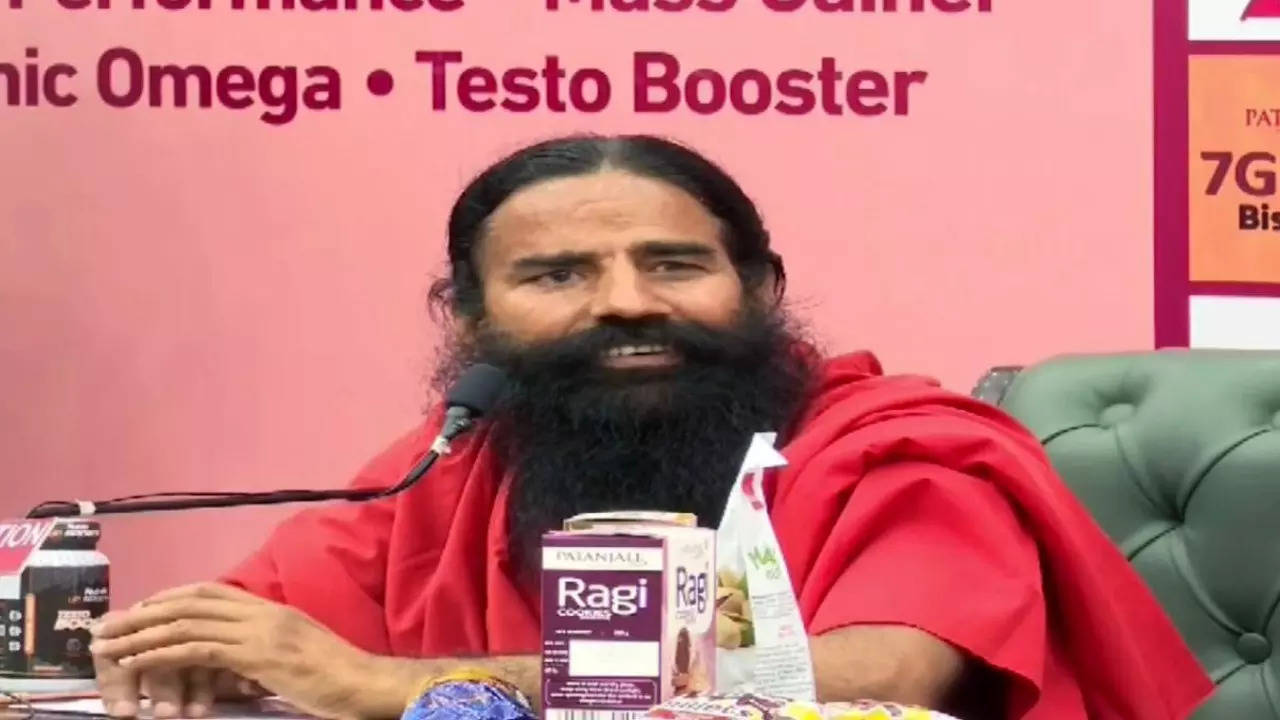 Yoga guru
Baba Ramdev
was in Delhi on Friday to launch new products as part of his Patanjali group's expansion plans. He spoke to
Kumar Shakti Shekhar
on a number of social, political and religious issues which are currently making headlines. Edited excerpts.
How do you find India's current general socio-political atmosphere?
A country progresses due to its inherent nature. Political influence affects 5-10% of the people. It is another matter that when a major election or important incident takes place, then it is surely discussed. But our country is moving forward with the help of its original character. About 10 crore people are excelling in their respective fields. Slowly and gradually, more people will get involved in it. Gradually, India will have 20-30 crore extremely innovative, creative and productive people. In the next 20-25 years, the country will be capable of leading the world based on the efforts and courage of these very people.
Like the ruling BJP leaders, do you also believe that some people are going abroad and are trying to malign India's image? Do you think the situation in the country is disturbed?
Some people exaggerate things to further and fan their political, religious and ideological interests. They target the country to fulfil their own selfish interests. This is not the proper thing to do.
This is what the BJP leaders accuse Congress leader
Rahul Gandhi
of doing during his ongoing visit to the US and to the UK in the past.
I do not want to comment on any individual. You go to any village, lanes, bylanes or fields. Where do you find a non-conducive atmosphere? I tell you, 80-90% of the people are busy with their work. The whole country does not get stigmatised by the words and deeds of a handful of people.
Do you agree with Rahul Gandhi and other senior Congress leaders that the
Narendra Modi
government has captured the constitutional bodies and institutions and that democracy is under threat in India?
Whichever government comes, it will prepare an atmosphere conducive to itself. It will use its powers to run the government and teach a lesson to its opponents. This is the way the world functions. India is the largest democracy in the world while the US is the oldest democracy where one finds deep-rooted democratic institutions and traditions. However, the ruling party arranges the judiciary, bureaucracy and political machinery according to itself. This is an indivisible part of the political system. The ruling party will function according to its own comfort and try to weaken its opponents.
Do you support the raids on opponents by the federal agencies such as ED, CBI and I-T?
I am neither justifying nor criticising the actions of these agencies. There is a thought process of polity throughout the world. The political parties behave accordingly. Issues are created in politics. Nothing different is happening in India. The situation is worse in China, Russia and several countries in Europe. There is no democracy in the Middle-East. There is monarchy. No one can speak a word against the government. Singapore is a lovely country. I went there and asked about the prevalent situation. They said you can do whatever you like except talking about politics. You cannot talk about politics in Singapore. But there is no dictatorship in Singapore.
Do you believe that Indian politics has got sharply divided on religious lines since 2014 and when the whole narrative revolves around
Hindus
and
Muslims
?
When was this rift between Hindus and Muslims not present in India? It has been going on since the rule of Babur, Akbar and Aurangzeb. This will go on. But this should not lead to communal riots. This is not happening and should not happen either. Otherwise, political polarisation keeps happening. In fact, the situation was worse during the reign of Babur, Akbar and Aurangzeb. How many Muslims did they bring along with them from outside? Very few. They misused their political powers to convert Hindus. This was the biggest cause.
What do you have to say about conversion?
Conversion is not a good thing. In any civilised society, you should change your thoughts, change your life and raise the standard of your living. This is understandable. But converting people by means of deceit, force, conspiracy or through political agenda is wrong.
What is your opinion about so-called
love jihad
?
I will say just one thing about religion – Swa-dharm nishtha, par-dharm sahishnuta. Sabke prati udaarta aur apne dharm mein 100% dhridhta. (Allegiance towards one's own religion, tolerance for other religions. Generosity for all but 100% firmness for one's own religion.) Everyone should follow this. No one should peep in others' houses.
Muslims are being chased away from Uttarakhand due to alleged love-jihad. How do you see this?
In Uttarakhand, an individual cannot buy land more than 250 square metres. So, how did these people settle down there? Secondly, people are migrating from the hills. Why are these people settling down there? Someone should ask them. There is no grain of truth in the allegations that they are being driven away from Uttarakhand.
Is love-jihad happening in Uttarakhand?
Love-jihad is happening at places throughout the country. It is a fact. The love-jihadis are defaming Islam, Muslims and the whole community. The Muslims should oppose love-jihad because I am told there is nothing called love-jihad in Islam. Changing their name, wearing the sacred thread on their wrist, cheating a girl and marrying her and then telling her that if she did not convert to Islam, she would be cut into 50 pieces and fed to the dogs. This is the peak of brutality.
Are you in favour of the central government legislating an anti-conversion law?
There should indeed be an anti-conversion law in the country. Why are they converting girls by luring, scaring and marrying them? Let them be as they are.
What do you have to say about
Uniform Civil Code
?
Common Civil Code is a basic requirement of a democratic structure. The Indian Constitution allows people to follow the faith of their choice. It is a matter of an individual life. Otherwise, the country should run according to one law and one constitution. This is no subject of controversy. No civilised country in the world has two laws.
Do you support the ban imposed by the Modi government on the Popular Front of India (PFI) and its affiliates in the light of revelations through their literature that they were planning to turn India into an
Islamic state
by 2047?
Yes, of course. PFI is a herd of intellectual, political, ideological and religious people afflicted with the disease of spreading terror. There are some people who love doing this.
Which party has an edge in the 2024 Lok Sabha general election?
Struggle, preparation and efforts should be made from both sides in a democracy. These make a contest interesting. Both sides are preparing well. But the opposition is facing a crisis of not having a face and character like Modi ji at the moment.
Do you foresee a united opposition in the 2024 Lok Sabha election?
The opposition is scared a lot. Darta kya nahin karta. (A scared person can do anything.) They are surely craving to do something.
Do you support the wrestlers who are demanding action against former Wrestling Federation of India (WFI) president Brij Bhushan Sharan Singh for alleged sexual misconduct?
Several developments have taken place and I have spoken what I had to. I have adopted a 'no comment' over the issue because nothing is getting known.
Will this agitation impact the Haryana assembly election due next year?
There is a lot of time for that at the moment. Anything which I say at this juncture will be rash.
You were a part of India Against Corruption (IAC) along with Anna Hazare and Delhi chief minister and Aam Aadmi Party (AAP) convener
Arvind Kejriwal
. What do you have to say about the performance of the Delhi government?
No comments. There are some issues which I do not want to speak about. I have an opinion but everything is not said on several occasions.
What brought you to Delhi?
We have launched new products in biscuits, confectionery, sports nutrition and premium dry fruits. Our main job is to build the nation through building a person. We have taken up this task. Our basic role in character building and nation building is to take the country forward from an economic perspective. Character building based on education system and sustainable health based on yoga, Ayurveda and traditional system. We have undertaken brand building through Patanjali.