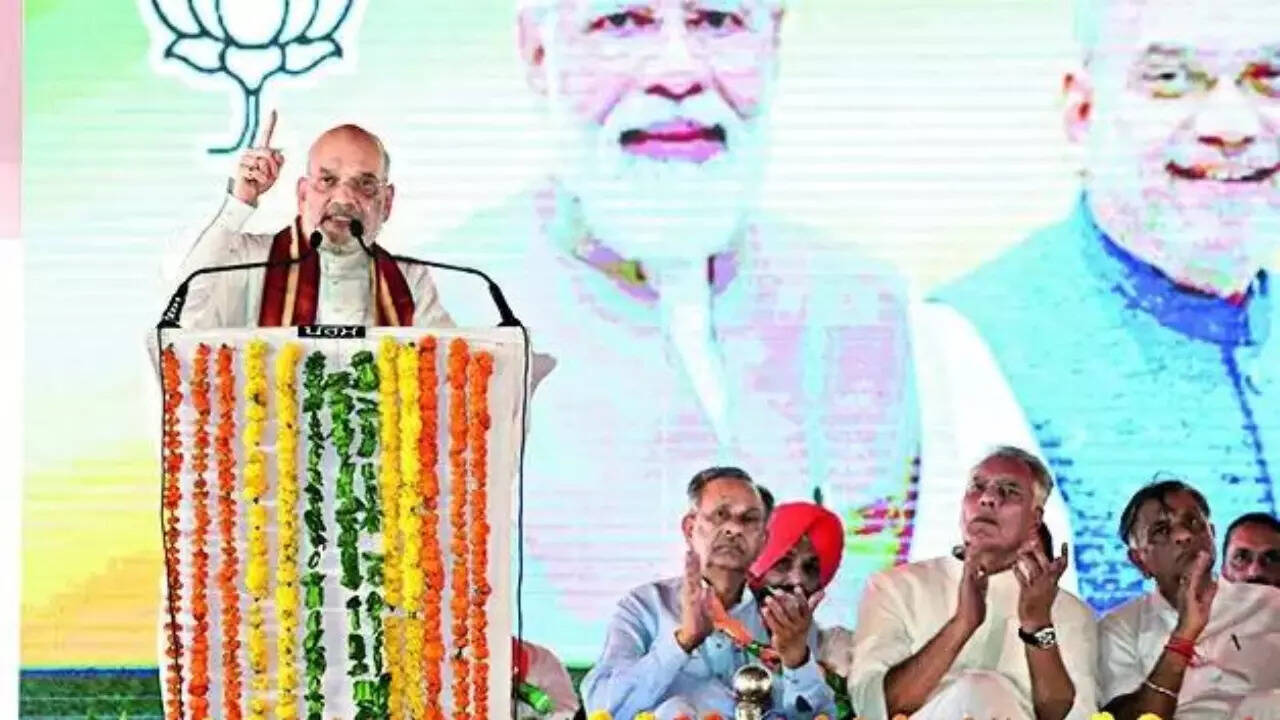 GURDASPUR/SIRSA: Union home minister Amit Shah on Sunday in Gurdaspur asked if Punjab CM Bhagwant Mann was more AAP chief Arvind Kejriwal's "pilot" than custodian of a state beset with problems.
Flagging law and order issues and the narcotics menace in Punjab, Shah said these challenges would remain unaddressed as long as Mann tagged along with Delhi CM Kejriwal on "political expeditions" across the country, alluding to AAP's campaign for support from non-BJP parties against the controversial central ordinance on control of administrative services in Delhi.
"It is disheartening to see him (Mann) giving his undivided attention to ferrying Kejriwal across the country, be it Bengal, Chennai or Kolkata, leaving law and order in Punjab to deteriorate further," Shah said in Gurdaspur.
He said BJP was more concerned than the AAP government about the threat from drugs, announcing an office of the NCB in Amritsar.
Shah said the state's security had been repeatedly compromised, with the drug menace multiplying. Shah also listed the "unfulfilled promises" of the AAP government, including Rs 1,000 a month to every adult woman, and recovery of Rs 20,000 crore from the illegal mining lobby. "Only Rs 125 crore has been recovered," he said.
He said the Modi-led government at the Centre was working constantly for Punjab, pointing to the construction of the Kartarpur Corridor, justice for victims of the 1984 anti-Sikh riots, granting FCRA clearance to the Golden Temple, ensuring the safe return of the "saroop" of Guru Granth Sahib from war-torn Afghanistan, and trimming the blacklist of individuals from Punjab to two from 314.
Meanwhile, in Haryana's Sirsa, Shah termed the erstwhile Congress government led by ex-CM Bhupinder Singh Hooda "a 3D government of darbari, damaad (alluding to Sonia Gandhi's son-in-law Robert Vadra) and dealer". "Unlike Hooda, who was the CM of Rohtak, (Manohar Lal) Khattar is truly the CM of entire Haryana," he said.
Shah's double-barrel dose targeting AAP in Punjab and Congress in Haryana may have set the tone for next year's LS battle, complimented by his hustle for BJP with a focus on local issues.