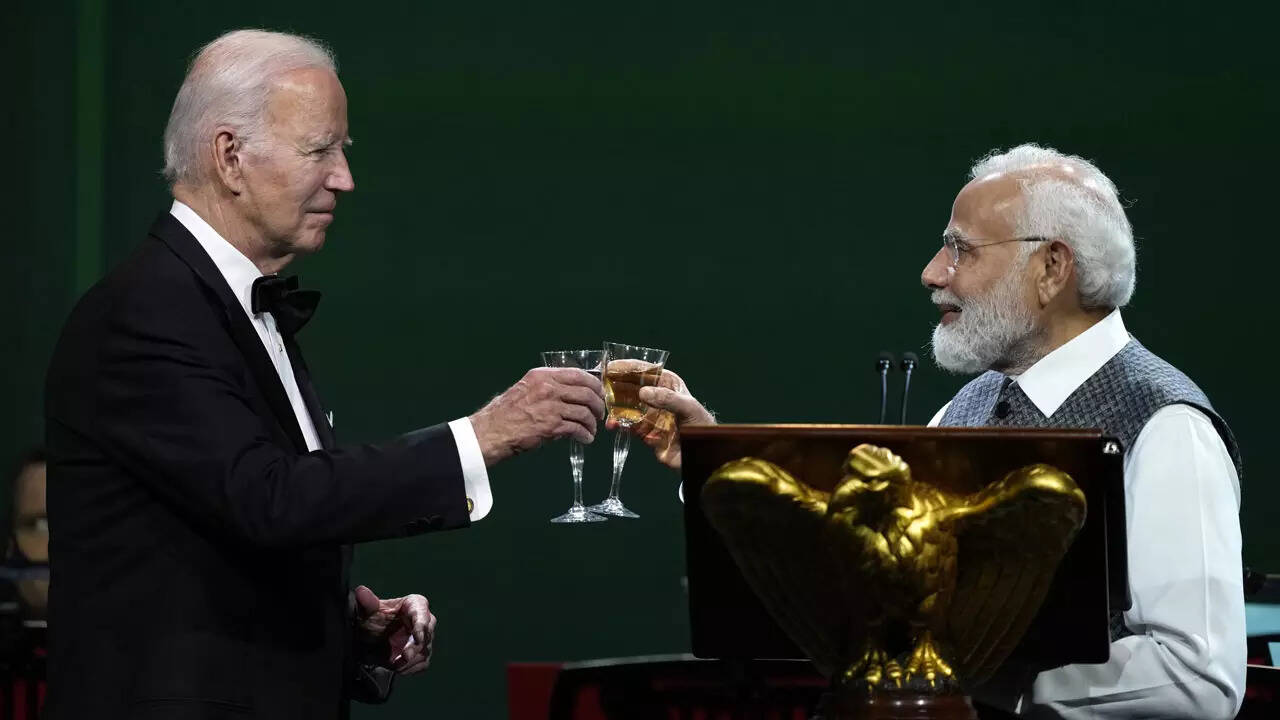 NEW DELHI: With a flurry of deals and mega announcements, Prime Minister Narendra Modi's historic visit to US has yielded fruitful results for both the countries looking to take their relationship to the next level.
Besides captivating millions at home and in America with his speeches in the US Congress and outside the White House, PM Modi held several high-profile meetings which concluded with both sides making mega announcements in the areas of defence, trade, space, solar power and visas.
Here are the 10 key announcements that emerged from India-US talks during PM Modi's visit …
Visas
The Biden administration said it will make it easier for Indians to live and work in the United States.
The State Department could announce as soon as Thursday that a small number of Indians and other foreign workers on H-1B visas will be able to renew those visas in the US without having to travel abroad, one source said, part of a pilot programme that could be expanded in coming years.
New consulates
The two sides will also open new consulates in both countries on a reciprocal basis to enhance people-to-people ties and travel.
The United States intends to open two new consulates in Bengaluru and Ahmedabad. India is opening a new consulate in Seattle this year and will soon announce two more consulates in US.
GE-HAL deal
The aerospace unit of General Electric on Thursday announced it had signed an agreement with India's state-owned Hindustan Aeronautics to jointly make engines in India to power fighter jets, specifically Tejas, for the Indian Air Force.
The deal, called "historic" and "trailblazing" by officials, is considered the most significant of the number of agreements inked between the two countries.
The GE-HAL deal to co-produce F414 engines in India requires US government and legislative approvals.
It is not known yet how much of the technology behind the F414 that GE will share with HAL, and if that includes sensitive technology that deals with managing very high engine temperatures.
The first F414 engines are expected to be delivered from US over the next three years while HAL sets up a production facility for it in India.
Drones
The defence ministry has approved the procurement of armed MQ-9B SeaGuardian drones, sources told Reuters earlier this month. India will buy 31 drones made by General Atomics worth slightly over $3 billion.
The MQ-9Bs will be assembled in India, a joint statement said, and US manufacturer General Atomics will also establish new facility in India.
The proposed acquisition of the high­altitude, long­endurance drones — 15 SeaGuardians for Navy and eight SkyGuardians each for Army and IAF — under the US government's foreign military sales (FMS) programme will eventually have to be cleared by the Indian Cabinet Committee on Security (CCS) before the final contract is inked.
Micron's huge investment in Gujarat
US memory chip firm Micron Technology said on Thursday it
would invest up to $825 million
in a new chip assembly and test plant in Gujarat, its first factory in India.
Micron said that with support from the central government and from the state of Gujarat, the total investment in the plant will be $2.75 billion. Of that, 50% will come from the Centre and 20% from the state of Gujarat.
US semiconductor toolmaker Applied Materials will invest $400 million over four years in a new engineering center in India, the company said on Thursday.
Trade
United States Trade Representative Katherine Tai said the two nations have agreed to terminate six outstanding disputes at the World Trade Organization.
India also agreed to remove retaliatory tariffs, which it had imposed in response to the US Section 232 national security measures on steel and aluminum, on US products, including chickpeas and apples.
Critical minerals
India joined the Minerals Security Partnership (MSP), a US-led partnership to create critical energy minerals supply chains. India will join 12 other partner countries, plus the European Union.
India's Epsilon Carbon Limited will invest $650 million in a greenfield electric vehicle battery component factory, hiring over 500 employees over the course of five years.
Solar power investment
A new venture backed by Indian solar panel maker Vikram Solar Ltd (VIKO.NS) said on Thursday it will invest up to $1.5 billion in the US solar energy supply chain, beginning with a factory in Colorado next year.
The newly formed company, VSK Energy LLC, will aid the US push to build a clean energy manufacturing sector to compete with China.
Space
The two countries also announced a framework for human spaceflight this year and a mission to the International Space Station in 2024, following India's decision to join the US-led Artemis Accord.
Advanced computing
India and US established a Joint Indo-US Quantum Coordination Mechanism to facilitate joint research between the public and private sectors across both countries.
They have also signed a new implementation arrangement on artificial intelligence advanced wireless and quantum technologies.
(With inputs from Reuters)