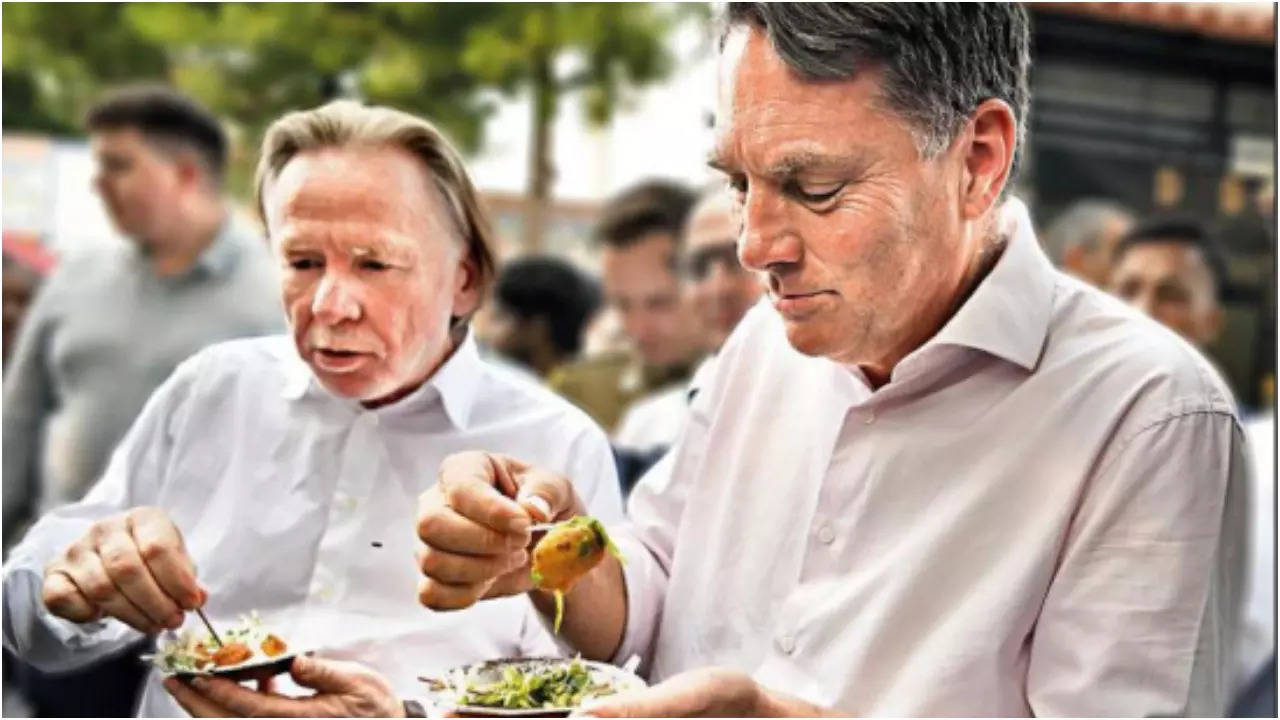 NEW DELHI: India and Australia held the second edition of their two-plus-two ministerial dialogue with foreign minister S Jaishankar and defence minister Rajnath Singh discussing ways with their counterparts, Penny Wong and Richard Marles, respectively, to strengthen defence and security partnership, boost trade and investment ties and to enhance Indo-Pacific cooperation amid Chinese assertiveness.
With China's expansionist muscle-flexing in the Indo-Pacific figuring on their radars, the two countries decided to further crank up their overall bilateral defence-strategic ties, including cooperation in information exchange, maritime domain awareness and niche areas like AI, cyber, anti-submarine and anti-drone warfare.
Australian deputy PM and defence minister Richard Marles stressed that China was "the biggest security anxiety" for both India and his country, while also being their largest trading partner.
Sources said India also shared its deep concerns about China's salami-slicing tactics on its land borders as well as expanding naval forays into the Indian Ocean Region (IOR), even as Beijing also strong-arms its smaller neighbours in the South China and East China Seas as well as the Taiwan Strait.
Singh, on his part, said there is "consensus" that "a strong India-Australia partnership augurs well for the overall peace, security and prosperity of the Indo-Pacific region".
India and Australia in recent years have been steadily stepping-up their bilateral defence ties, junking inhibitions of the past to replicate New Delhi's upward trajectory for long with the other two Quad countries, the US and Japan.
"It's hard to overstate how important we regard India and our relationship with India in a difficult world, particularly in the IOR… We are neighbours. We have a deep strategic alignment. But more importantly, we have shared traditions of democracy, the rule of law, freedom of speech and heritage, including cricket," Marles said.
"We see the defence relationship as critical to the bilateral partnership. We see our relationship with India right up there, among one of the most important relationships that we have in the world," he added.
While emphasising that the armed forces of the two countries should enhance cooperation in niche training areas like AI, cyber, anti-submarine and anti-drone warfare, Singh said shipbuilding, ship repair and aircraft MRO (maintenance, repair and overhaul) could also be potential areas of collaboration.
"Australia operates common platforms like P-8 maritime patrol aircraft and MH-60 'Romeo' helicopters. Australian warships transiting the IOR can also avail MRO facilities in India," the official said.
Watch: Australia deputy PM Richard Marles uses UPI payments
"India has hosted the most fantastic tournament": Australian deputy PM Richard Marles hails India for promoting cricket
India and Australia already have a mutual logistics support arrangement (MLSA), which was inked in June 2020 and provides for refuelling and berthing facilities for each other's warships and aircraft. India has such reciprocal military logistics pacts with the US and Japan as well as other countries like France, South Korea and Singapore.
On Monday, the two ministers agreed that deepening cooperation in defence industry and research would also give a fillip to the already strong relationship, while they also discussed cooperation for joint research in underwater technologies.