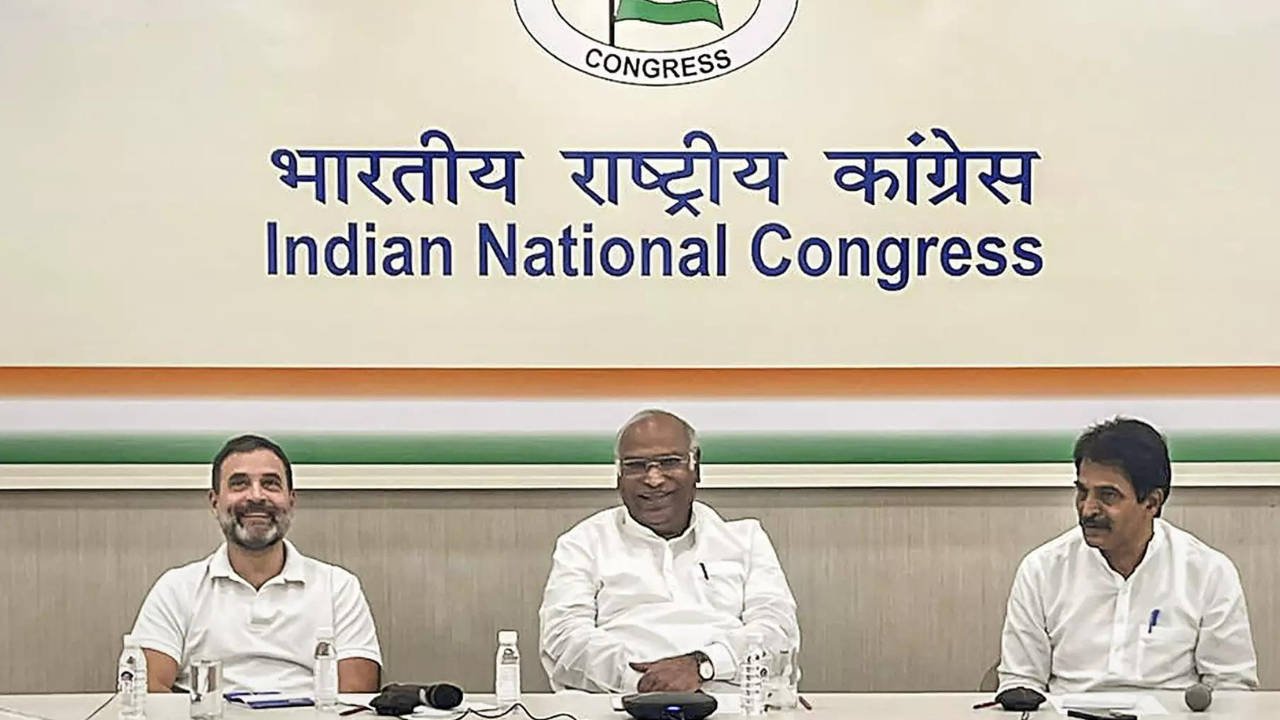 NEW DELHI: With BSP making a surprise foray in Telangana, Congress is set to focus on dalits and OBCs in its Karnataka-style manifesto promises in the election-bound state to prevent a dent in its support among the backward classes.
The guarantees for dalits and OBCs will be made through special announcements by the party's central leaders and chief ministers. Though the two demographics are crucial in Telangana politics, Congress has sounded an extra alert after Mayawati announced an aggressive intent in the state last month by declaring a former IPS officer from the dalit community as BSP's chief ministerial candidate.
Congress' Telangana in-charge, Manikrao Thakre, told TOI, "Our manifesto guarantees will focus heavily on SCs, STs, OBCs and minorities. Our programmes will be made accordingly. Our focus is Ambedkar."
Moving to cover its dalit flank, Congress suspects the hidden hand of BJP, which rules both the Centre and UP, behind Mayawati's pitch in Telangana. The party was flummoxed that the outfit should throw a challenge in the faraway southern state, when it is facing an existential crisis in its erstwhile fort of UP, where it won a solitary MLA in the 403-seat assembly last year.
Congress strategists believe the idea behind BSP's entry is two-fold. While it could undercut any dalit consolidation behind Congress which has launched a much-delayed mobilisation in the state, it will also turn a bipolar turf between Bharat Rashtra Samithi of CM K Chandrashekhar Rao and Congress, into a multi-cornered contest. A division of votes between multiple players is viewed as beneficial for BJP, which is trying to gain a foothold there.
"Mayawati may be under pressure about where to go and whose vote to hurt, but people know the reality," Thakre said.
However, there is a sense of optimism post-Karnataka. Congress hopes that its sweep of Hyderabad-Karnataka region in the recent Karnataka polls would help the party in the adjoining state. Party president Mallikarjun Kharge, who hails from the region, is credited with Congress's gains in his backyard, especially because of his influence among dalit voters across sub-caste divisions. The party believes the mood will spread across the border, especially among the key demographic that BSP is threatening to poach into.
Given its numerical strength and political muscle, dalits have been at the centre of the outreach of political parties. Kharge chose the birth anniversary of Ambedkar in April to launch a frontal attack on BRS at a public rally near Hyderabad. The Congress programme was planned as a counter to Rao's dalit focus which made headlines for the unveiling of a 125-feet bronze statue of Ambedkar.