Read Time:
3 Minute, 50 Second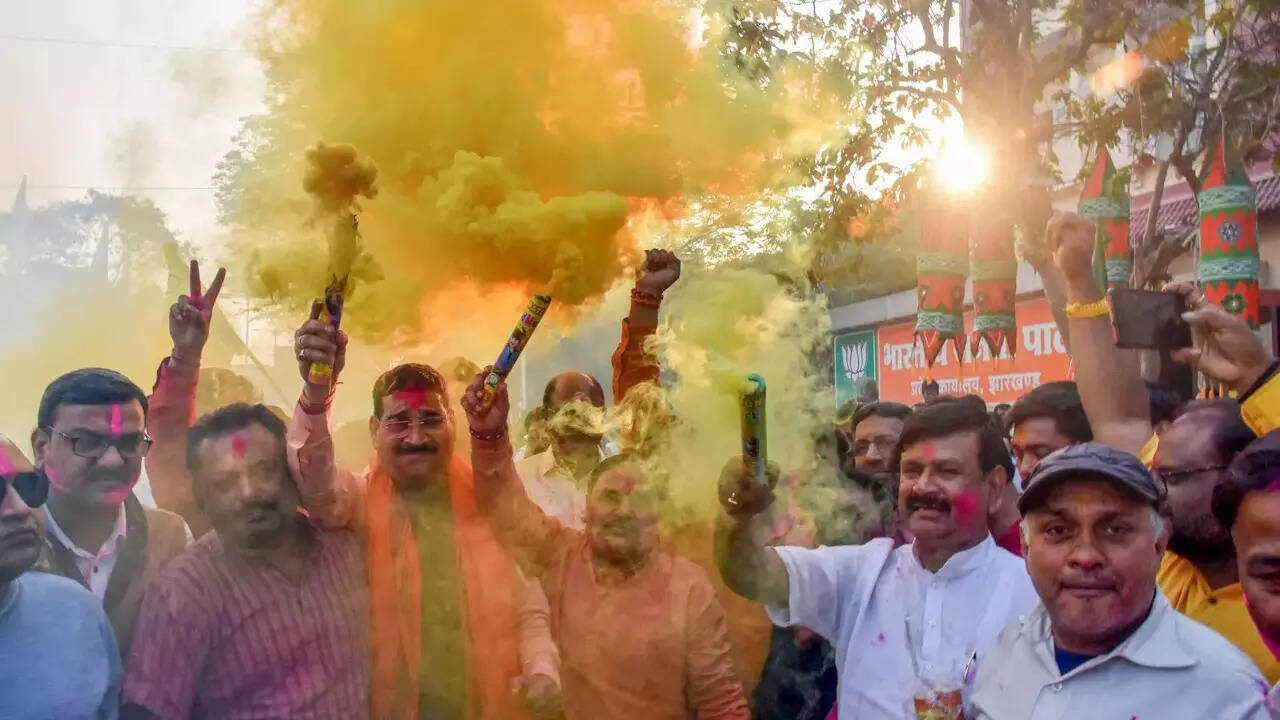 NEW DELHI: BJP, which has gone from being a virtual non-entity in the North-East to a dominant political force under PM Modi, repeats its 2018 hat-trick in Tripura, Meghalaya and Nagaland alone or as a junior partner in a coalition with local parties. Congress, which once held sway over the hills, continues to slide.
Here are the 5 big messages from the
assembly elections
in Tripura, Meghalaya and Nagaland:
*The results attest to the personal popularity of PM Modi which played a key role in BJP's performance in what was until recently considered tough terrain for the party. BJP's victory in Tripura also underlines the electoral appeal of the govt's welfare schemes. It helps BJP win supporters even among those who may not like its stand on political wedge issues. A combination of the two helped BJP overcome the incumbency burden in the state as Amit Shah's move to remove Biplab Deb, the previous CM, paid off.
*Retaining the 3 states reinforces BJP's continuing ascendancy and marks another boost for its effort to emerge as a party with a countrywide presence. BJP's dominance will continue not just in crucial bodies like the GST Council, but also in terms of popular perception ahead of the next round of state polls. It will also facilitate the govt's efforts for a peace accord in Nagaland and to co-opt the region into the expanding arc of Modi's development.
*Yatras and the rave reviews they generate may be good for one's morale but there is no substitute to toiling in the trenches when it comes to contesting and winning elections. After giving Gujarat polls a skip, Rahul Gandhi once again chose to stay disengaged – except for a perfunctory appearance in Meghalaya – from the campaign in the three states. In contrast, PM Modi and Shah slogged it out, and it paid off.
*Uncertainty over the prospect of an anti-BJP front increases. Cong's failure will undercut its effort to emerge as BJP's principal challenger and raise the stakes for it in polls in Karnataka, Chhattisgarh, Rajasthan & MP. Jostling in the already congested opposition space may intensify in the build-up to 2024, a scenario that could nudge stability-seeking voters into Modi's waiting arms.
*The tepid show by the Congress-CPM alliance in Tripura is yet more proof that unnatural alliances among leaders don't necessarily result in cadre-level camaraderie. Similar tactical alliances, between Cong-CPM in Bengal, SP-BSP in UP, and Cong-JD(S) in Karnataka have met with similar fates in the past. The Tripura fiasco should serve as a sobering reminder for those who are banking on the assumption that the coming together of some parties under a 'Front' would automatically lead to their supporters congealing into an organic whole.
For more news update stay with actp news

Android App

Facebook

Twitter

Dailyhunt

Share Chat

Telegram

Koo App