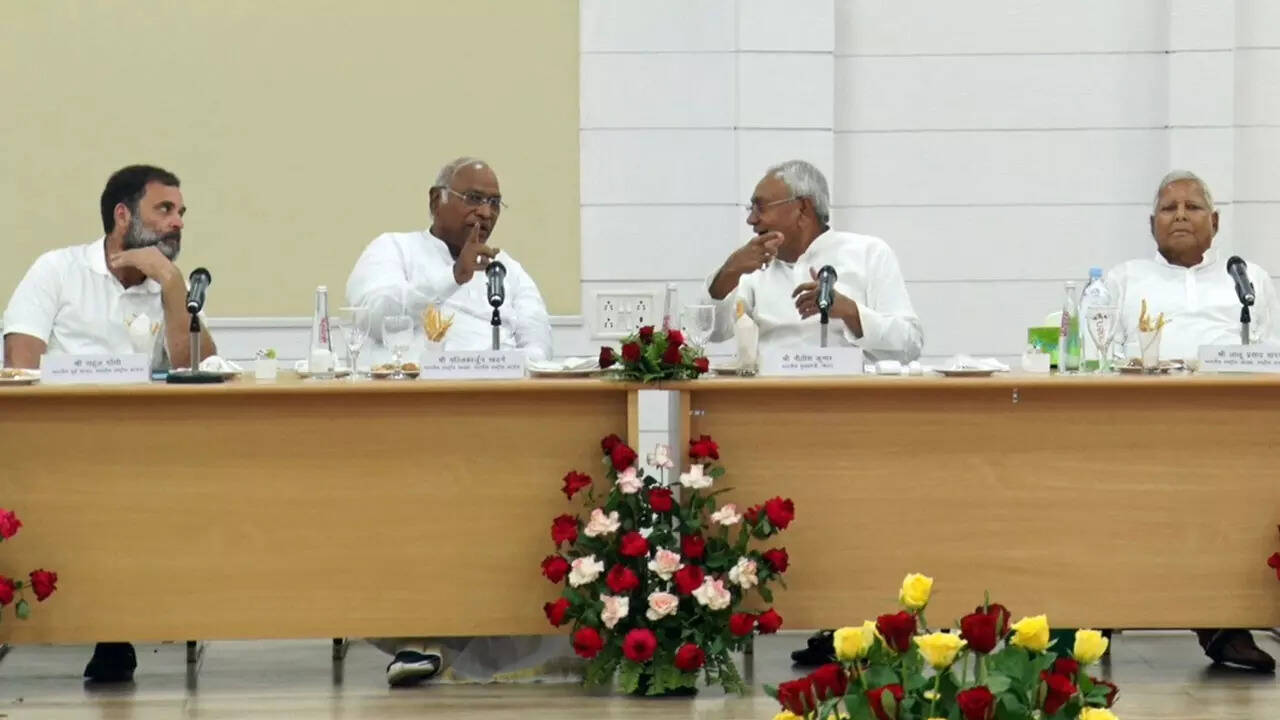 NEW DELHI: The leaders of several key opposition parties held extensive deliberations on Friday to chalk out a roadmap for the formation of an anti-BJP front ahead of the 2024 Lok Sabha elections.
The grand meeting, which was attended by the heads of as many as 15 opposition parties, was hosted by Bihar chief minister Nitish Kumar and his deputy Tejashwi Yadav in Patna.
Oposition bigwigs such as Congress president Mallikarjun Kharge, party leader Rahul Gandhi, West Bengal chief minister Mamata Banerjee (TMC), her Delhi counterpart Arvind Kejriwal and Punjab's Bhagwant Mann (AAP), Tamil Nadu's M K Stalin (DMK), Jharkhand's Hemant Soren (JMM), Samajwadi Party supremo Akhilesh Yadav, Maharashtra's former chief minister Uddhav Thackeray (Shiv Sena-UBT) and NCP president Sharad Pawar were part of the meeting.The coming together of prominent opposition leaders on a single platform is being seen as a decisive first step in the months-long effort to unite top anti-BJP outfits representing different ideologies.
However, the meeting was conspicuous by the absence of many regional heavyweights, leaving a lot to be desired since the agenda is to take the fight to the BJP which has dominated the previous two Lok Sabha elections.
A look at the Lok Sabha numbers of the regional parties who attended the meeting compared to the ones who were either not invited or skipped the event show that leaders at the centre of opposition unity efforts may still have an uphill task at hand.
Sans Congress, the regional parties who attended the meeting together won 88 seats in the 2019 Lok Sabha elections.
However, the parties that were not part of the meeting won 60 seats — which is a significant number if the challenge is to push the BJP to the wall.
A similar picture emerges if we compare the non-Congress chief ministers who were part of the unity efforts and those who weren't.
Kejriwal (Delhi), Mamata (West Bengal), Mann (Punjab), Nitish (Bihar), Soren (Jharkhand) and Stalin (Tamil Nadu) were part of Friday's opposition meeting. Together, their parties won 63 seats in 2019.
On the other hand, YS Jagan Mohan Reddy (Andhra), K Chandrashekar Rao (Telangana), Naveen Patnaik (Odisha), who were not part of the meeting, led their parties to victories in 43 seats in 2019.
This shows that regional opposition parties spearheading the unity efforts do not quite balance out the shortfall of seats in case the fence-sitters don't join the anti-BJP bandwagon.
Moreover, while parties like AAP may have emerged as important national players after success in state elections, they do not hold significant heft when it comes to Lok Sabha polls.
With governments in Delhi and Punjab, AAP holds influence over just 20 Lok Sabha seats. Assuming its candidates win all the constituencies in these two states, it will only mean an addition of 20 seats to the opposition kitty in case they unite.
Plus, there is a challenge of bringing rival parties on a single platform without internal rifts. Already, AAP is accusing Congress of covertly supporting BJP over the Centre's ordinance on the control of administrative services in Delhi.
With differences out in the open and key parties maintaining their distance, leaders like Nitish and Mamata clearly have their work cut out for them.