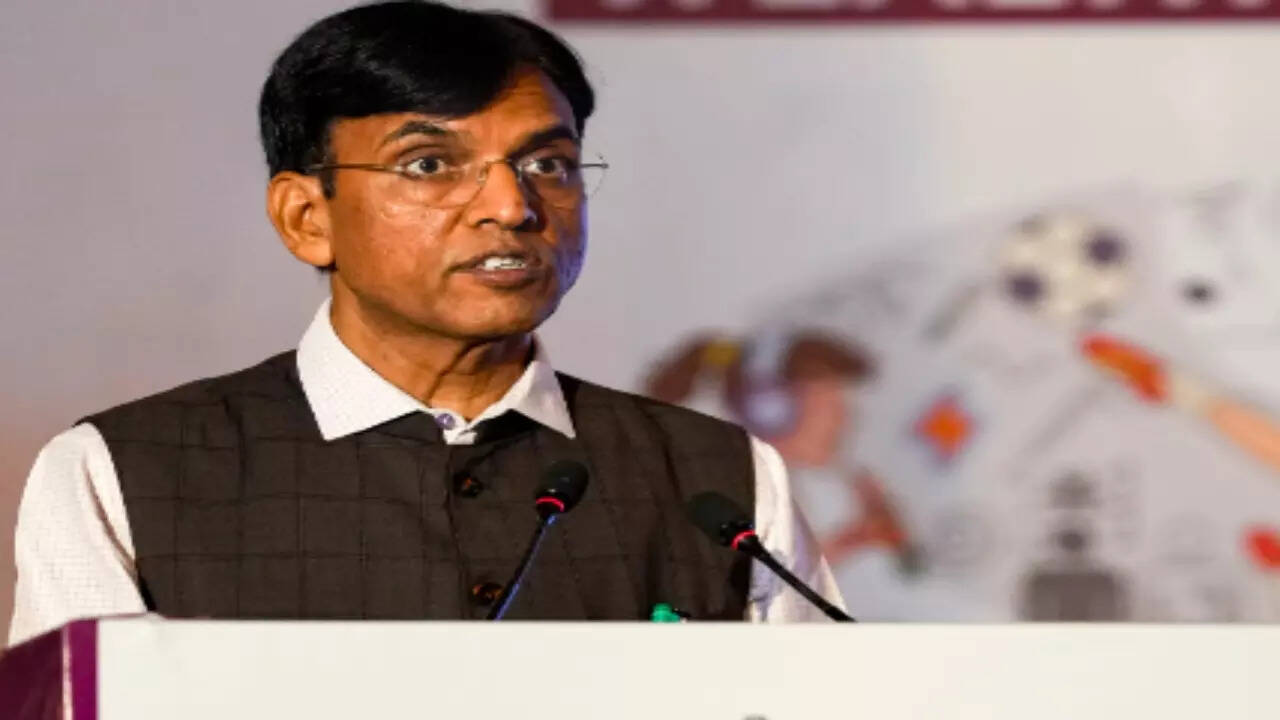 NEW DELHI: From evacuating more than 1.1 lakh people to trimming trees and providing all necessary facilities at shelter homes, including swings for children, the handling of Cyclone Biparjoy turned out to be the best-ever disaster management model given by the Narendra Modi government to the entire world, Union minister Mansukh Mandaviya has said.
The cyclone made landfall near Jakhau on the Kutch coast of Gujarat last Thursday, felling trees and electric poles and damaging houses. It affected eight coastal districts the most but the state reported no loss of life.
Mandaviya, a Bharatiya Janata Party (BJP) leader from Gujarat who extensively travelled to the region to oversee the evacuation and other relief measures in the run-up to the landfall, also took an apparent swipe at the arrangements made in neighbouring Rajasthan, where the impact was much more despite the cyclone having weakened by the time it reached there.
"Cyclones get weaker after some time but still, after Gujarat and Pakistan, when it reached Rajasthan, many people died there. I must compliment the Gujarat government for its efforts," the minister told PTI in an interview.
Rajasthan is ruled by the Congress.
Talking about the arrangements made in Gujarat, Mandaviya said, "The way we dealt with Cyclone Biparjoy in Gujarat is the best disaster management model given by the Modi government to the entire world."
"Whenever a cyclone or tornado occurs anywhere in the world, generally it impacts a much smaller area, but it still takes months to restore. Biparjoy's impact was in the range of 200 km and it hit the coastal line of Kutch with a speed of 125 kmph," he added.
The Union health minister further said the particular coastal line has got two ports — Mundra and Kandla — handling 40 per cent of India's cargo and there are a lot of activities there with thousands of labourers, big godowns, ships, cargo evacuation etc.
The ports see the movement of 10,000-15,000 trucks every day, thousands of workers stay there and evacuating all of them to the shelter homes was a huge challenge, but the regular guidance provided by Prime Minister Narendra Modi helped the state government and other agencies put in place all necessary measures, he said.
"There were 112 villages in the range of 0-10 km and everyone from those villages was evacuated and taken to the shelter homes. More than 1.1 lakh people were moved to the shelter homes. There were women also for whom separate arrangements were made, and health and welfare measures were put in place.
"I personally visited the facilities to oversee the arrangements. We had set a zero casualty target and ultimately, there was zero casualty and that is not a small thing," Mandaviya said.
He noted that people and animals die even due to the falling of trees on houses or elsewhere and added that necessary steps were taken even in this regard.
"More than two lakh animals were shifted to higher altitudes and only 71 animals died. As part of the strategy, trees were trimmed so that there were no casualties due to the falling of trees.
"We had made all emergency arrangements, including for hospitals, oxygen availability, availability of beds etc. At the more than 600 shelter homes that were set up, arrangements were made for everything, including ration for more than a week, clean water, food etc. For small children, even swings were arranged there," the minister said.
He said help was taken from teachers and several NGOs for the relief measures.
"Just like the rich love their bungalows, the poor are also attached to their homes and may not want to move away, so everyone got involved in convincing them. Ministers, BJP workers, NGOs and public representatives — all worked together and the results are for everyone to see," Mandaviya said.