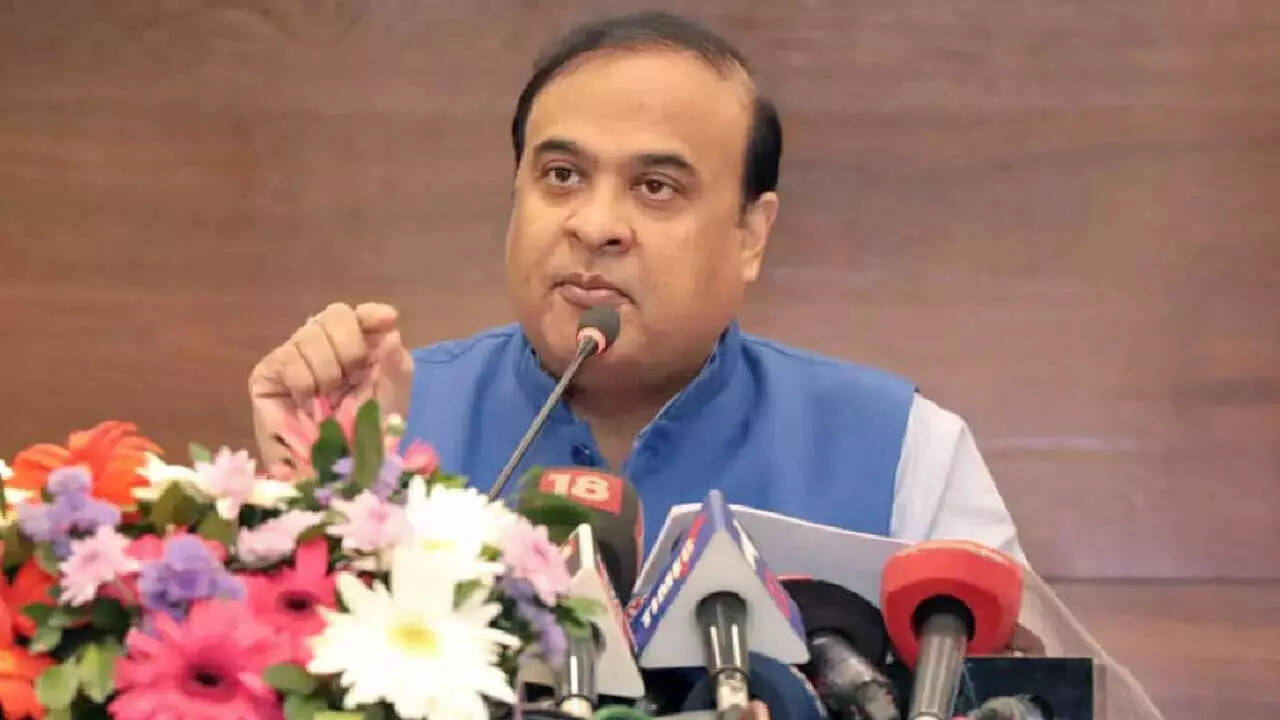 KOLKATA: When the Maharashtra equation needed to be solved and the MLAs had to be kept away from the state, Assam hosted them. After Khalistani movement leader Amritpal Singh was arrested, he was sent to Dibrugarh jail for security reasons.
Lately, the Assam police have also been proactive in taking action against opposition politicians. Over the past few years, especially after Himanta Biswa Sarma became the CM, Assam has emerged as the state BJP leans to in times of crisis. But will this pivot Assam to a major role in Indian politics?
The BJP leaning on Assam might have more to do with the RSS presence which has been built from the ground up over the years, said Sanjib Baruah, professor of political studies at Bard College in New York. "People in the Sangh Parivar know Assam and Northeast India very well. It is not a faraway region for them, at least not anymore. They have direct experience with the improved communication infrastructure — large number of flights to the region and better roads – and with the availability of higher-end hotels etcetera. I think this has played more of a role in these decisions than their political presence in Assam as such," Baruah added.
Governments before the BJP too had 'fallback' states and it came with a CM or a prominent leader close to the Delhi dispensation. "One example that comes to mind is the Emergency. During that time, many were sent to Haryana where Bansi Lal was the chief minister," said psephologist and politician Yogendra Yadav.
It's not just about Assam being a 'safe house', but has more to do with chief minister Sarma being pivoted to an important role in Indian politics. Ramanand Nand, director, Center of Policy Research and Governance (CPRG) said that Sarma has been able to "establish his supremacy" on all fronts — security, politics and development. "Sarma has projected himself as someone who can handle these crises. The BJP has been able to project the northeast's potential — both politically and development-wise. Earlier, the region was fragmented and people did not realise its political potential," said Nand.
The rise of the RSS and the BJP has not happened overnight or even recently. The journey started with Dadarao Parmarth, Vasantrao Oak and Krishna Paranjpe setting up the first shakha in Assam in 1946. Reportedly, now there are over 6,000 units of RSS and its affiliated organisations in the Northeast, up from just 650 in 1995.
"In recent years, winning elections in Assam and the Northeast became important to them in terms of political symbolism. And clearly, there was some support for the BJP earlier. But in Assam, it was mostly among the Marwari community and Bengali Hindus. But that wasn't enough to win elections and form governments. The challenge was to make inroads into the 'indigenous' communities in Assam and other northeastern states. The strategy began to take shape during the Assam movement even though it yielded results much later," added Baruah.
Baruah further said the Assam BJP's political visibility was not as obvious during the Sonowal-period as it became during the Himanta period. "The two men are different in rhetorical style, political energy and ideological orientation. By all accounts, the unpopularity of the Citizenship Amendment Act (CAA) among the Assamese was a major consideration. The central leadership decided that Sarma would be more effective than Sonowal in enforcing the CAA. Ideologically, Sonowal was too tied to the legacy of the Assam Movement to do an about-turn on the issue," he explained.
With his social roots in Upper Assam, Sonowal was more in the mould of a series of Assam CMs like Hiteswar Saikia and Tarun Gogoi who are good at achieving consensus among different social groups and their representatives. "Sarma — a Brahmin — and with his family roots in lower Assam is a different kettle of fish. It is still too early to say how effective he will be in managing Assam's complex ethnic and social landscape," many experts said.
While "ambitious" Sarma has been seen as someone who has good ties with the party high-command, his prowess in his home state will be tested more, experts said. "Himanta was known — long before he joined the BJP — to be the man who can somehow 'manage' elections and I was not surprised that he became the go-to man for Prime Minister Narendra Modi and Union home minister Amit Shah. But in politics, there comes a time when management fails and people are angry. I don't know when that point will come," added Yadav.