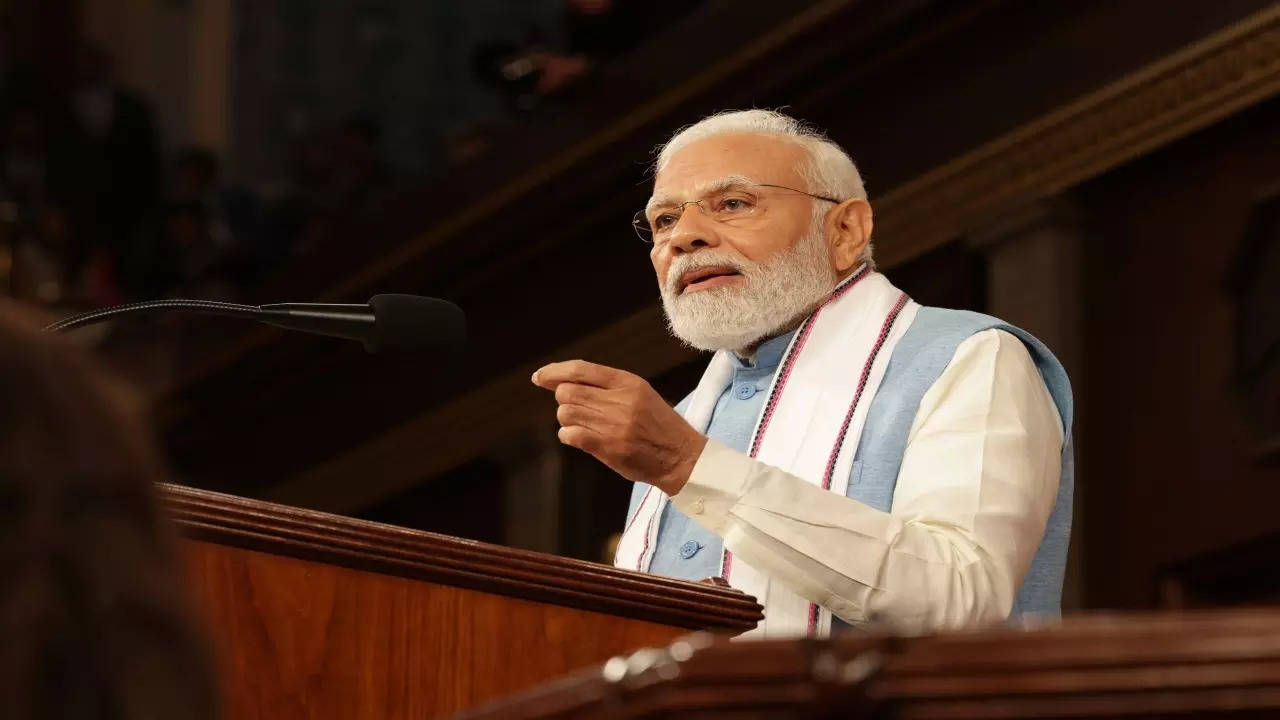 NEW DELHI: Prime Minister Narendra Modi used his sense of humour to entertain guests at the White House state dinner on Thursday.
PM Modi joked about his singing skills, a previous encounter with President Joe Biden, and the strengthening bond between Indians and Americans.
With a self-deprecating tone, PM Modi jestingly lamented his lack of singing talent, expressing a wish to have entertained the guests with a song. "I know your hospitality has moved your guests to sing. I wish, I too, had the singing talent," Modi joked. "I could have also sang before you all." PM Modi was alluding to South Korean President Yoon Suk Yeol's surprise performance during a state dinner in April. Yeol had captivated the audience with his rendition of 'American Pie', receiving resounding applause.
The PM also highlighted the progress made in cultural understanding between the two countries, joking about the correct pronunciation of names and improved comprehension of accents. "We can pronounce each other's names correctly. We can understand each other's accent better," he said. "Kids in India become Spider-Man on Halloween and America's youth is dancing to the tune of 'Naatu Naatu,'" a catchy song from the Indian movie "RRR."
PM Modi also took the opportunity to humorously address a past incident involving Biden, recounting a banquet in 2014 where Biden persistently inquired about Modi's dietary restrictions during his religious fast. "I remember you were asking me and asking me again and again what I could eat during my fast. But it was not possible for me to eat anything and you were quite concerned about it," he said. "Well today, I'm making up for it. All that you desired at that time with so much affection is being fulfilled today."
Biden's toast was less comedic in nature, but he reflected on his belief, expressed two decades ago as the chairman of the Senate Foreign Relations Committee, that a close friendship and partnership between the United States and India would contribute to global safety. As the current president, Biden reiterated his conviction in the deepening bond between the two nations.
More than 400 guests were invited for the dinner hosted by US President Joe Biden and First Lady Jill Biden at a specially decorated pavilion on the South Lawn of the White House.
The guests, including prominent Indian-Americans and politicians from both parties, enjoyed a plant-based menu tailored to the prime minister's vegetarian preferences. Dishes like millet and corn salad, Portobello mushrooms, and strawberry shortcake were served, with roasted sea bass available upon request for those desiring a non-vegetarian option.
"You have gathered a group of exceptionally talented and remarkable people tonight, I must commend you for that," he said thanking President Biden and the first lady for hosting the dinner and raised a toast for his "wonderful" hosts.
PM Modi spoke in Hindi with the speech being translated to English.
Industrialist Anand Mahindra, corporate leader Indra Nooyi and the CEOs of Microsoft and Adobe — Satya Nadella and Shantanu Narayen — also attended the event.
The guest list also included human rights activist Martin Luther King III, tennis legend Billie Jean King, filmmaker M Night Shyamalan, fashion designer Ralph Lauren, Grammy award winner Joshua Bell and entrepreneur Frank Islam.
(With inputs from agencies)