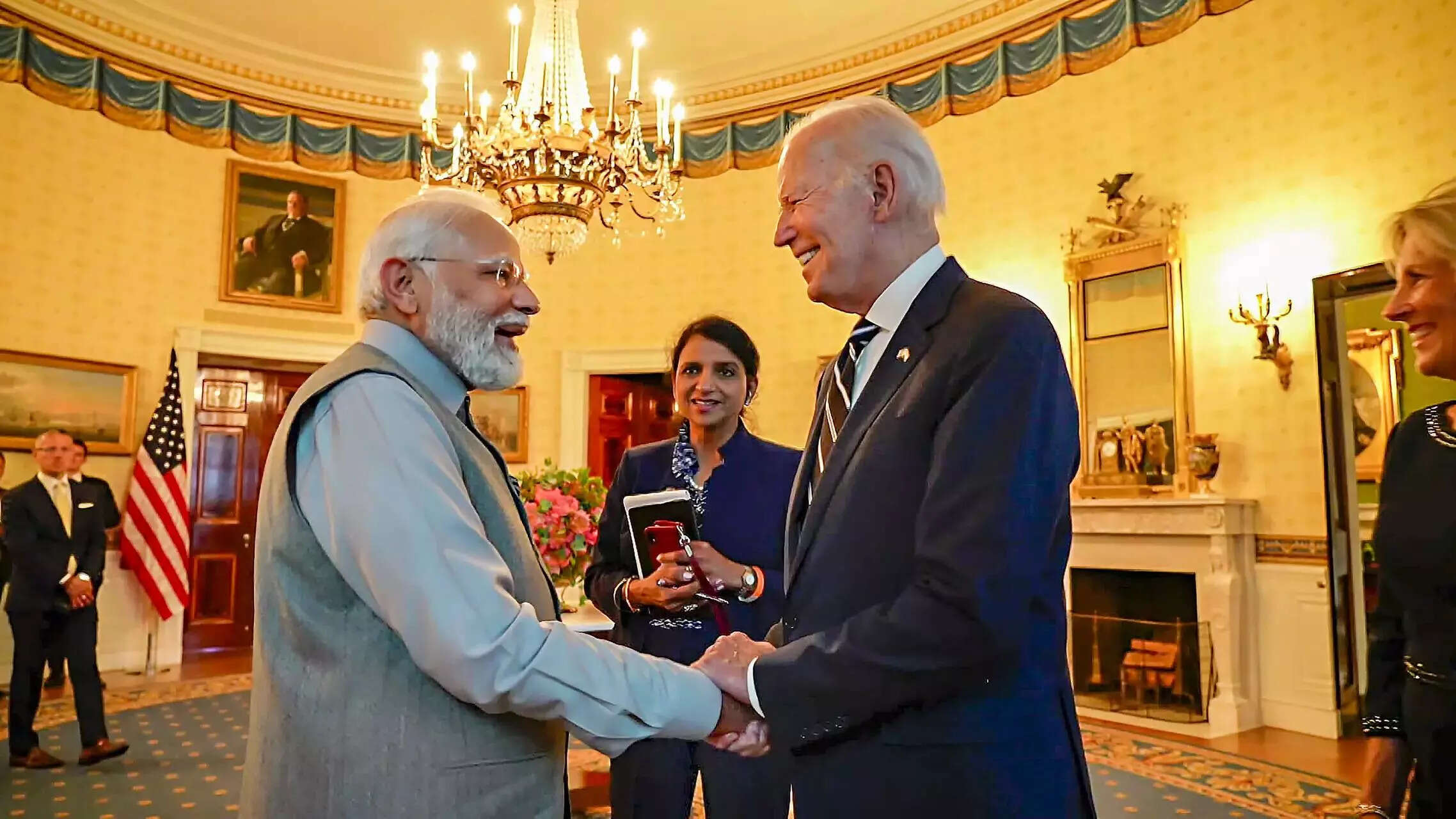 NEW DELHI: India and the US are set to announce a host of agreements across several critical sectors that will take relations between the two countries to a "whole new level", said senior officials of the Joe Biden administration on Thursday.
See Also: PM Modi US Visit Live
New consulates
Marking a major improvement and wider diplomatic ties, the US will open two new consulates in Bengaluru and Ahmedabad while India will establish a mission in Seattle to boost people-to-people relationships, a senior White House official said.
The US embassy in New Delhi is one of the largest US diplomatic missions in the world. The embassy coordinates the activities of four consulates – in Mumbai, Kolkata, Chennai and Hyderabad. India has five consulates in the US in New York, San Francisco, Chicago, Houston and Atlanta, apart from the embassy in Washington.
Nasa
, Isro tie-up for manned mission to ISS in 2024
Nasa and Isro have also agreed to a joint mission to the International
Space
Station in 2024, the White House said on Thursday.
"In the space sector, we will be able to announce that India is signing the Artemis Accords, which advance a common vision for space exploration for the benefit of all humankind," said the US officials, adding that NASA and the Indian Space Research Organisation (ISRO) are developing a strategic framework for "Human Spaceflight Operations this year".
Grounded in the Outer Space Treaty of 1967 (OST), the Artemis Accords are a non-binding set of principles designed to guide civil space exploration and use in the 21st century. It is an American-led effort to return humans to the moon by 2025, with the ultimate goal of expanding space exploration to Mars and beyond.
Semiconductor facility in Gujarat
"With respect to semiconductors, Micron Technology with support from Indian National Semiconductor mission announced an investment of more than $800 million that together with additional financial support from the Indian authorities, will be used to set up a $2.75 billion semiconductor assembly and test facility in India," the officials said.
Micron technology said that semiconductor test and assembly plant will be set up in Gujarat.
Additionally, another semiconductor manufacturing equipment company is going to announce a training programme for 60,000 Indian engineers.
"On critical minerals and mineral security, the United States will announce its support for India becoming a member of the Mineral Security Partnership which is led by the US State Department and strengthens critical minerals supply chain and ensures that our respective markets are well supplied with essential critical minerals that are needed for climate, economic and strategic technology goals," the officials said.
Greater cooperation in 5G and other tech
On advanced telecommunications, the officials said that India and US are working together on 5G and other technologies, including open routing systems.
"We will be announcing partnerships on open field trials and rollouts, including scale deployments in both US and India with operators and vendors, markets. This will involve backing from the US International Development Finance, cooperation, and to promote the deployments in India," said the US officials.
India's 5G and 6G and the US Next G alliance will be leading a new public-private Cooperation forum as well. The US will also be welcoming Indian participation in the US rip and replace programme that removes telecommunications equipment made by untrusted vendors.
On higher education
"On people-to-people ties and higher education, leveraging the enormous talent, particularly in STEM (Science, technology, engineering, and mathematics) fields in both countries and coming out of a task force chaired by the Association of American Universities and counterparts at the Indian Institute of Technologies would like to welcome the launch for the university network with Indo US global challenges to federal Spark, new research partnerships and exchanges in fields including agriculture, energy and health," said the officials.
Other agreements
"On advanced computing, artificial intelligence and quantum information science, India and the United States have first established a joint Indo-US quantum coordination mechanism that will facilitate more collaboration between our industries, academia, and government," said the official.
They have also signed a new implementation arrangement on artificial intelligence advanced wireless and quantum technologies. The US on an Economic Development Consortium is now welcoming into its membership, Indian Quantum universities and entities as well.
(With inputs from agencies)