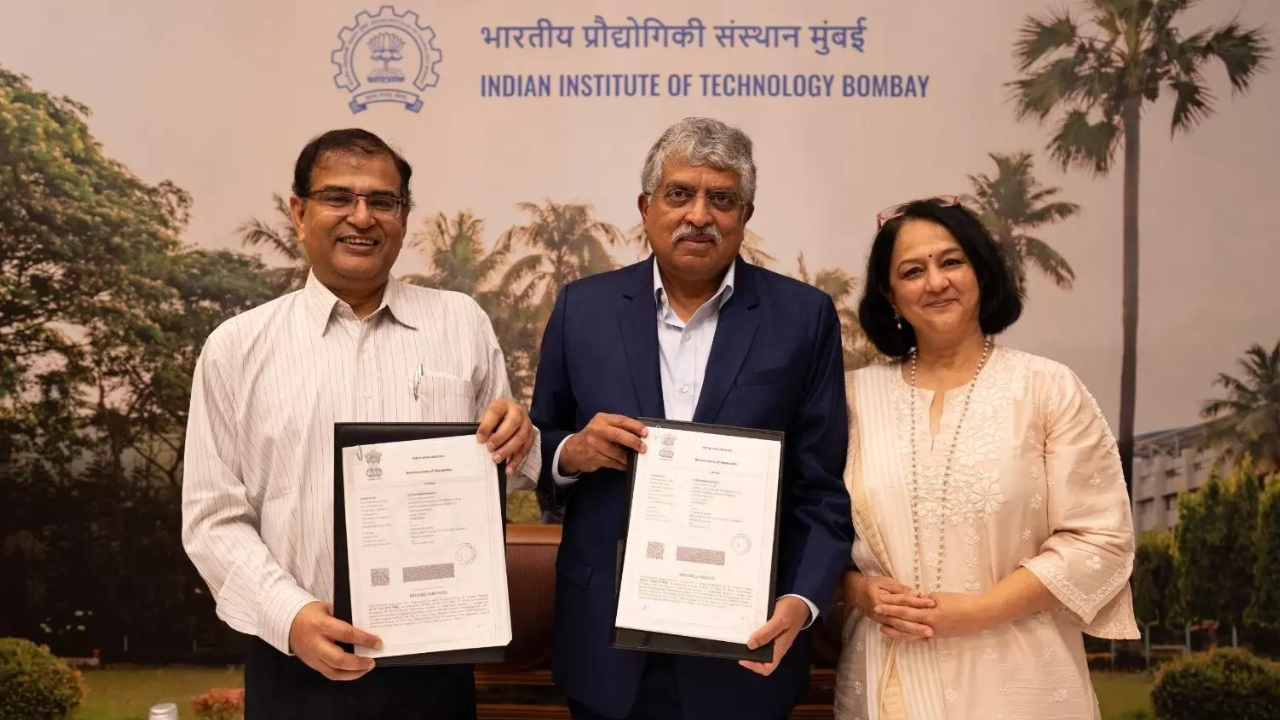 MUMBAI: Infosys co-founder and chairman Nandan Nilekani has donated Rs 315 crore to his alma mater IIT Bombay, taking his total donation to the prestigious engineering institution to Rs 400 crore – one of the largest contributions made by an ex-student to his college.
Nilekani, 68, who joined the Indian Institute of Technology — Bombay, in 1973 to pursue a Bachelor's degree in electrical engineering, said he is making the new donation to mark 50 years of his association with the premier institute.
This builds on his previous grants of Rs 85 crore to his alma mater. The donation will help foster world-class infrastructure, stimulate research in emerging areas of engineering and technology, and nurture a deep tech startup ecosystem at the famed institution.
The donation, which is one of the largest donations made by an alumnus in the country, will serve as the anchor for IIT-B's vision to become a global leader among engineering and technology institutes and contribute significantly towards nation-building, a joint statement from the institute and Nilekani said on Tuesday.
The tech leader joined IIT-B in 1973 for a bachelor's degree in electrical engineering.
"IIT-Bombay has been a cornerstone in my life, shaping my formative years and laying the foundation for my journey. As I celebrate 50 years of my association with this esteemed institution, I am grateful to give forward and contribute to its future. This donation is more than just a financial contribution; it is a tribute to the place that has given me so much and a commitment to the students who will shape our world tomorrow," Nilekani said.
The donation will significantly accelerate the growth of IIT-B and will firmly set it on a path of global leadership, said IIT-B director Prof Subhasis Chaudhuri.
Nilekani's contribution will catalyse philanthropic contributions towards advancing research & development at universities in the country, he added.
Over the past 50 years, Nilekani has stayed connected with the institute in multiple roles. He served on the board of the IIT-B Heritage Foundation for a decade from 1999 and was on the board of governors from 2005 to 2011.
His initial contribution of Rs 85 crore was instrumental in constructing new hostels, co-financing the school of information technology, and establishing the country's first university incubator, thereby significantly boosting the startup ecosystem.
He was awarded the Distinguished Alumnus award in 1999, followed by an honorary doctorate in 2019 as part of the 57th convocation of the institution.
IIT-B's strategic plans for the coming decade include setting up world-class centres of excellence in strategic areas like artificial intelligence, green energy, quantum computing and others, nurturing a deep tech startup ecosystem, and providing best-in-class research, living, and academic facilities to the students and the faculty.
The plan envisages fundraising of about USD 500 million over the next five years and Nilekani's anchor contribution of USD 38.5 million will help the institute kick-start its plans and inspire others to join this transformative initiative.
The IIT-Bombay was founded in 1958 as the second IIT and is a worldwide leader in the field of engineering education and research, and since July 2018 it has been elevated as an 'Institution of Eminence'. The institute has 15 academic departments, 39 (centres/programmes/academic facilities), three schools, and four interdisciplinary programmes.
More than 62,500 engineers and scientists have graduated from the institute which is served by more than 700 faculty members.