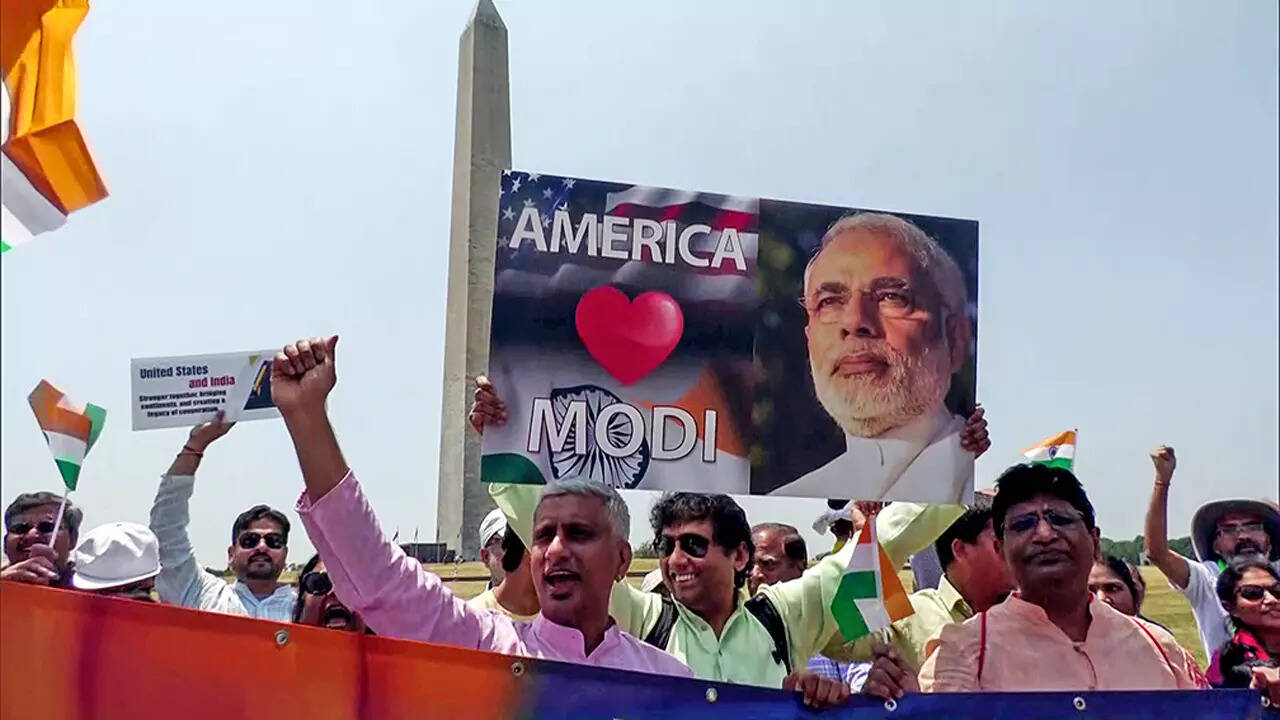 WASHINGTON DC: The Indian diaspora in Washington DC expressed immense excitement and pride ahead of Prime Minister Narendra Modi's visit to the United States from June 21-24.
The members of the Indian community also sang the National Anthem in front of the White House in Washington DC.
An Indian-origin man, named Dharmendra Deepak told ANI, "PM Modi is coming for his first official state visit. I am very excited. I have also got an invitation to the White House. It's a historic moment. It was a dream that one day a superpower will give so much value to our country. Today, the whole world is seeing us, we are on the right path and we will achieve big things".
Another Indian-origin lady Praveena Mehta stated, "We have been seeing Indian tricolour all the way through. And we are very excited that we are invited to meet PM Modi and Joe Biden at the White House.
Many people from the Indian diaspora expressed hope that meetings between PM Modi and US President Joe Biden will lead to greater developments and cooperation between the two countries.
Abhishek Das Sanghvi from Gujarat said, "I welcome PM Modi. Modi hai tu mumkin hai (Anything is possible with Modi). When he will meet Joe Biden, he will surely do something big".
"Modi hai to mumkin hai. We are very proud that he has been invited to the US," another Indian-origin man said.
Priya Bhatia from the Philippines said, "We are so proud that PM Modi is coming. We wish more and more power to the country".
They also appreciated the development in the sector of infrastructure and Information Technology (IT).
"Great infrastructural development has been taking place under the Modi government. I wish that he should remain the Prime Minister for at least 10-15 years. Only then India will achieve a world-class level of development," Prakash Hedge from Pune told ANI.
Prime Minister is visiting the United States at the invitation of President Joe Biden from June 20-24.
PM Modi will lead a 9th edition of International Yoga Day on June 21 at the United Nations headquarters in New York during his official state visit to the United States.
After the yoga day celebration in New York, PM Modi will then travel to Washington D.C., where he will receive a ceremonial welcome at the White House on June 22, and meet President Biden to continue their high-level dialogue.
President Biden and First Lady Jill Biden will host a State Dinner in honour of the Prime Minister the same evening, according to a release issued by the Ministry of External Affairs (MEA).
PM Modi will at the invitation of US Congressional Leaders, including Speaker of the House of Representatives Kevin McCarthy and Speaker of the Senate Charles Schumer, address a Joint Sitting of the US Congress on June 22.
On June 23, the Prime Minister will be jointly hosted at a luncheon by US Vice President Kamala Harris and State Secretary Antony Bilnken.
In addition to official engagements, the Prime Minister is scheduled to have several curated interactions with leading CEOs, professionals, and other stakeholders. He will also meet members of the Indian Diaspora.