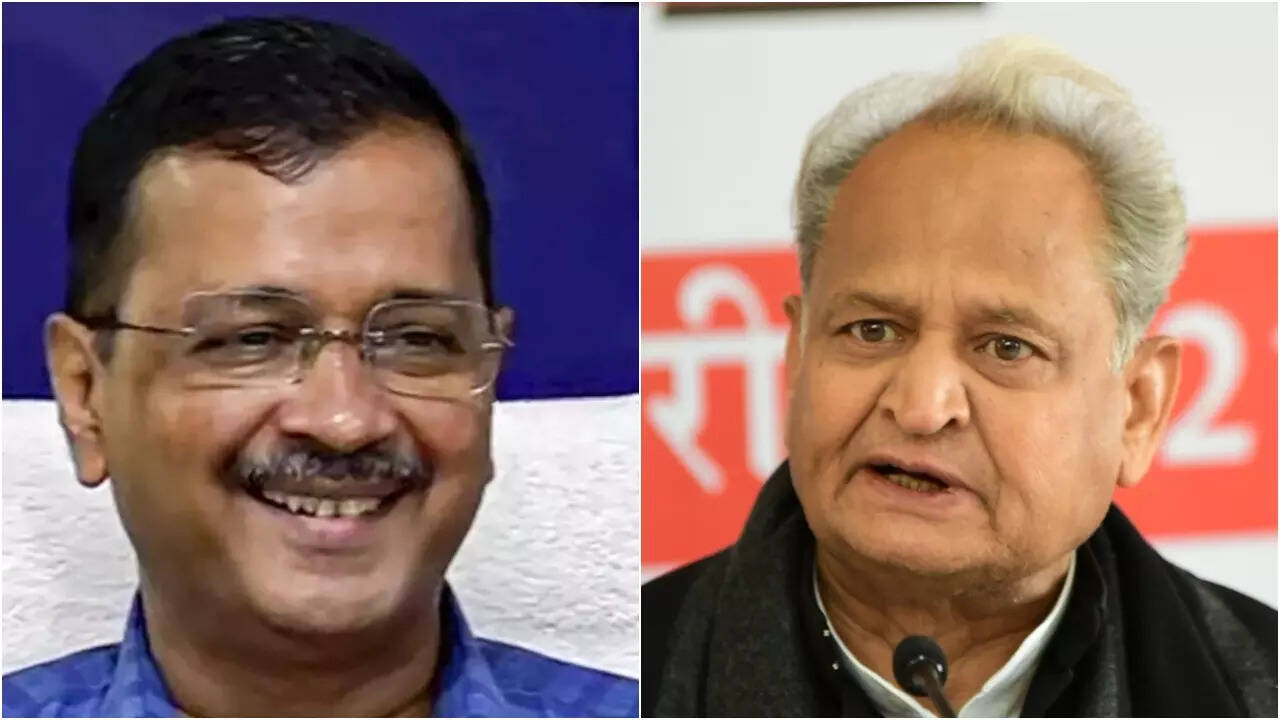 NEW DELHI: Delhi chief minister and Aam Aadmi Party national convenor Arvind Kejriwal on Sunday stepped up his attack on the Congress and Rajasthan CM Ashok Gehlot at a rally in Sriganganagar as he alleged that the latter put up his hoardings and banners throughout the route and all around the venue in an attempt to spoil AAP's rally and described it as nothing short of a "neech harkat" (lowly act).
Alleging attempts of vandalism by some people who came in before the rally and toppled chairs at the venue, Kejriwal said it was a trait of "kayar" (coward) people and accused the Congress for the incident.
The Delhi CM yet again tried to position AAP as an alternative to the BJP and the Congress and said, "You gave 50 years to Congress in Rajasthan and 18 years to BJP. What did they give you? They together looted you all. If you want to make India a number one country, vote for AAP, but if you want corruption and filthy politics, go to them."
This scathing attack on Gehlot and the Congress is politically significant as it comes at a time when Kejriwal has been trying to garner Congress's support to oppose the crucial services ordinance pertaining to Delhi when the BJP government brings it to Parliament in the monsoon session.
Congress's support is crucial for AAP against the ordinance in Rajya Sabha where the grand old party has 31 members — the largest among all opposition outfits. Kejriwal's attack also comes just before the June 23 meeting of opposition parties in Patna where it is learnt that the ordinance on services and its implications on federalism will be a priority issue on the agenda for discussion.
The Congress brass has not yet obliged Kejriwal with a meeting, despite his public request. AAP's attacks in recent days, especially in Rajasthan, are seen as a jilted party getting back at Congress. Many believe it may only make it worse for a potential partnership between the two parties.
During press conferences after meeting leaders of other opposition parties in the recent past, Kejriwal has said that the "Congress must decide whether it will stand with the public or with the Modi government over this ordinance".
However, sources in AAP tried to delink the attack on Gehlot from the ordinance issue and said the rally in Sriganganagar was a pre-election outreach in the state. They claimed there was no dichotomy in their position as the ordinance was a national issue and about federalism and, therefore, AAP has sought Congress's support in parliament. Senior AAP functionaries also said the party has regularly attended meetings called by the leader of the opposition in Rajya Sabha and joined opposition parties in taking a position on many issues like the farm laws.
Sources said Congress was likely to side with the opposition on the ordinance issue when it comes up in Parliament but has been counselled to not appear overeager to Kejriwal's overtures since he is used to having his way.
At the rally on Sunday, Kejriwal conveyed his vision for a revitalised Rajasthan. Drawing examples from Delhi and Punjab, he assured quality education, affordable health infrastructure and employment opportunities among other things.