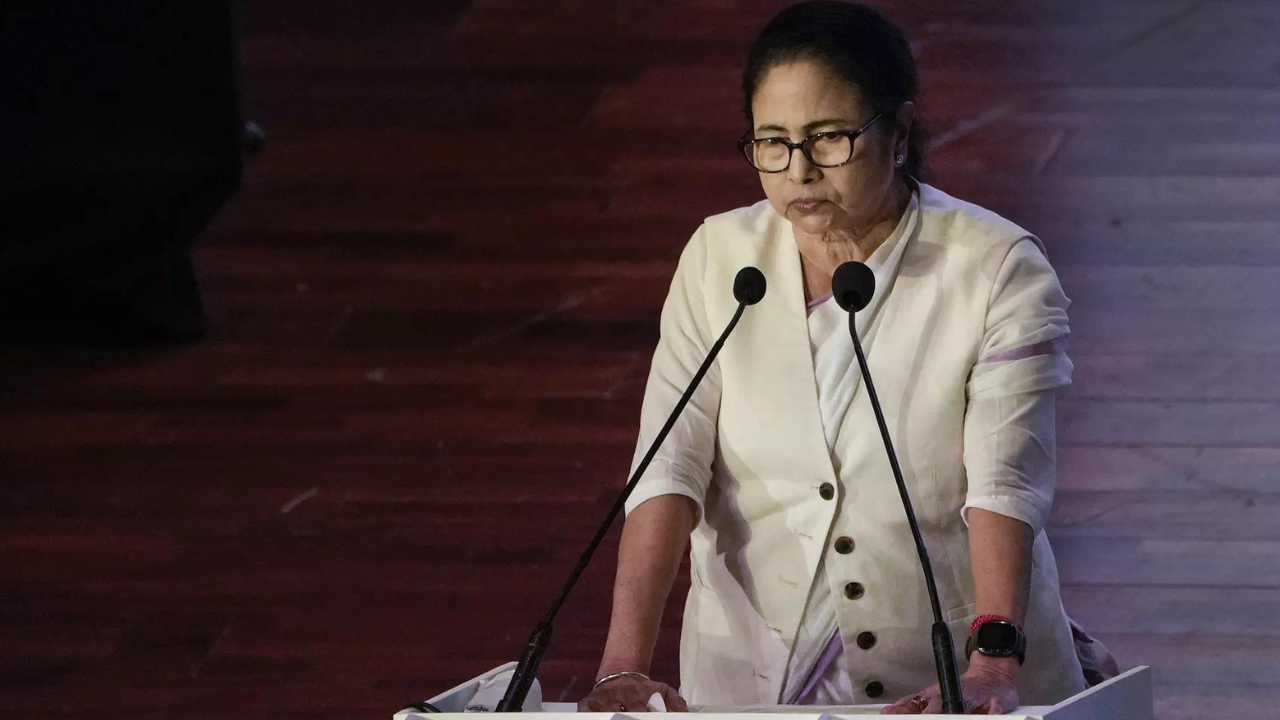 KOLKATA: West Bengal Chief Minister Mamata Banerjee on Tuesday announced a slew of new policies including plans to double the state's exports, modernise its logistics and promote renewable energy manufacturing, while opening the Bengal Global Business Summit here. Banerjee also announced a policy to promote bio-fuels and a new sub-sea cable landing station at the sea-resort of Digha to help improve internet connectivity in the eastern region.
The chief minister also said the state's economy was growing at 8.41 per cent and its GDP would touch USD 212 billion this fiscal. West Bengal was ranked sixth in terms of GDP among Indian states in a recent report by Forbes India.
She also told a star-studded gathering of business leaders including petro-chemicals to retail tycoon Mukesh Ambani, energy baron Sanjeev Goenka and Wipro's Rishad Premji, that four new industrial corridors would be set up including Dankuni-Kalyani, Tajpur port-Raghunathpur, Dankuni-Jhargram and Durgapur to Cooch Behar in north Bengal.
Dankuni, eastern India's largest logistics hub, already boasts of 9 km of conveyor belts to carry goods to and from storage silos, added her former finance minister and principal chief advisor Amit Mitra.
The Bengal Global Business Summit, an annual affair, is being attended by several hundred companies from some 17 countries, including UK, US, Australia, Korea, Japan, Germany and France.
Highlighting the fact that the state was home to some 90 lakh MSME units employing 1.3 crore people, Banerjee pointed out that it also housed a large leather manufacturing complex which was being expanded to be the Asian continent's biggest, besides boasting of one of the largest IT hubs in the country.
Banerjee said that the state's Durga Puja festival economy grossed over Rs 80,000 crore this year.
She also announced former India cricket skipper-turned-businessman Sourav Ganguly would be a brand ambassador for the state.
Reliance Industries chairman and MD Mukesh Ambani, while speaking on the occasion, announced an additional Rs 20,000 crore investment for West Bengal over the next three years.
Ambani said the fresh investment will be in the areas of digital life solutions, retail and bio-energy.
"We plan to invest an additional Rs 20,000 crore in West Bengal in the next three years for enhancing digital life solutions, augmenting Reliance Retail footprint and on bio-energy," he said.
The Reliance Industries has invested close to Rs 45,000 crore in the last few years in the state, Ambani said.
"Reliance will leave no stone unturned to accelerate Bengal's growth," he asserted.
The Reliance Foundation will also take up the task of renovating and restoring the iconic Kalighat Temple in Kolkata to regain its "original glory", Ambani added.
Wipro Chairman Rishad Premji added, "West Bengal provides the right policy environment for expansion of IT industries."
RPG's Sanjeev Goenka told the gathering that his firm has invested Rs 25,000 crore in the state over the last few years as "decision making has been quick and efficient" and that the era of "go slows, strikes and unrest are of the past… the CM wants business".
The chief minister also claimed that her state was a model of tranquillity and good governance, though she also accused the opposition of running a campaign to smear the state's image.