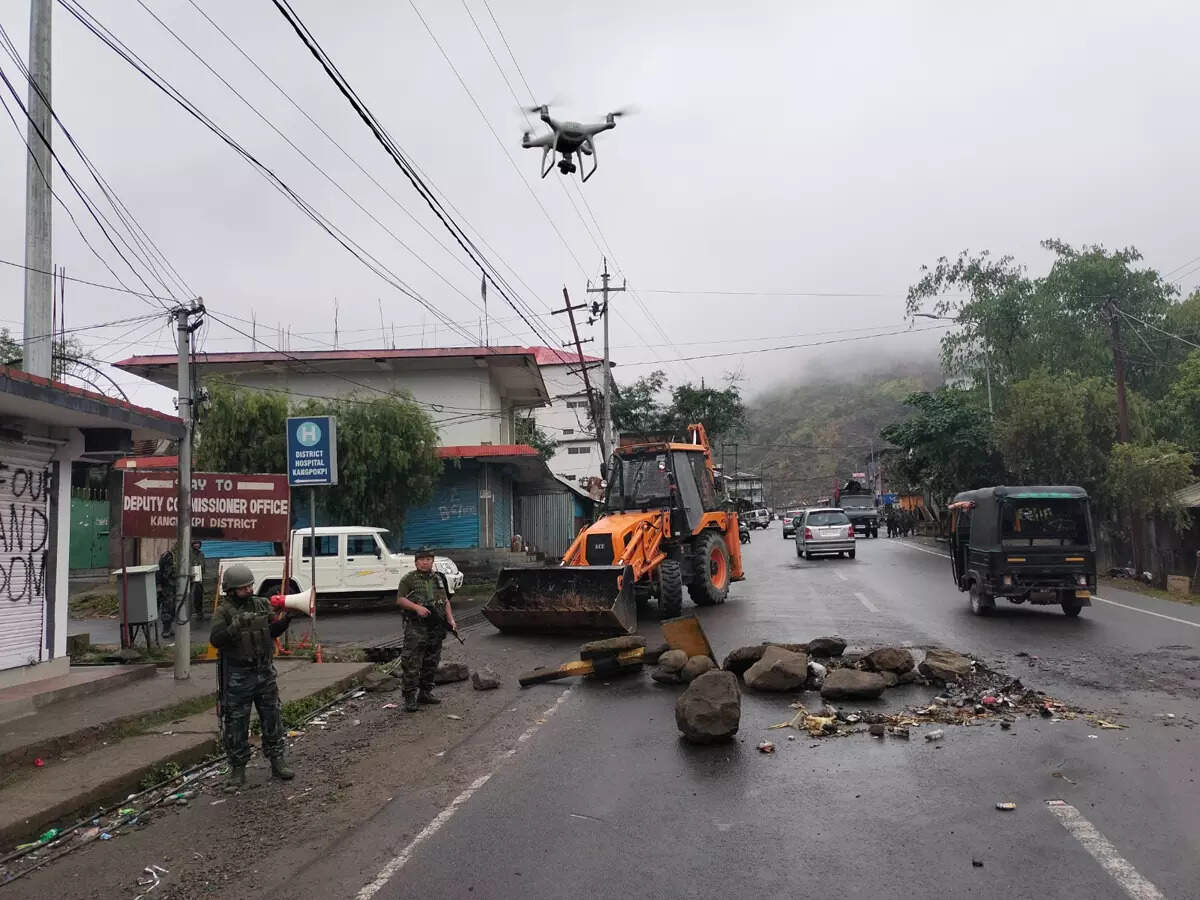 NEW DELHI: Ten opposition parties of Manipur led by the Congress on Saturday questioned the "silence" of Prime Minister Narendra Modi on the continued violence in the northeastern state, while urging him to meet them and make an appeal for peace.
Addressing a press conference with other leaders, Manipur's three-time former chief minister O Ibobi Singh said they have sought a meeting with the prime minister and were awaiting his response before he leaves for his foreign tour on June 20.
The Congress leader said that the violence was continuing in the state since May 3 and the "silence" of Prime Minister Modi is "hurting" Manipur.
"There is a hue and cry everywhere, with 20,000 people, including women and children, taking shelter in camps. However, the prime minister has not yet expressed anything regarding Manipur. Is Manipur a part of India or not? If it is, why hasn't the Prime Minister of India spoken about it," he asked.
Congress general secretary communications Jairam Ramesh said the leaders of 10 opposition parties had sent an email to the prime minister on June 10 for a meeting with them but have not received any response.
He said the letter of request for a meeting with the PM has also been hand-delivered to the Prime Minister's Office on June 12.
Ramesh said when violence broke out in Manipur 22 years ago, the then prime minister Atal Bihari Vajpayee had called an all-party meeting twice on the demand of all the parties.
Vajpayee had also appealed for peace then, he said, urging Prime Minister Modi to issue a similar appeal now.
"There is only one reason why Manipur is burning and it is the ideology of the RSS and the politics of the BJP. It is not just Manipur, other states of the north-east are facing huge issues. This is the time of dealing with all militant organisations," he claimed.
"Manipur was burning 22 years ago on June 18, 2001. State Assembly, Speaker's bungalow, and CM Secretariat were burnt and remained blocked for 3 and a half months.
"At that time Atal Bihari Vajpayee was the Prime Minister of India and on the demand of various parties, an all-party meeting was called twice and Prime Minister Atal Bihari Vajpayee appealed for peace. Today people from 10 parties are waiting to meet PM Modi, but PM Modi is silent," he said.
Ibobi Singh said their intention is not to take political advantage. "We simply seek peace. Please help us," the former state chief minister said.
Five-time MLA of JDU Nimai Chand Luwang, who was part of the delegation that had met Vajpayee, said even after the visit of the Home Minister, the violence in Manipur continues unabated.
"The current BJP government has failed miserably in addressing the situation in Manipur. We want the prime minister to intervene and bring a solution to stop the violence in Manipur," he said.
Manipur PCC President Keisham Meghachandra said, "We, leaders of 10 like-minded political parties, have arrived in Delhi to secure an appointment with PM Modi, as he appears unconcerned about the issues plaguing Manipur."
Sources said that the Congress has convened a meeting of opposition leaders here on Monday if there is no response from the prime minister to their request.
The other leaders present at the press conefrence were JD(U) state president KSH Biren Singh, CPI state council secretary L Thoiren Singh, CPM's Kshetranayam Shanta, Trinamool Congress state convener Thokchom Inocha Singh, AAP coordinator Thingyam Vishwanath Singh, All India Forward Block leader KH Gyaneswar Singh, NCP's state president Soram Ikoyama Singh and Shiv Sena Shiv Sena (UBT) leader T Debanand Singh, along with a representative Revolutionary Social Party.
Congress general secretary Randeep Surjewala said Manipur requires a "political solution" not a mere deployment of police and military to handle law and order as the Modi Government "is seeking to do".
"BJP CM Biren Singh has definitely failed miserably to handle the situation and any semblance of government has crumbled in the state.BJP National President J P Nadda maintains a 'stony silence' over Manipur as if nothing is happening," he alleged.
"Should the PM and Union Government not initiate a fresh dialogue with both ethnic groups? Do the victims of violence not require a direct healing touch from the PM and Union Government assuring them of support and rehabilitation?
"Is the Modi government even listening? Does the PM even care? Is GOI even concerned?" he tweeted.
Surjewala said the Modi government "should wake up and solve the issue in the nation's interest".
More than 100 people have lost their lives in the ethnic violence between Meitei and Kuki community people in Manipur. The state government has imposed a curfew in 11 districts and suspended internet services.