NEW DELHI: United States First Lady Jill Biden hosted a media preview in advance of Thursday's State Dinner as part of Prime Minister Narendra Modi's official visit.
"Tomorrow night, guest will walk across the South Lawn into a pavilion draped in rich greens with saffron-coloured flowers at every table – the colours of the Indian flag," she says.
Also See: Modi in US Live
Guest Chef Nina Curtis closely worked with First Lady Jill Biden and White House Executive Chef Cris Comerford, and White House Executive Pastry Chef Susie Morrison to develop the menu for the state dinner. 04:46
What's cooking? First Lady hosts State Dinner Media Preview
Chef Nina Curtis is a culinary artist based in Sacramento, CA who is celebrated for her exceptional skill and creativity in plant-based cuisine. Chef Curtis' passion for plant-based cuisine spans over two decades of serving in pivotal roles, including Director of Culinary and Executive Chef positions.
"The theme, inspiration of state dinner was the India's national bird peacock," White House social secretary Carlos Elizondo said.
Inspired by PM Modi's call to promote millets, First Lady has included millet-based dishes in the State Dinner to be held in his honour.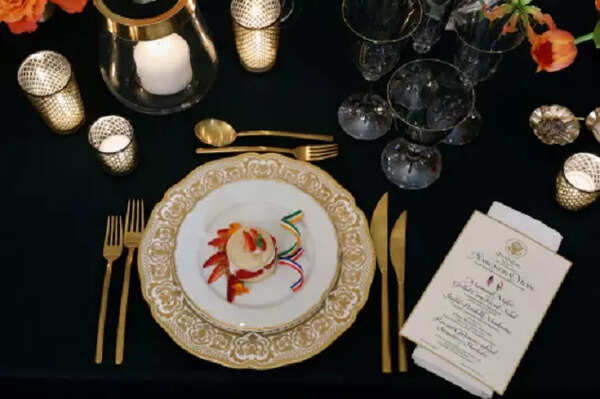 The first course includes Marinated Millet and Grilled Corn Kernel Salad; Compressed Watermelon and Tangy Avocado Sauce.
While the main course includes Stuffed Portobello Mushrooms and Creamy Saffron-infused Risotto. It also has Sumac-roasted Sea Bass; Lemon-Dill Yogurt Sauce; Crisped Millet Cakes and Summer Squashes.
The dessert includes Rose and cardamom infused strawberry shortcake. 03:50
PM Modi's power-packed U.S. visit: Yoga, state dinner & a mega event
Following the dinner, guests will enjoy musical selections from the following performers: Joshua Bell, American Violinist and Conductor. Joshua Bell is a GRAMMY Award-winning violinist, soloist, recitalist, chamber musician and conductor, and currently the Music Director of the Academy of St. Martin in the Fields.
Prime Minister Narendra Modi arrived in Washington on Wednesday on the second leg of his maiden state visit to the US during which he will hold bilateral talks with President Joe Biden and address a joint session of the US Congress. PM Modi arrived in Washington from New York where he led a historic event at the UN Headquarters earlier in the day to commemorate the 9th International Day of Yoga, attended by UN officials, diplomats and prominent personalities.
Watch Inspired by PM Modi's call, this New York restaurant introduced millets to its menu