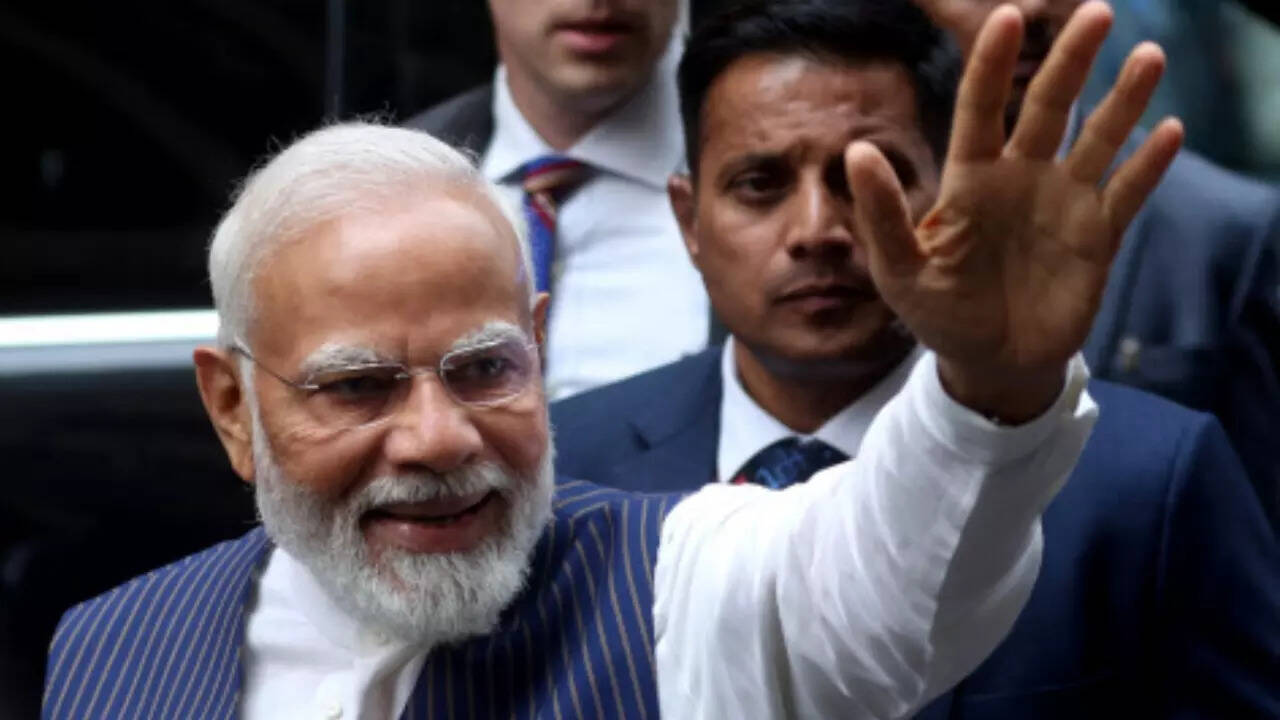 NEW DELHI: Prime Minister Narendra Modi reached the US on Tuesday on the first leg of his maiden state visit. He is scheduled to lead the celebrations of the International Day of
Yoga
at the United Nations Headquarters and hold bilateral talks with President Joe Biden in Washington.
The prime minister was received at the airport by Indian Ambassador to the US, Taranjit Singh Sandhu, and India's Permanent Representative to the UN, Ruchira Kamboj. He later met a parade of intellectuals, business leaders and health experts, making a pitch for investments in India and discussing a range of subjects from economic development and space exploration to Buddhism and the "scientific temperament" on the first day of his visit.
Elon Musk
says he's a fan of PM Modi
Tesla CEO and Twitter owner Elon Musk on Tuesday (local time) met Prime Minister Narendra Modi, who is on a four-day State visit to the US and said that he is a fan of him and was honoured to meet him.
Speaking on PM Modi's leadership role in making technology inclusive so that digital infrastructure can be created, he said, "I can say he really wants to do the right thing for India. He wants to be open, he wants to be supportive of new companies, obviously, but at the same time, make sure it accrues to India's advantage, which is obviously that's the job I'm saying. I am a fan of Modi," to ANI.
In response to PM Modi's tweet regarding his meeting with business leaders in the US, Musk tweeted, "It was an honor to meet again."
This week can change course of history, says Garcetti
Describing PM Modi's visit to America as a "watershed moment" in bilateral ties, US Ambassador to India Eric Garcetti has said that this week will be one of those moments that can change the course of history as the two democracies get together for peace and prosperity.
"We're just getting in the car together and we're starting this voyage. It's the elevation of something that has been growing," Garcetti also said.
PM Modi to celebrate International Day of Yoga at UN
PM Modi will celebrate the International Day of Yoga on Wednesday at the United Nations Headquarters with the UN leadership and members of the international community. Arrangements have also been made in different parts of the country to celebrate the occasion and spread awareness of the benefits of Yoga.
US confident in India's diversification of defence equipment: Pentagon
The US remains deeply confident in India's diversification of military equipment and believes that Washington's proposal for industrial cooperation will further integrate the defence industries of the two countries, the Pentagon has said. It said that the US encourages all its partners and allies to avoid transactions with Russia.
Buying oil in keeping within price cap: 'India to decide'
John Kirby said that it is up to India to decide to buy Russian oil and hoped that India will continue to buy Russian oil in keeping within the price cap.
Speaking on the price cap on Russian oil, Kirby said, "The price cap is working and proven effective. It's working and we are gratified to see that…" In December last year, the US and its allies went after Russia's all-important oil revenues after a European ban and price cap on Russian oil.
PM Modi's State visit not about China or Russia: White House
The main objective of PM Modi's visit to the United States is to strengthen the bilateral relationship between the US and India, with a focus on enhancing cooperation and collaboration and has nothing to do about China or Russia, John Kirby, White House National Security Council Coordinator for Strategic Communications
During a press conference, Kirby stated that this visit is not about convincing PM Modi or the Indian government to do something different.