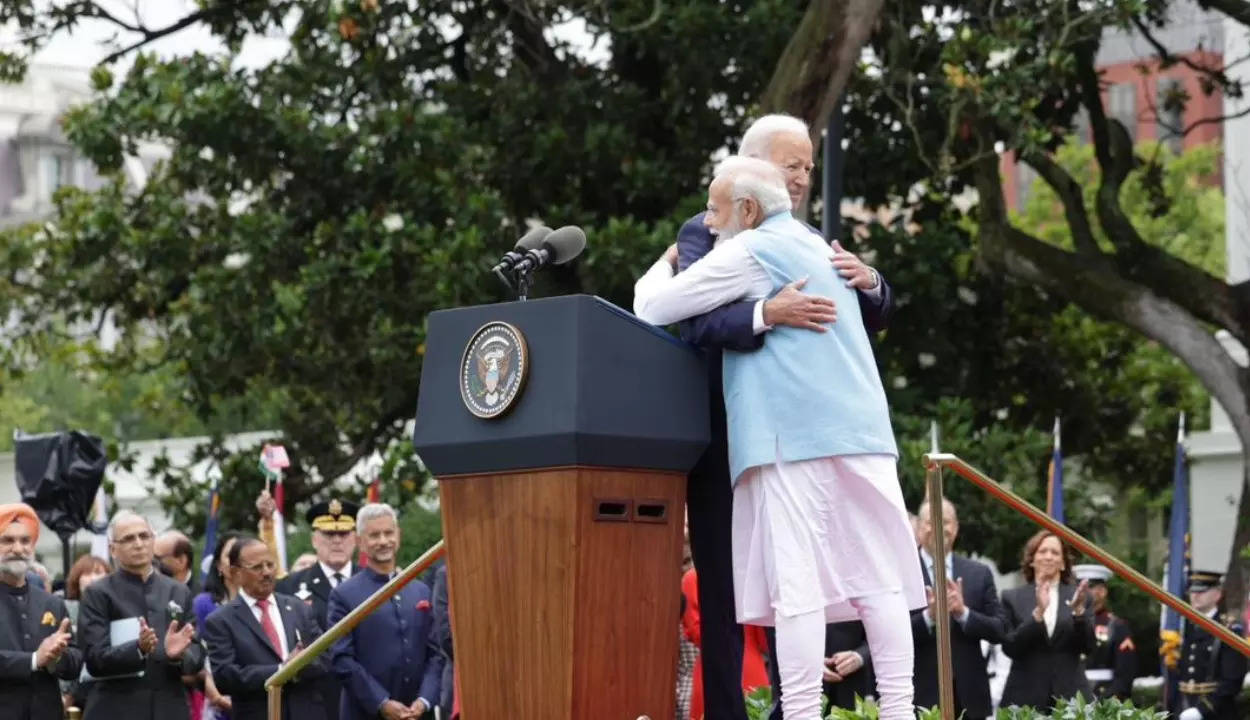 NEW DELHI: With 19 gun salute, Prime Minister Narendra Modi received a grand welcome from United States President Joe Biden and First Lady Jill Biden as he arrived at White House for his maiden state visit on Wednesday.
An Indian delegation, led by external affairs minister S Jaishankar and comprising national security advisor Ajit Doval, foreign secretary Vinay Kwatra and Indian ambassador to the US Taranjit Sandhu among others, accompanied PM Modi. Meanwhile, the US delegation, led by Vice President Kamala Harris and comprising her husband Second Gentleman Douglas Emhoff, secretary of state Antony Blinken, defence secretary Lloyd Austin, national security advisor Jake Sullivan and US Ambassador to India Eric Garcetti, joined President Biden and the first lady at the South Lawns of the White House to welcome PM Modi.
National anthems of India and the US were played at the White House, after which PM Modi and Biden addressed a huge gathering, mostly comprising the Indian diaspora, before entering the official residence of the US president their official talks. President Biden and PM Modi also shared a warm embrace.
Here are the key remarks by PM Modi and President Biden:
We take pride in our diversity: PM Modi
Prime Minister Modi started his reparks by expressing "gratitude towards President Biden for the warm welcome". "Thank you for your friendship, President Biden … The grand and warm welcome I have received at the White House is a matter of respect and pride for 140 crore Indians," said PM Modi.
"We (India and US) take pride in our diversity, both of us believe in fundamental principle of interests of all and welfare of all."
Prime Minsiter Modi exuded confidence that his discussion with President Biden on regional and global issues will be positive. "President Biden and I will discuss India-US relations in some time. I am confident that our talks will be positive and useful as always," said PM Modi. Earlier in the day, PM Modi tweeted, saying he was looking forward to "today's talks with US President Joe Biden". "I am confident our disussions will further strengthen India-USA relations."
"In the post-Covid era, the world order is taking a new shape. In this time period, the friendship between India and US will be instrumental in enhancing the strength of the whole world. India and the US are committed to working together for global good and peace, stability and prosperity."
He praised the Indian community members who "are enhancing India's glory in US through their hard work and dedication". "You (Indian community) are the real strength of our relationship. I thank President Biden and Dr Jill Biden for giving this honour to them," said PM Modi.
Prime Minister Modi added this was not his first visit to the White House. "I have visited the White House many times after becoming the PM. But This is the first time the gates of the White House have been opened for the Indian-American community in such large numbers," said PM Modi.
"I will have an opportunity to address US Congress for second time. I'm deeply grateful for this honour."
"I, along with the 1.4 billion people of India wish that India's Tricolour and America's stars and stripes keep flying higher and higher," said PM Modi.
President Biden: Religious pluralism 'core principle' for India, US
Amid cheers from the crowd gathered, US President Biden greeted PM Modi saying, "Welcome to White House Mr Prime Minister."
"PM Modi welcome back to the White House. I am honoured to be the first to host you here on a state visit."
"I have long believed that the relationship between the US and India will be one of the most defining relationships of the 21st century."
"Equity under the law, freedom of expression, religious pluralism and diversity of our people are the core principles that have endured and evolved, even as they faced challenges, throughout our nation's histories."
"India and US are working closely on eliminating poverty, expanding access to healthcare, addressing climate change and tackling food and energy insecurity triggered by the Russian war on Ukraine.
"With your cooperation, we have strengthened the Quad (also comprising Australia and Japan) for a free, open, secure and prosperous Indo-Pacific. Decades from now, people will look back and say that the Quad bent the arc of history for global good."
People-to-people relation real engine of India-US relationship: PM Modi at bilateral meet
Once in, prime minister modi and us president joe biden held bilateral talks at the oval office of the white house. Prime minister modi told biden that the us president has "always been a great well-wisher of india: "the real engine of india-us relationship is the people-to-people relation," he added.