Read Time:
3 Minute, 23 Second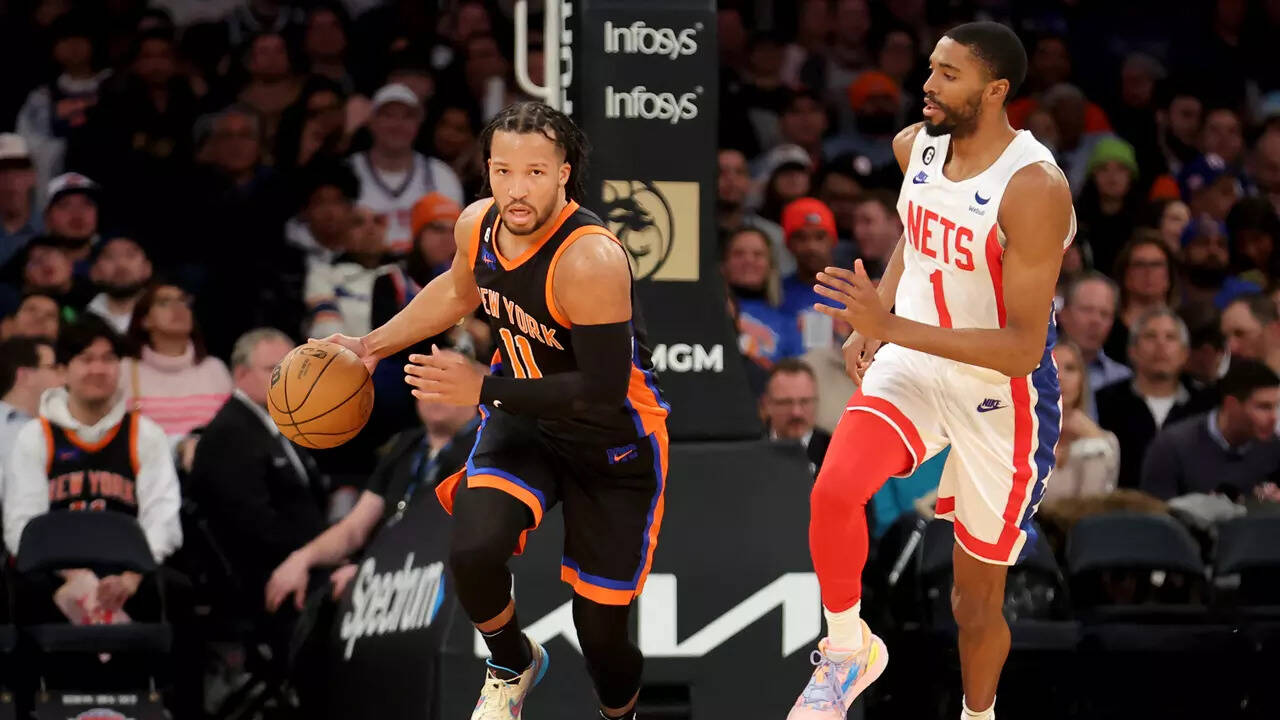 The New York Knicks produced a stellar performance to thrash visiting Brooklyn Nets 142-118 at home on Wednesday night. It was the season high total for the Knicks.
Jalen Brunson had a stunning start in the game, scoring 30 of his 39 points during a blistering first half for the Knicks.
The Knicks, who have won seven straight to move into fifth place in the Eastern Conference, scored 47 points in the first quarter, one shy of the franchise record for an opening period.
New York also tied a franchise record by hitting 14 3-pointers in the first half, and the Knicks maintained a lead of at least 16 points throughout the final three quarters.
Mitchell Robinson (13 points, 10 rebounds) posted his fourth consecutive double-double while Julius Randle added 21 points, eight rebounds and eight assists for the Knicks.
New York's Quentin Grimes scored 22 points while RJ Barrett and Immanuel Quickley added 15 points apiece.
Cameron Johnson scored 33 points for the Nets, who have lost four straight and are 2-8 since dealing Kyrie Irving to the Dallas Mavericks on Feb. 6, shortly before Kevin Durant was traded to the Phoenix Suns. Brooklyn is in sixth place — the last guaranteed playoff spot — in the East, 1 1/2 games ahead of the Miami Heat.
Spencer Dinwiddle (11 points, 10 assists) had a double-double for the Nets while Mikal Bridges finished with 21 points. Reserves Cam Thomas (15 points) and Seth Curry (10 points) also scored in double digits.
The Knicks, who only trailed at 3-0 in a 109-94 win over the visiting Boston Celtics on Monday night, trailed 3-0 and 11-10 on Wednesday before going on a 13-0 run. New York took its first double-digit lead at 23-11 with 6:19 left in the first on a Brunson 3-pointer.
The Knicks led by as many as 27 in the second quarter before carrying an 81-57 lead into the half. The Nets got within 17 points in the third, when they trailed 103-86 after a three-point play by Bridges, before New York extended the lead to 110-87 at the end of the period.
The hosts led by as many as 30 in the fourth quarter.
(With inputs from Reuters)
For more news update stay with actp news

Android App

Facebook

Twitter

Dailyhunt

Share Chat

Telegram

Koo App