Meet The Wild Elephant Keeping Residents And Foresters In Kerala And
Tamil Nadu
On Their Toes
Maybe, if Arikomban had a ration card he wouldn't have tried to break into the ration shop at Manalar in Tamil Nadu, near the Srivilliputhur-Megamalai Tiger Reserve, last month. Maybe, he wouldn't have criss-crossed Kerala and Tamil Nadu. Maybe, he wouldn't have cost forest officials so many hours of sleep and so many tranquilliser darts. Maybe.
But Arikomban is a wild male elephant with an inscrutable mind. He's been the bad boy of Chinnakanal, where he was born, and nearby Santhanpara in Kerala's Idukki district for almost 20 years. Only now, with his escapades of the past few months, his reputation has gone national.
Arikomban is probably the only rogue jumbo in India, or anywhere, to be the target of three capturing operations. He has been caught and relocated deep inside forests, but returns to human settlements before long.
Paying The Price For Rice
The 'ari' in Arikomban means rice, and rightly so. By 2017, when Arikomban's rice stealing and marauding had become hard to ignore, the first attempt was made to capture him.
Now, an elephant weighs several tonnes and capturing it, even with tranquillisers, is a complicated task. You want to subdue it but not so much that it collapses to the ground. Foresters call it 'standing sedation'. When an elephant is in this state, forest officials tie ropes to its legs and then push it onto a truck with the help of 'kumki' elephants – captured wild elephants that have been trained for the job.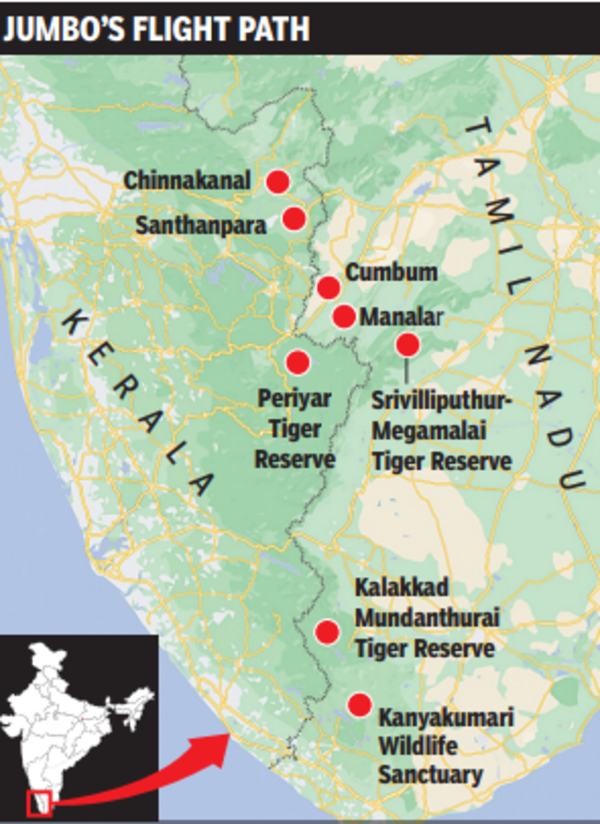 But the first attempt tocatch Arikomban this way was unsuccessful. Several tranquilliser darts were spent but the young elephant escaped into the forest. He has not been so lucky this year.
Operation Arikomban
In February, Kerala's chief wildlife warden was forced to order Arikomban's capture and relocation after protests erupted in Chinnakanal over the jumbo's daily raids on houses in search of rice. The plan was to take him to the Kodanad elephant training centre in the Malayattoor range and try to make him a kumki.
For a month, the forest department's catching team carefully monitored Arikomban's movements. Just as they were getting ready to spring a trap, the plan had to be abandoned because the Kerala high court, in a special night sitting on March 23, made it clear that the elephant could not be kept in captivity and would have to be translocated to another forest that had enough food and water.
The idea was that Arikomban's raids on houses arose from the lack of dense forests in Chinnakanal. So, the forest department decided to move him to Parambikulam Tiger Reserve in Palakkad, more than 150km away. The news triggered panic in Parambikulam where the residents knew Arikomban's history.
The forest department realised that the only way they would get Arikomban out of Chinnakanal was with their lips sealed. On April 29, in one of their most risky elephant capturing operations lasting 22 hours, a team of 150 personnel and four kumki elephants tranquillised and captured Arikomban. They placed a GPS collar on him and carried him in a special truck to the 924 sq km Periyar Tiger Reserve (PTR) in Idukki, on the Tamil Nadu border.
Woods Were Lovely, But…
Arikomban had finally found his dense forest, but it seems the experts had underestimated his rice craving. Less than two weeks after arriving in PTR, he was seen trying to break into the ration shop at Manalar. He had sniffed out this store of rice from almost 20km away.
While the locals were merely afraid he would raid their homes next, on May 27 Arikomban entered Cumbum town, smashed autorickshaws and bikes, and generally ran amok. That was enough to make him persona non grata again.
Now, it was the Tamil Nadu forest department's turn to capture and translocate Arikomban without delay. In the wee hours of June 5, he was tranquillised, then pushed by three kumkis into a truck and driven 250km away to the Upper Kothayar area of Kalakkad Mundanthurai Tiger Reserve in Tamil Nadu's Tirunelveli district. This operation took almost 24 hours.
Does Arikomban like his new home? Officials say he's already tramped over to the nearby Kanyakumari Wildlife Sanctuary, and might drift again towards the residential areas in either Tamil Nadu or Kerala.
Wildlife expert Dr Arun Zachariah, who is the chief veterinary officer of the Kerala forest department, told TOI there is every possibility of Arikomban reaching human zones as it is a "habituated conflict animal and will keep on visiting human habitats even if translocated".
Shots Won't Harm Him
Arikomban has taken quite a few tranquilliser darts in just over a month this year. Could they cause long-term harm? Zachariah said the frequent tranquillisation would not adversely affect the elephant's health. He said all protocols for the use of tranquillisers were strictly followed.