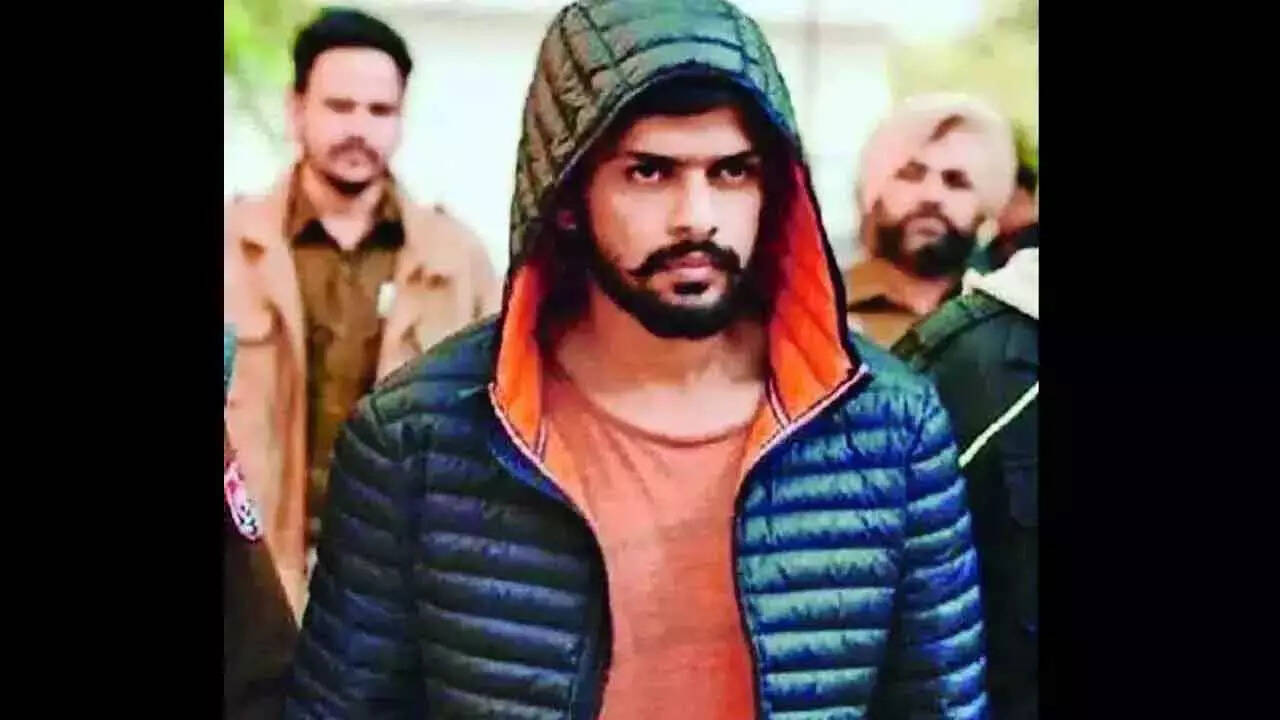 NEW DELHI: The National Investigation Agency (NIA) on Tuesday arrested a key aide of jailed gangster Lawrence Bishnoi for harbouring members of the latter's organised crime syndicate, including those involved in the May 2022 rocket-propelled grenade attack on Punjab police's intelligence wing's headquarters in Mohali.
Arrested accused Vikas Singh, a resident of Lucknow in Uttar Pradesh, had harboured Deepak Surakhpur and Divyanshu, resident of Faizabad, who executed the RPG Attack in Mohali, on multiple occasions at his house in village Devgarh, Ayodhya and his flat at Gomti Nagar Vistar, Lucknow.
Vikas Singh is accused in 10 criminal cases involving IPC offences like murder and attempt to murder as well as under the Arms Act & Gangster Act.
As per NIA probe into the RPG attack and other cases involving the Lawrence Bishnoi gang, Deepak Surakhpur was introduced to Vikas by Vicky Midhukhera, another associate and friend of Bishnoi. Vikas had connected Divyanshu, already known to him, to the Lawrence Bishnoi syndicate. The duo Deepak and Divyanshu were involved in numerous targetted or contract killings including that of businessman Sanjay Biyani in Nanded and Rana Kandhowalia in Punjab.
Vikas Singh, NIA said on Wednesday, had also harboured accused Rinku after Rana Kandowalia's murder. In early 2020, gang members Monu Dagar, Pradhan and Cheema were in Lucknow with Vikas Singh after the Chandigarh double murders.
The investigation also revealed that many gangsters or their associates from other states — including Rinku, Rajpal (Madhya Pradesh) and Bhati (Madhya Pradesh) — were also harboured by Vikas Singh.
The case in which Vikas Singh has been arrested relates to the terrorist-gangster conspiracy hatched by members of Lawrence Bishnoi criminal syndicates/gangs based in India and abroad, to raise funds and recruit youth to carry out terrorist acts in Delhi and other parts of the country. The investigations so far have shown that conspiracy was being hatched in jails of different states and executed by an organized network of operatives based abroad.
NIA has already established the involvement of Lawrence Bishnoi syndicate in several sensational terror cases, including the targeted killing of Pradeep Kumar, a Dera Sacha Sauda follower in 2022; killing of Raju Theth in Sikar, Rajasthan; the sensational killing of famous Punjabi singer Sidhu Moosewala; and the RPG attack in Punjab in May 2022.
NIA has till date arrested 15 accused and chargesheeted 14 accused, including Lawrence Bishnoi, in the terror-gangster conspiracy case. The others named in the chargesheet are Jagdeep Singh, Sandeep, Virender Pratap, Joginder Singh, Rajesh Kumar, Raj Kumar, Anil Chippi, Naresh Yadav, Mohammad Shahbaz Ansari, Satinderjit Singh alias Goldy Brar, Sachin Thapan, Anmol Bishnoi and Vikramjit Singh.
NIA filed the chargesheet in the instant case on March 24, 2023 under various sections of IPC, UA(P) Act 1967 and Arms Act, 1959.