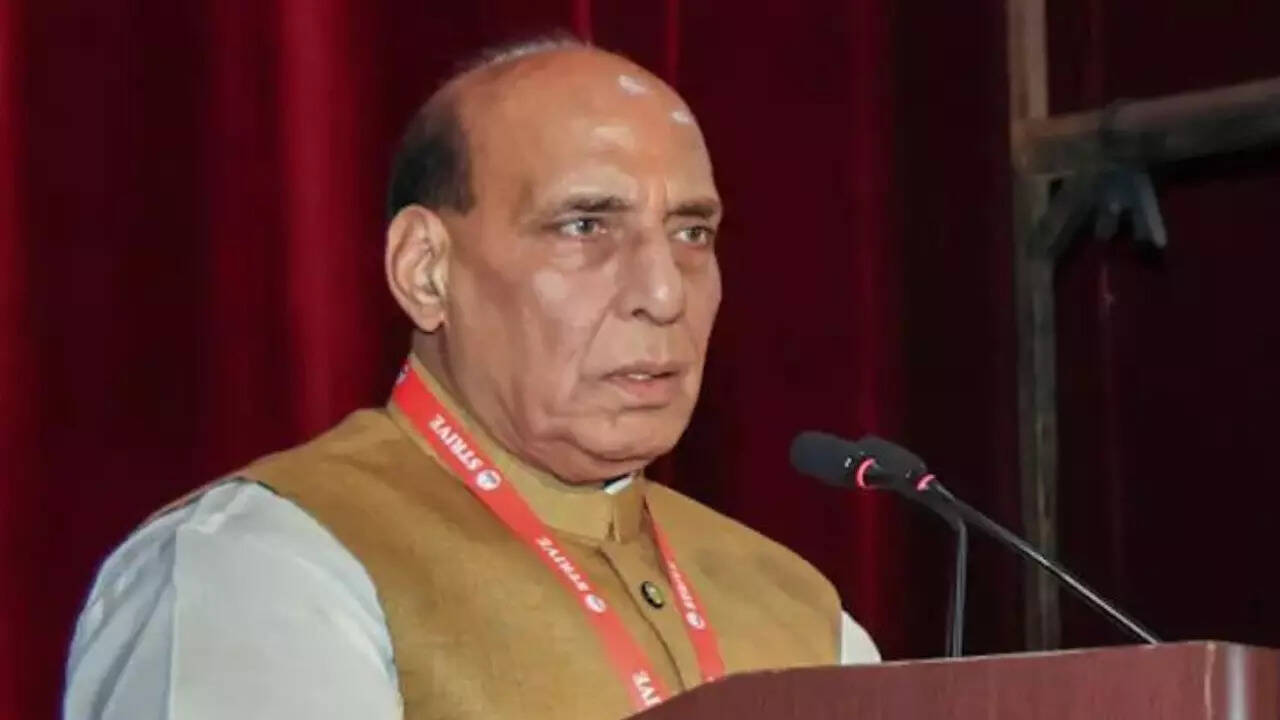 NEW DELHI: The upcoming Rs 20,000-crore Uttar Pradesh defence industrial corridor in Bundelkhand will produce highly advanced defence missiles and equipment like BrahMos supersonic cruise missiles, unmanned aerial vehicles and drones for the armed forces, defence minister Rajnath Singh said in Lucknow on Saturday.
Addressing a gathering at the 'Defence Dialogue' organised by 'The Economic Times' and STRIVE on 'Atmanirbhar Bharat', the defence minister said, "In the UP defence corridor, not only nuts and bolts or spare parts will be manufactured, (but) drones, UAVs, electronic warfare (systems), aircraft and BrahMos missiles will also be manufactured and assembled. He said an "enabling" environment has been prepared for defence manufacturing through defence corridors in Uttar Pradesh and Tamil Nadu.
Explaining the urgency of the corridor, Singh said, "During the 1971 war, when we needed equipment the most we were refused. We had to look for alternatives. I don't want to take the names of the countries that refused our request. Again, during the Kargil War, when our armed forces felt a strong need for equipment, those countries were imparting us lessons of peace. Those who traditionally used to supply us weapons, they too refused."
"In the fast changing world, self-reliance is not an option for us, but it is a necessity," Singh said, adding "we do not have any option other than strengthening ourselves".
The defence minister said imported equipment has limits and sometimes "a situation may arise that in adverse circumstances you want to use it (equipment), and the other country using a system can block it".
"Imported weapons come with some conditions that are not appropriate for a sovereign nation. So, to safeguard the country's sovereignty, if we need equipment or platforms with the most advanced technology, then we have to develop it in our country only," the defence minister said.
The UP defence corridor is planned across six nodes — Lucknow, Kanpur, Jhansi, Agra, Aligarh and Chitrakoot. However, the lion's share of the corridor is centered around the Bundelkhand regions of Jhansi and Chitrakoot as land parks proposed for the project are 3,025 hectares in Jhansi and 500 hectares in Chitrakoot. Other smaller land parks proposed are in Kanpur (217 ha) and Aligarh (52 ha). Creation of land bank for setting up of defence infrastructure is the foremost priority of the Yogi Adityanath-led UP government.
These land parks, where the defence units have been planned, are supported by a network of expressways for better and easy reach. So, Yamuna Expressway, Agra-Lucknow eway, Purvanchal eway, Bundelkhand eway and Gorakhpur Link eway and Ganga eway will be the arteries of the defence corridor that will ensure smooth transport of labour and raw material.
"I have been told that for this corridor, land which is planned to be acquired is around 1,700 hectares. Of this, more than 95% of land has already been acquired," the defence minister said.
Singh said 36 industries and institutions have been allotted nearly 600 hectares. He also informed that 109 MoUs have been signed, with an estimated investment value of more than Rs 16,000 crore. So far, investment of about Rs 2,500 crore has been made in the corridor by various entities, he said.
IIT Kanpur and IIT BHU, Varanasi have been approved by the state government for establishment of the Centre of Excellence related to the corridor.