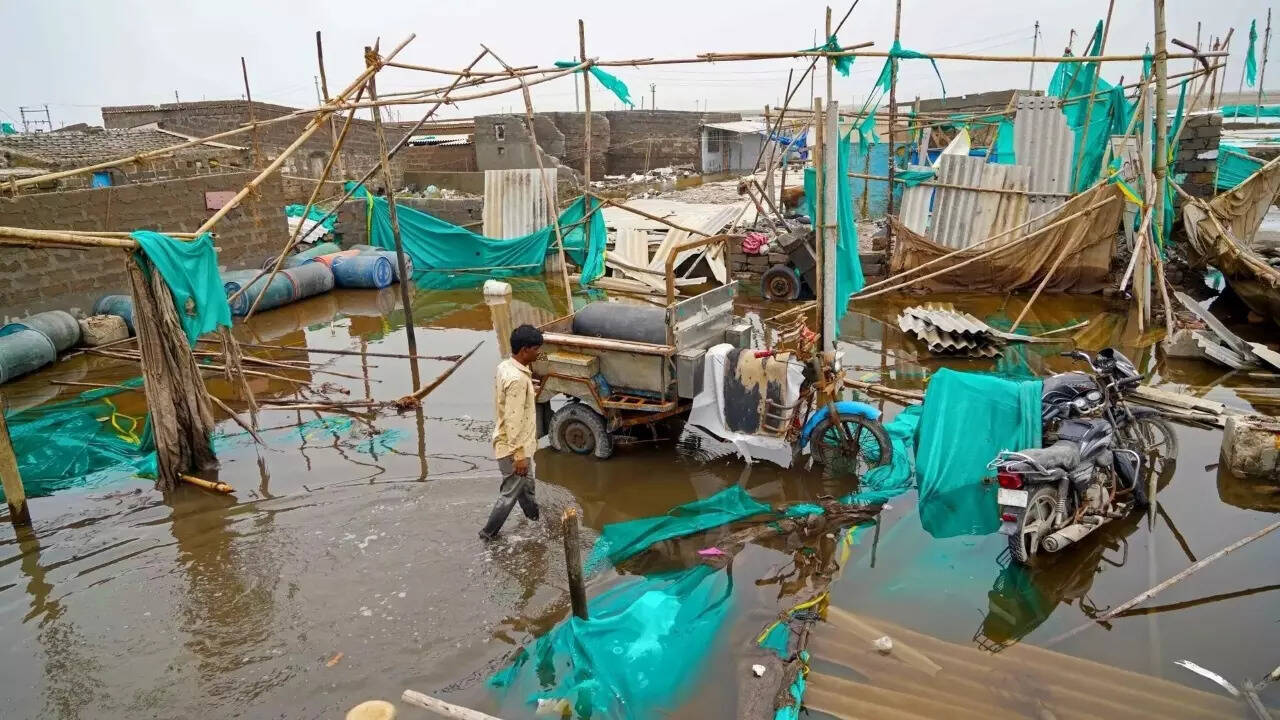 MANDVI (KUTCH): Even as several towns and hundreds of villages battered by Cyclone Biparjoy are wading back to normalcy, Kutchis have shown their resoluteness once again by rebuilding their lives around the devastation without wasting time waiting for sponsored relief.
Without waiting for government agencies to come, survey damage and affix ex gratia, people banked on their own resourcefulness to start life anew amid the ruins.Many a roof, torn asunder by the gale, was straightened and refixed on Saturday, so that displaced families could return home soon from shelters.
Though it is not raining in Kutch and the wind speed too has significantly reduced, heavy to very heavy rains may continue in many northern districts of Gujarat.Like the villages located near Jakhau, Mandvi taluka too has got marooned in the catastrophic storm. Nana Layja village, a remote hamlet located 18km off Mandvi town, is a sight to be seen. Situated barely 2km from the sea, not a single house of the village with a population of 1,300 has its roof intact. The walls of many houses also collapsed. The village has around 200 houses.
When TOI reached this remote village, it was pleasantly surprised to find villagers not bemoaning their losses, but constructively rebuilding houses, clearing uprooted trees off roads to restore normal lives. Ghani Mahmad, busy fixing his rooftop, mistook the team as surveyors. "Saheb sahay khapeti… (We need government assistance)," said the man in chaste Kutchi dialect. Mahmad, a father of four girls, is a fisherman without his own boat. He works for his boss.
Abdul Katiyar, another fisherman who got married a month ago, said: "I had borrowed money for my marriage and now, my house is totally damaged. I don't know how to repair it."
While the entire population is engaged in fishing, the village has over 30 boats, a majority of which got damaged.
Village leader Mansukh Maheshwari said, "The fishermen went to see the boats after the cyclone blew over and found collision damaged many. We have been demanding a jetty for long, but our requests fall on authorities' deaf ears."
Sarpanch Viram Gadhvi told TOI, "Around 175 houses in our village got damaged. The authorities are busy clearing road blockages and restoring electricity, and will probably start surveying damages by next week. We hope the government will announce ex gratia."