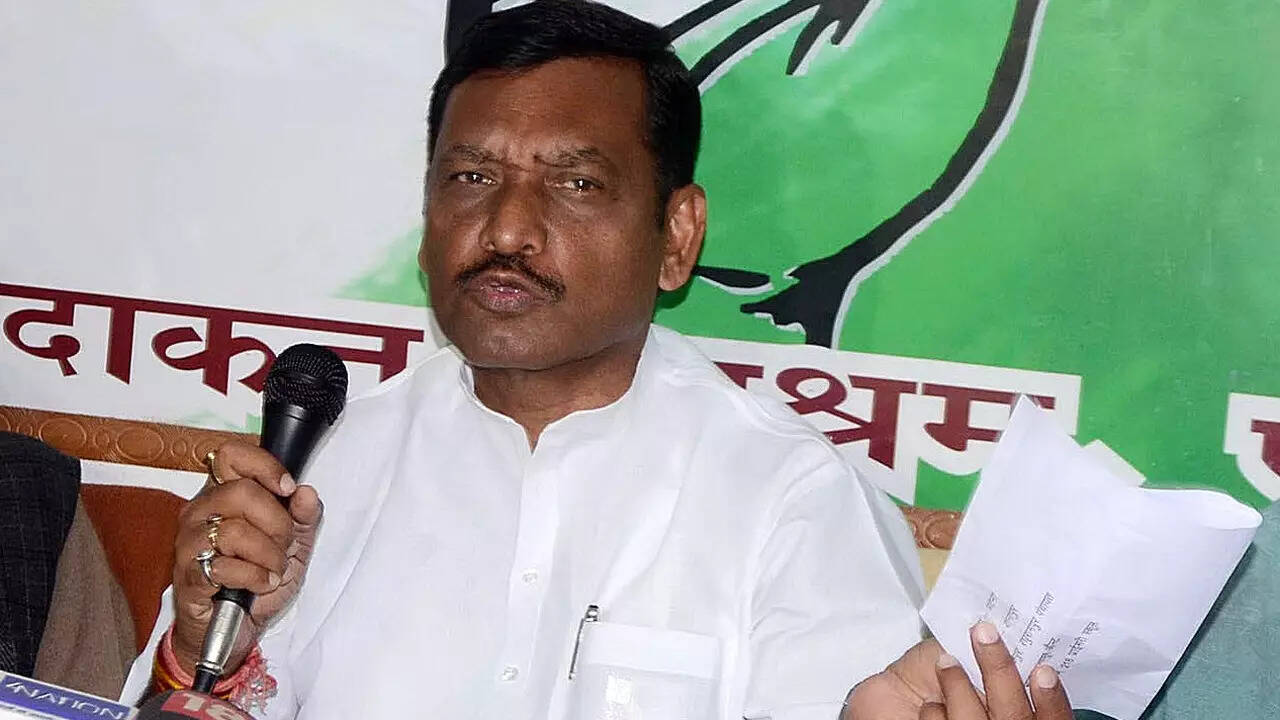 PATNA: The issue of who would be the prime ministerial face of the opposition alliance is not important as the leadership question can be tackled collectively after dislodging the BJP-RSS from power, Bihar Congress chief Akhilesh Prasad Singh said on Thursday, stressing the need for preparing a common minimum programme soon.
Singh claimed that when opposition parties unite and contest the general elections next year, the BJP will come down to less than 100 seats.
His remarks come ahead of a crucial meeting on Friday of top leaders of opposition parties to chart a roadmap for the formation of an anti-BJP front for the 2024 Lok Sabha polls.
In an interview with PTI, Bihar Pradesh Congress Committee president Singh said his party is the central pillar of opposition unity and stressed that small differences between parties will be ironed out at meetings such as the one taking place here.
"We hope that all will sit together and an amicable solution will be reached to move forward together," Singh said of the opposition meeting.
Asked about the BJP's criticism that the opposition does not have a prime ministerial face, he said, "I will take you back to 2004, Manmohan Singh ji was not our prime ministerial face and without a prime ministerial face, with an alliance, the Congress defeated the BJP and when (Atal Bihari) Vajpayee ji lost, Manmohan Singh ji became the prime minister and continued for 10 years."
"This (prime ministerial face) is something not very important, all opposition parties will unite together and contest the election, we are sure the BJP will come down to less than 100," the Rajya Sabha MP said.
At present, the Lok Sabha has 543 seats.
Stressing that picking the prime ministerial face was not a priority, Singh said it was fine for the BJP to think on those lines but the Congress had not followed that strategy in Karnataka and contested without declaring a CM face.
In Himachal Pradesh also, the Congress did not contest declaring a CM face, he pointed out.
Asked about voices within the Congress that Rahul Gandhi should be the prime ministerial face, the Bihar Congress chief said, "Whether Rahul ji is the face, he makes someone else the face or someone else becomes the face, all these things probably are not important right now. What is important is how the BJP-RSS is removed from power after that we can pick (the prime ministerial candidate) collectively. I have said that in 2004 Manmohan Singh was not PM face but when Vajpayee ji lost, then people picked him."
On the BJP's charge that the opposition alliance was opportunistic as there were serious differences between them, Singh said there were only small issues among opposition parties that would be ironed out.
"There are small issues … this is not the first meeting, Nitish Kumar ji, Tejashwi Yadav ji have had a meeting with Congress president (Mallikarjun Kharge) and after that everyone is sitting together so these small issues of state politics, the problems that are there with AAP in Delhi and Punjab, there can be some small issues with Mamata di (West Bengal Chief Minister Mamata Banerjee), for (solving them) we are sitting together," Singh said.
All the opposition leaders are mature people with an understanding of politics and they are unanimous over the fact that we need to unite to defeat the divisive politics of the BJP, he asserted.
Asked whether the Congress would be the central pillar of the anti-BJP alliance, Singh said Bihar chief minister Nitish Kumar has said this repeatedly that there is no meaning of an opposition alliance without the Congress.
"I don't need to say this. All opposition leaders would understand that in terms of national presence, the Congress is there in all states, so how can there be any alliance without the Congress," he said.
Pressed further on whether the Congress will be the main pillar of opposition unity, Singh said, "The Congress is (the main pillar) and not will be. Among the Opposition parties, we have governments in three-four states, we have about 800 MLAs nationwide. So, everyone understands this and these things are happening keeping that in mind."
On whether the Congress would be the glue that would bind the Opposition, Singh said his party as well as others were working to bring everyone together.
"The Congress had given Nitish ji the responsibility of speaking with some parties. Also this is not the final meeting, people will keep meeting after that also. It is not as if others won't join in, people will keep coming together and the number of parties will keep increasing," he said.
Asserting that issues were more important for the opposition parties, he said a common minimum programme should be prepared.
"I think we should move forward with a common minimum programme. The BJP will automatically lose," he said, adding that certainly leaders will discuss it.
Asked if the common minimum programme would soon evolve, Singh said certainly as the election is just months away.
He also asserted that seat sharing for the Lok Sabha polls in Bihar was not an issue.
"We had fought together earlier also with RJD and the Left … Seat sharing is important but more important is how we come together and fight together to defeat the BJP," he said.
Singh also said Patna has been the place for change and has a history. Mahatma Gandhi launched the struggle for Independence from Champaran and we were successful in throwing out the British, he said.
"I am confident that the bugle of the Modi government's exit will be blown from Bihar," he asserted.
Congress president Kharge, former AICC chief Rahul Gandhi, West Bengal chief minister Banerjee, Delhi chief minister and AAP Convener Arvind Kejriwal, Samajwadi Party chief Akhilesh Yadav, Jharkhand chief minister Hemant Soren, former chief minister of Maharashtra Uddhav Thackeray and NCP chief Sharad Pawar are among those expected to attend the first high-level opposition meeting being hosted by Bihar chief minister Nitish Kumar and RJD's Yadav.
Tamil Nadu chief minister M K Stalin, CPM general secretary Sitaram Yechury and CPI (ML) general secretary Dipankar Bhattacharya are the other leaders who have agreed to be part of the meeting.