Read Time:
4 Minute, 11 Second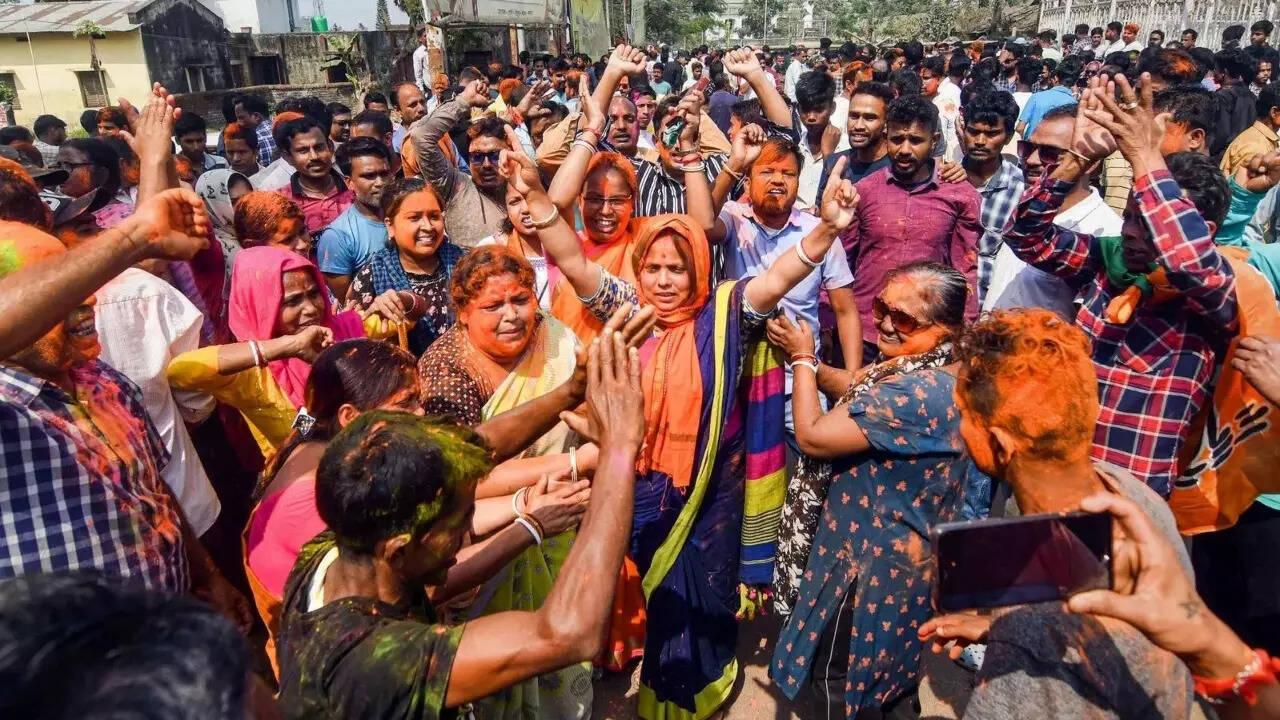 GUWAHATI: In a near-repeat of 2018, Tripura Thursday voted for the return of a BJP-led government, Nagaland overwhelmingly chose the stability of the NDPP-BJP combine and Meghalaya threw up a hung House, resulting in estranged allies BJP and NPP coming together again in a bid to form an NPP-led NDA government in the state for a second consecutive term.
In Meghalaya, NPP's 26 seats are an improvement over its 2018 tally of 20, but four short of a majority. BJP maintained status quo with a lower-than-expected return of two victories after going it alone and contesting all 60 seats against its former allies NPP and UDP.
Election to one Meghalaya seat was countermanded following the death of a UDP candidate. UDP won 11 seats this time, increasing its tally by five seats.
Chief minister and NPP chief Conrad K Sangma called Union home minister Amit Shah in the evening and "sought his support and blessings in forming the new government". Assam CM Himanta Biswa Sarma then tweeted that BJP president JP Nadda "advised the state unit of BJP, Meghalaya, to support the National People's Party in forming the next government in Meghalaya".
Shortly after Sangma's call to Shah, Meghalaya BJP president Ernest Mawrie offered a letter of support to Sangma. However, NPP still remains two seats short of a majority in the Meghalaya assembly.
Congress found itself on the verge of extinction in the North-East, where it has suffered debacles in 12 assembly elections over the past eight years. In Meghalaya, its tally went down to five from 21 in 2018. It, however, was able to win three seats where it had drawn a blank in 2018.
"Small elections in small states do not affect us much," AICC president Mallikarjun Kharge told the media.
Regional parties corner more than half of 178 seats
In Tripura, BJP and tribal ally IPFT won 32 and one seat, respectively. In Nagaland, Neiphiu Rio's NDPP had 25, eight more than in 2018, and BJ. Each of these North-Eastern states have 60 seats.
Regional parties performed better this time with 10 of them, within or outside NDA, winning more than half of the 178 seats across three states that went to polls. Royal scion Pradyot Kishore Debbarman's Tipra Motha turned out to be a big gainer on debut with 13 seats in Tripura. Its main poll plank was a "constitutional solution" to the issue of a separate homeland for the state's indigenous tribals.
In Nagaland too, NPP raised the number of seats to five from two.
The Left parties found their popularity dwindling in Tripura, where they had been in government for 25 consecutive years. The Left Fron's tally went down to 11 from 16 in 2018 despite teaming up with Congress. TMC performed dismally in Tripura, failing to win a single seat. It bagged five seats in Meghalaya, a position that may increase its relevance in case NPP fails to renew its tie-up with BJP.
With its performance falling short of its own expectations, BJP is set to rethink its strategy for Mizoram and Arunachal Pradesh, where elections are due in December and early next year. Elections in Arunachal are likely to be held simultaneously with the Lok Sabha elections.
For more news update stay with actp news

Android App

Facebook

Twitter

Dailyhunt

Share Chat

Telegram

Koo App