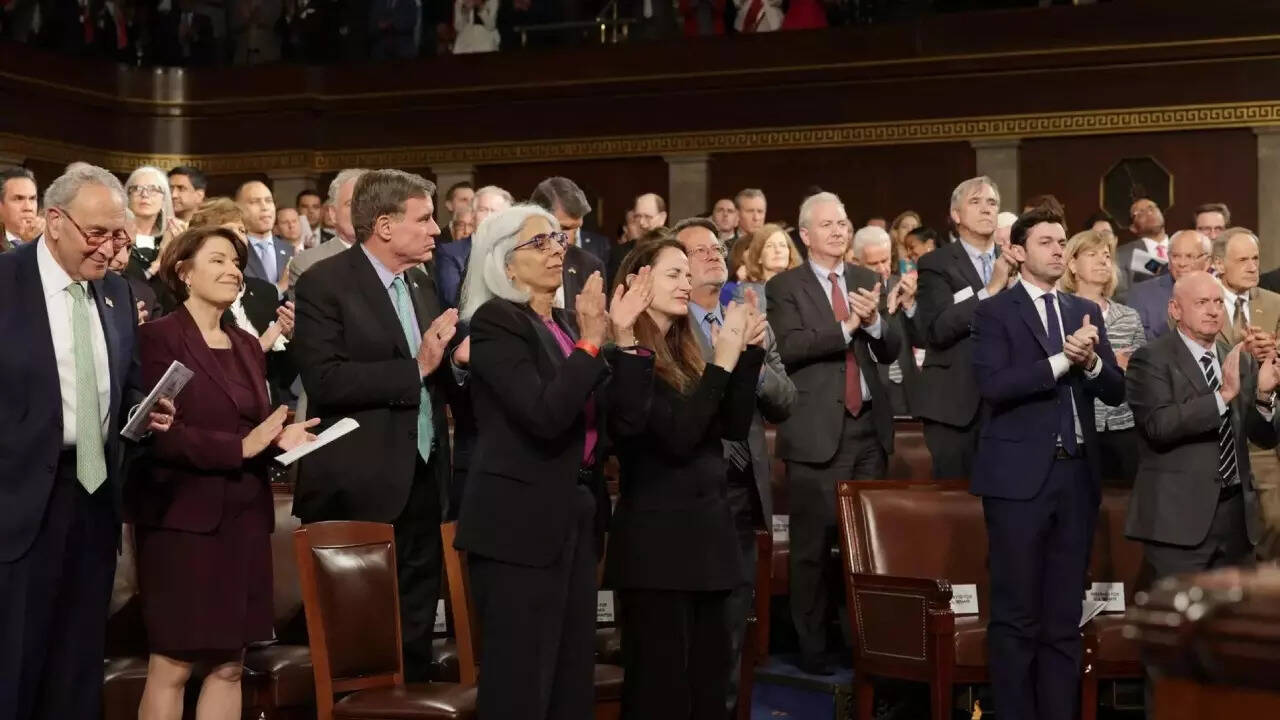 WASHINGTON: Prime Minister Narendra Modi's nearly hour-long address to the US Congress evoked multiple standing ovations, applauses and cheers from American lawmakers and chants of 'Modi, Modi' from members of the diaspora community sitting in the grand House Chamber at the US Capitol here.
Modi became the first Indian leader to address the joint session of the US Congress twice on Thursday. He first addressed a joint meeting of the US Congress in 2016.
Modi arrived in the House Chamber to a rousing reception as lawmakers stood up and applauded as he walked up to the podium to deliver his address.
Members of the Indian-American community sat in the visitor galleries in the chamber and erupted into applause and chanted 'Modi, Modi' as the Indian leader walked in.
Modi waved to the diaspora in the galleries overhead before he began his address. Modi's address received about 15 standing ovations from US lawmakers and multiple applauses.
On several occasions, the diaspora broke into chants of 'Modi, Modi' and 'Bharat Mata ki Jai' during the address.
Some of the members of the Indian-American community were dressed in traditional Indian attire.
During his address, Modi said, "There are millions here, who have roots in India. Some of them sit proudly in this chamber. There is one behind me, who has made history."
Modi was referring to Kamala Harris, the first Black, South Asian, and woman to be elected to the post of Vice President. Harris' mother Shyamala Gopalan, a breast cancer scientist, hailed from Chennai.
As Modi made this comment, former House Speaker Nancy Pelosi smiled and looked over at Congressmen Ro Khanna and Raja Krishnamoorthi sitting across the aisle from her and applauded and acknowledged them.
Both are US lawmakers of Indian origin.
Some aspects of Modi's address also elicited light-hearted laughter from the lawmakers, with one saying, "In all this, Indian Americans have played a big role. They are brilliant in every field, not just in Spelling Bee".
It was a reference to the popular spelling competition in America that has been dominated by Indian-American children who emerge as champions year after year. This year too, 14-year-old Dev Shah, an eighth grader from Florida, won the Scripps National Spelling Bee.
Modi's address ended with a prolonged standing ovation and applause from the lawmakers and members of the Indian-American community.
As Modi walked to exit the chamber, several lawmakers crowded around him, shaking his hand, congratulating him and getting his autograph on special copies of his speech that were circulated to the attendees. Members of the community shouted 'Modi, Modi' and 'Bharat Mata Ki Jai' (Victory for Mother India).