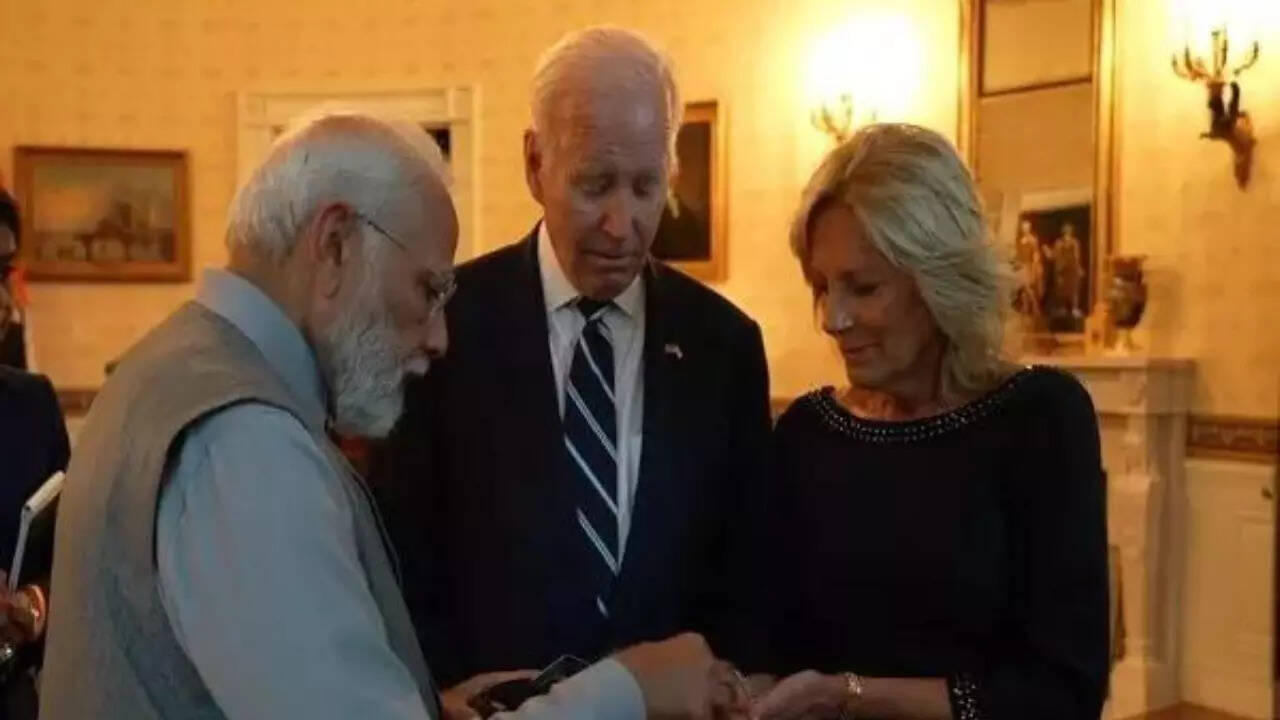 WASHINGTON: Prime Minister Narendra Modi has gifted US President Joe Biden a special sandalwood box which highlights the value and respect Indian tradition associates with experience, officials said.
Prime Minister Modi gave President Biden the unique sandalwood box sourced from Mysore with intricately carved flora and fauna patterns and handcrafted by a master craftsman from Jaipur during an intimate dinner at the White House on Wednesday.
The box contains the idol of Lord Ganesha, a Hindu deity considered the destroyer of obstacles and the one who is worshipped first among all gods, and its silver form has been handcrafted by a family of fifth-generation silversmiths of Kolkata, officials said.
Ancient Indian text mentions that an individual becomes 'Drishta Sahasrachandro' or the one who has seen one thousand full moons when he completes the age of 80 years and eight months, a milestone President Biden will reach next month.
"The life spanning one thousand full moons is considered to be an important milestone in the Hindu way of life. The gap between two full moons is about 29.53 days, so the time span covered by a thousand full moons would be approximately 29,530 days or 80 years and 8 months," a press note said.
Modi's gift underscores the traditional respect associated with a person's experience and is significant at a time when President Biden's age is at times a matter of debate, as his country edges towards the next presidential polls.
Another gift to Biden is a tribute to the US president's admiration for Irish poet William Butler Yeats.
Biden has often quoted poetry from Yeats and made references to his writings and poetry in his public speeches, officials said, adding that Yeats had a deep admiration for India and was greatly influenced by Indian spirituality.
His friendship and admiration for Gurudev Rabindranath Tagore is well-known and he helped popularise Gurudev's Gitanjali in the Western world, officials said.
Yeats' admiration for Indian spirituality was much deeper and he was deeply influenced by the Upanishads and other ancient knowledge streams of India, they said.
In 1937, Yeats published an English translation of the Indian Upanishads, co-authored with Shri Purohit Swami. The translation and collaboration between the two authors occurred throughout the 1930s and it was one of the final works of Yeats.
"A copy of the first edition print of this book, 'The Ten Principal Upanishads' published by M/s Faber and Faber Ltd of London and printed at the University Press Glasgow has been gifted to President Biden," they said.
Modi also gifted a 7.5-carat lab-grown green diamond to First Lady Jill Biden. The diamond, which has been made in India, reflects earth-mined diamonds' chemical and optical properties and is also eco-friendly, as eco-diversified resources like solar and wind power were used in its making.
"It is a beacon of responsible luxury that symbolises India's 75 years of freedom and sustainable International relations," officials said.
US President Biden and First Lady Jill presented a handmade, antique American book galley from the early 20th Century as the official gift to Prime Minister Modi.
They also reportedly gifted a vintage American camera, accompanied by an archival facsimile print of George Eastman's Patent of the first Kodak camera, a hardcover book on American wildlife photography, and a signed, first edition copy of 'Collected Poems of Robert Frost'.
Modi arrived in Washington from New York where he led a historic event at the UN headquarters earlier in the day to commemorate the 9th International Day of Yoga, attended by UN officials, diplomats and prominent personalities.
He is on a three-day official State visit to the US at the invitation of President Biden and the first lady.