Read Time:
5 Minute, 16 Second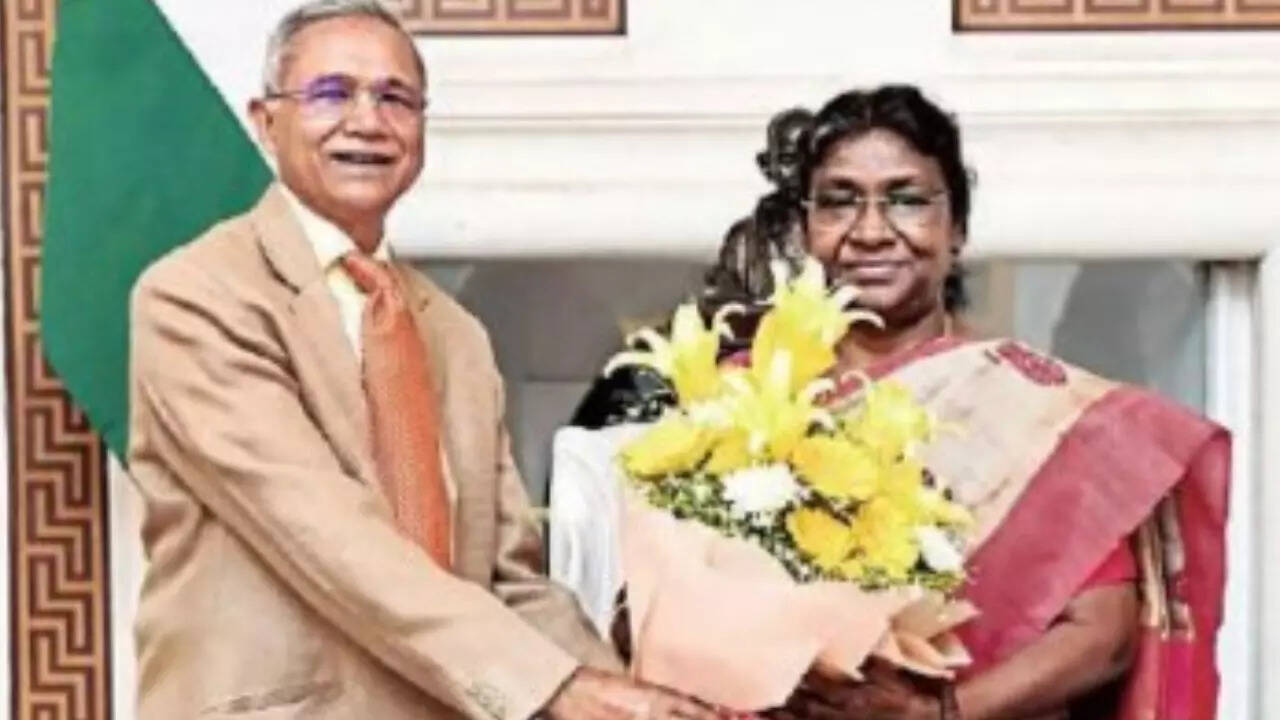 In an interaction with The Times of India's Samir Jain, President Droupadi Murmu said women should take the lead in society and men must also step up and fulfill their responsibility towards this cause.
Discussions during a meeting with the President are typically not made public. However, we are making an exception for this article as the President shared many ideas and a concern for the country and society, which we believe deserve to be widely disseminated.
In a wide-ranging discussion, it was observed that while the prevailing tradition is for women to make sacrifices for men, it is now time for men to make sacrifices that women justifiably deserve. President Murmu underscored the inseparability of
Shiva
and Shakti, and said one is incomplete without the other. She pointed out that though there are references to the separation of Radha and Krishna, and Rama and Sita, Shiva and Shakti are mutually interdependent, rendering Shiva like a 'shav' (powerless and corpse-like) in the absence of Shakti.
The President also emphasised the principle of
equality
, where two equal halves result in a complete whole. Drawing parallels between the human body and the relationship between men and women, President Murmu said the entire body is affected when one part becomes inactive. In the areas of economic progress, social welfare, and tackling climate change too, men and women must walk and battle together as equal partners, she said.
Jain suggested that it was an opportune time to make women part of the President's Bodyguard. He said that having women bodyguards visibly accompanying the President, particularly on important occasions like award ceremonies, would send out a positive message to society and serve as an example of giving equal rights to women.
Welcoming the suggestion, President Murmu said women have been deployed to protect the country's borders on the strength of their talents and abilities. This is also proof, she said, that women are equal in any field.
Discussing the relationship between patriotism and the idea of 'Vasudhaiv Kutumbakam', President Murmu and Jain agreed that patriotism is the first step towards loving the world. The President said the whole world is one family, but patriotism is supreme. She also said one must set aside selfish interest and focus on love for one's nation. Referring to the Rath Yatra of Lord Jagannath, President Murmu said it is believed that God's chariot will not move if selfishness remains its charioteer. But when selfishness is shunned, God's chariot moves. She cited a popular poem by Utkal-Gaurav Madhusudan Das that exhorts everyone to ignite the flame of patriotism in one's heart and douse the feeling of selfishness in its flames. This feeling, President Murmu said, led those who fought in the freedom struggle to give up everything they had for the love of the country.
"Today, as President, I am here at Rashtrapati Bhavan. But it does not belong to me. I will leave this building in good time, but this country is, and will remain mine till I live. It is for this reason that the love for the country should supersede all. There can be limits to your and your family's interests. Beyond it, the feeling of 'nothing is mine, everything is yours', should prevail. The day we give up this selfishness, we will have evolved," President Murmu said.
She also said it is our duty to protect the country and harmony will exist so long as countries remain true to this principle. If, however, someone attacks us, or shows enmity, we are compelled to respond, she said. Murmu added that cooperation is important at the international level and India is playing a leading role by helping countries in need. In this context, she underlined the need to develop the spirit of cooperation and contact between countries.
When the conversation turned to spirituality, Jain commended the President for explaining the idea of harmony between women and men with the example of Shiva and Shakti. To this, President Murmu said that though a subject may be interpreted in multiple ways by different people, its goal remains the same. Different forms of religious and spiritual practices may exist, she said, but their goals coalesce.
The President also emphasised the need for public debate on social evils like dowry, a practice that she said destroys many families and leads to further problems such as child marriages and female foeticide. There should be a campaign in society against dowry and women should be at the forefront of opposing this too, the President said.
For more news update stay with actp news

Android App

Facebook

Twitter

Dailyhunt

Share Chat

Telegram

Koo App