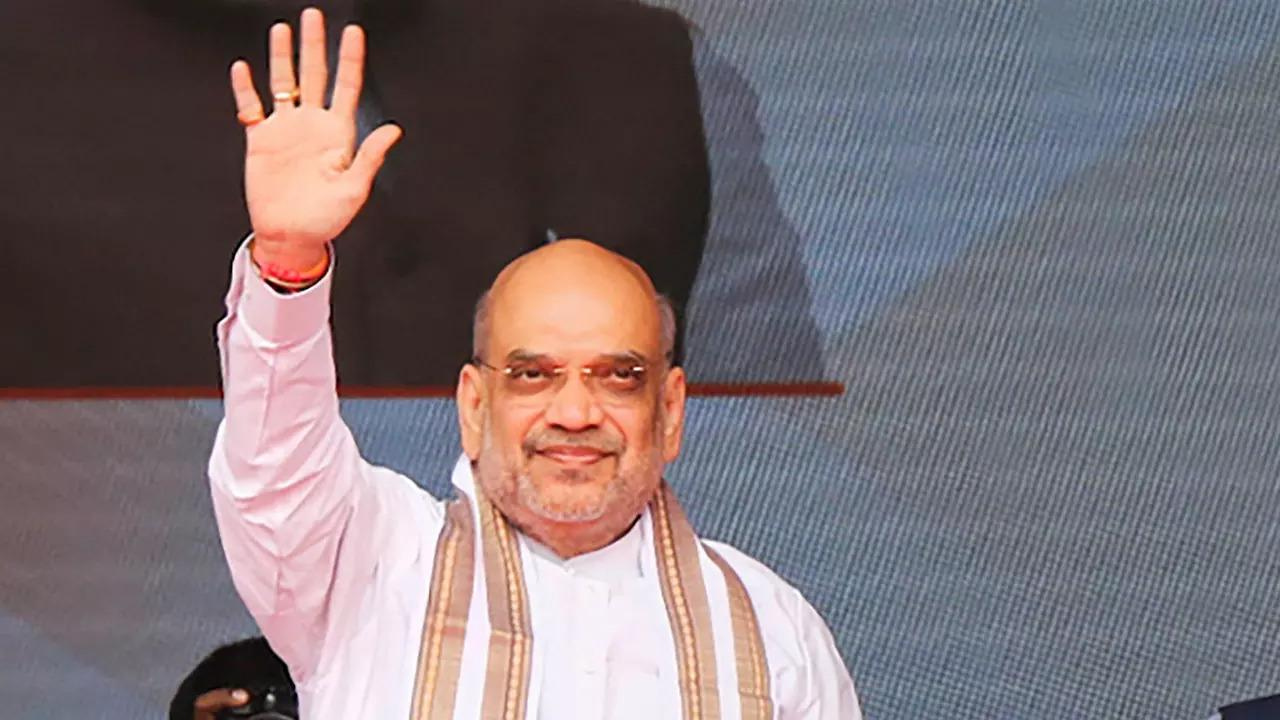 JAMMU/SRINAGAR: Union home minister Amit Shah dubbed Friday's Opposition meet in Patna a "photo-op" that would not stop the Narendra Modi government from storming back to office next year with "300 plus" seats.
"There is a photo session going on in Patna with all opposition leaders assembling on one platform to send the message that they will challenge Narendra Modi," Shah told a rally in Jammu on Friday to mark Jan Sangh founder Syama Prasad Mookerjee's death anniversary.
The digs at the Patna pitch went further. "Jitne bhi haath mila lo, apki ekta sambhav nahi (no matter how many handshakes you exchange, your unity is impossible). Even if they unite, the Narendra Modi government is sure to return with 300 plus seats in the 2024 general elections," Shah predicted.
Not missing an opportunity to lash out at three families — Gandhis, Abdullahs and Muftis, all represented at the Patna meeting — the home minister accused them of "being responsible for the killing of 42,000 people in J&K from 1947 to 2014".
"Who was ruling during this period? Three families — Gandhis, Abdullahs and Muftis," the senior BJP functionary said.
"Madam Mufti and Abdullah Saheb, I want to remind you that during the UPA government's 10-year rule, there had been 7,327 incidents of terror. In our nine-year period, the number has come down to 2,350 only. This means a 70 per cent decrease," Shah said.
'One nation, one Kashmir'
Paying tributes to Mookerjee, the home minister recalled that he was illegally arrested in 1953 for entering J&K without a permit. "Why need a permit for entering one's own country?," Shah asked.
According to Shah, the soul of "Dr Mookerjee will be "resting in peace today as his mission and vision of Ek Vidhan, Ek Nishan and Ek Pradhan (one law, one symbol, one leader) stands fulfilled" through the scrapping of Article 370 nearly four years ago.
Shah pointed out that Mookerjee was among the first to oppose the inclusion of Article 370, contending that "one nation can't have two flags, two Constitutions and two heads." "On August 5, 2019, PM Narendra Modi took a big step, removed Article 370 forever and fulfilled the vision of Dr Mookerjee."
Shah reeled off numbers to make the point that the 47 months since the abrogation of Article 370 have seen only 32 hartal (strike) calls and a 90 per cent decline in stone-pelting incidents.
The theme persisted when Shah later arrived in
Srinagar
where he asserted that the future of the Valley's youth doesn't lie "in guns and stones" and those who handed them these weapons were not their well-wishers.
"Pick up laptops and march ahead. There are huge opportunities in the Indian and global markets. We are waiting for your talent. I urge Kashmiri youths to be part of the change," Shah said at the Raj Bhavan in Srinagar after inaugurating a slew of projects. The home minister is on a two-day visit to J&K.