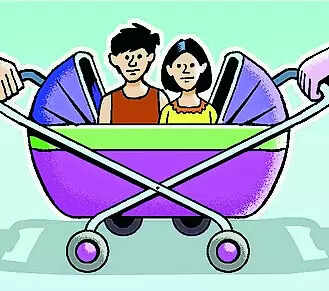 NEW DELHI: Since the new adoption regulations were notified in September last year, data available with the Central Adoption Resource Authority shows a significant rise in the number of orders issued in favour of relatives keen on taking an orphaned child in their family or prospective parents waiting to adopt their step children.
Between October 2022 and August this year, 260 such adoptions have been made. In comparison, from April 2019 to September 2022, only 230 children were adopted in the 'relative/step children' category, according to authority which works under the ministry of women and child development.
Since October last year, of the 260 domestic adoptions, 202 were relative adoptions and 58 were that of step children. This number was 197 and 33 respectively between April 2019 to September 2022. In case of inter-country adoption in these categories, while 48 NOCs were issued between April 2020 to September 2022 (29 months), already 19 NOCs have been issued since September last year.
If one looks at adoption data since April this year a total of 1,736 adoptions have taken place according to CARA data as of Tuesday. Of these 1,557 children were either orphan, found abandoned or surrendered as per law. The remaining include 165 children have been adopted by their relative or step parents in India itself and 14 children were adopted under the inter-country adoptions category.
Of the 34,171 prospective adoptive parents registered with CARA, as of now there are 2,524 PAPS on the list to adopt under the relative and step children category domestically and there are 55 in the inter-country category.
According to officials before the adoption regulations 2022 were notified, following the notification of the amended Juvenile Justice Rules 2022 to implement the provisions of the Juvenile Justice (Amendment) Act 2021, there were a number of pending applications for relative and step children adoption.
"The adoption regulations 2022 sought to bring clarity and streamline the relative/step parent adoption process. The number of such adoptions are being captured in real-time and collated as a separate category on the CARA dashboard. As a result, clearly there has been an increasing trend since last year," an official explained.