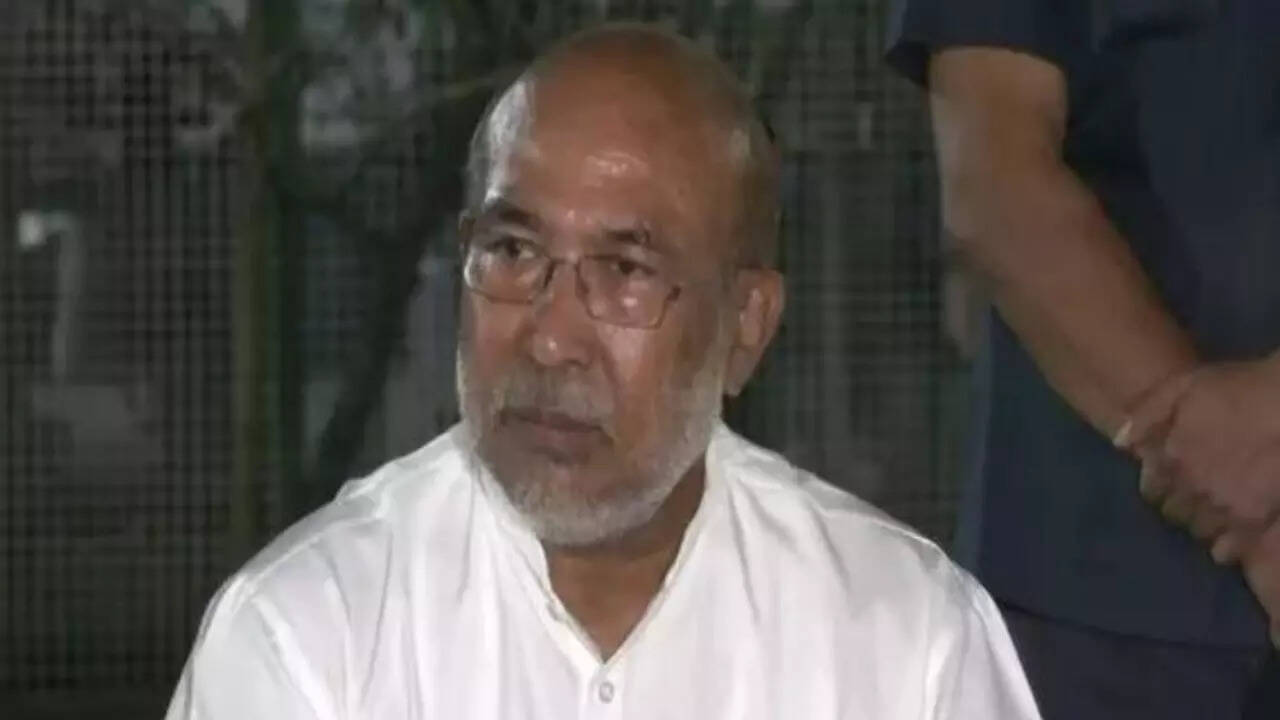 Manipur CM N Biren Singh warned Monday that "these acts (of violence) must stop", seemingly addressing both communities involved in the ethnic conflict that spawned yet another bout of firing and arson late Sunday in which a soldier was wounded and at least five houses burned down near an Army camp in Imphal West.
"…Mainly the SoO (those bound by ceasefire) Kuki militants…stop it; otherwise they will face consequences.I also appeal to the people – Meitei people who are with arms – not to attack anything, and maintain peace so that we can restore normalcy in Manipur," the CM's office quoted him as saying ahead of a security review.
News agency ANI's video of Biren Singh purportedly speaking to reporters, however, doesn't show him mentioning "Kuki militants". In the 1 minute, 48-second clip, he can be heard expressing surprise at how arsonists and gunmen could breach an area in the vicinity of the Army's 57th Mountain Division headquarters.
"I am thinking how the fire broke out in such a high-security area. I will find out how it happened and how such things can be prevented in future," he says in the video, followed by his warning about "the consequences" of such acts and his "appeal" to the "Meitei people".
The soldier was wounded when unidentified gunmen fired at an Army column patrolling the Leimakhong area near the 57th Mountain Division base, hours after arsonists set fire to some houses in the vicinity.
The Army's 3rd Corps tweeted that the patrol team resorted to "controlled retaliatory fire" to ensure there was no collateral damage. An operation against the armed assailants was underway till Monday evening.
Biren Singh appealed to all the people of the state not to cause any trouble for the functioning of education and health sectors. The state government has decided to resume normal classes for students upto Class 8 from Wednesday.
"We won't let school education and the health sector suffer due to this prevailing situation in the state. These two sectors are our priorities. My earnest appeal to all people of state not to disturb education and health sectors."
The CM commisserated with people displaced by the clashes in the state and now housed in relief camps. "I have visited some relief camps, and have seen that people are suffering. The state government is going to construct pre-fabricated houses to accommodate them temporarily till a permanent arrangement is made to shift them to their original places."
Biren Singh said the BJP-led government would build 3,000 to 4,000 pre-fabricated houses in two months. "Materials will reach Imphal in 10-15 days. The government is looking for a place to set up these houses."
The CM sought help from his Mizoram counterpart Zoramthanga, who has brokered peace between the Centre and several insurgent outfits of the region in the past, to help restore peace in his troubled state. The duo had a long telephone conversation Sunday that Biren Singh desribed as "very positive".
More than 120 people have been killed and scores of houses razed in arson since the ethnic conflict erupted on May 3.
A delegation of MLAs and ministers, led by Manipur assembly speaker Th Satyabrata Singh, met defence minister Rajnath Singh in New Delhi Monday and apprised him of the current situation in the state. JD(U) and NPP MLAs were part of the team.