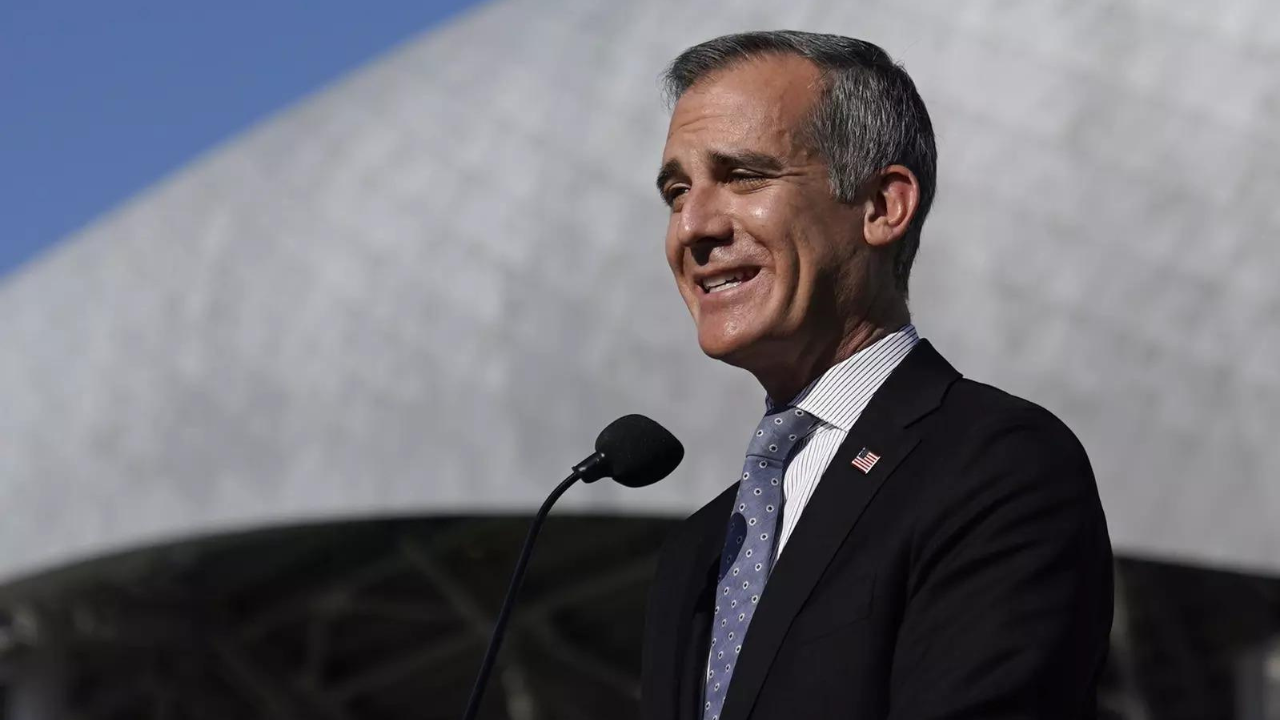 WASHINGTON: Describing the state visit of Prime Minister Narendra Modi to America as a "watershed moment" in bilateral ties, US Ambassador to India Eric Garcetti has said that this week will be one of those moments that can change the course of history as the two democracies get together for peace and prosperity.
In his keynote address to the inaugural INDUS-X conference being organised by the US India Business Council in partnership with the US Department of Defense and India's Department of Defence Production, Garcetti said on Tuesday, "We're just getting in the car together and we're starting this voyage. It's the elevation of something that has been growing".
"Let us take this watershed moment that is a game changer and an ecosystem and bring those two things together. Let us see that tonight. This is what it feels like to live through history. This week is one of those moments that can change the course of history. I know our leaders will deliver that, but they're counting on us to implement that vision together," he said on the eve of the Official State Visit of Prime Minister Modi, who arrives here on Wednesday for talks with President Joe Biden.
Modi is visiting the US from June 21-24 at the invitation of US President Biden and First Lady Jill Biden. He will celebrate the International Day of Yoga at the United Nations Headquarters with the UN leadership and members of the international community.
On June 22, President Biden and First Lady Jill Biden will host Modi at a State Dinner. The visit also includes an address by the prime minister to the joint session of the US Congress on June 22.
"The vision first of two leaders of Prime Minister Modi and President Biden, who when they came together said, if we put our minds together, and not just of two leaders, but of our people, we would be a pretty unstoppable force. An elevation then from our national security advisors who came up with, iCET, the Initiative on Critical Emerging Technologies, from the seabed to space, from the bottom of the ocean to the heavens, where we can see that sort of domain awareness in the oceans," Garcetti said.
"Two democracies, after all, are about our people. 1.75 billion of them are unstoppable, a force for peace, for prosperity, for our planet and for people, "Garcetti said.
He said India and the US can help to work and preserve the planet, bring peace and look all the way up into the air and beyond.
"So, I hope that we find each other and that we build the blocks of this voyage. Things like the roadmap for defence industry cooperation, which will give us that mechanism to move forward, the technology that we're leaning in, in very bold ways that I want to thank this president and I'm proud to be part of an administration that's leaning in with more courage than we've ever seen, not just between the US and India, but I would argue the US and any other country before," said the top American diplomat.
With the launch of iCET dialogue, Garcetti said, he expects to see opportunities for startup companies to participate in government-sponsored joint challenges, to put a problem out there and say you solve it, to find technological solutions to our most pressing problems.
"Expect opportunities for startups to partner with established defence industry leads. I'm so excited in the coming months to work with folks both in India and here to have a mechanism to match and make those startups," he said.
"We might think we know everybody out there, but right now there's a woman in Hyderabad, or there's a man in North Carolina they don't know they're about to meet, but they've got an amazing idea and it's the two of them together that won't just add in a linear way, but an exponential way to the innovation that can bring that greater piece," he said.
"Expect programmes like today's that bring experts and stakeholders and defence industry accelerators together. In the longer term, we're working towards those joint innovation funds that can spark innovation, certificates, and regulations. In fact, we have to be able to find each other more quickly. We have to be able to collaborate more easily," he said.
Garcetti said both India and the US need to be able to navigate their regulation and bureaucratic culture more readily.
"I think if we're harsh critics of ourselves, which we always have to be, there's so much more we can do to take the rhetoric of this moment and actually institutionalise it into the way that we do business from the newest bureaucrat all the way up to the leaders of our two countries," he said.