Read Time:
8 Minute, 9 Second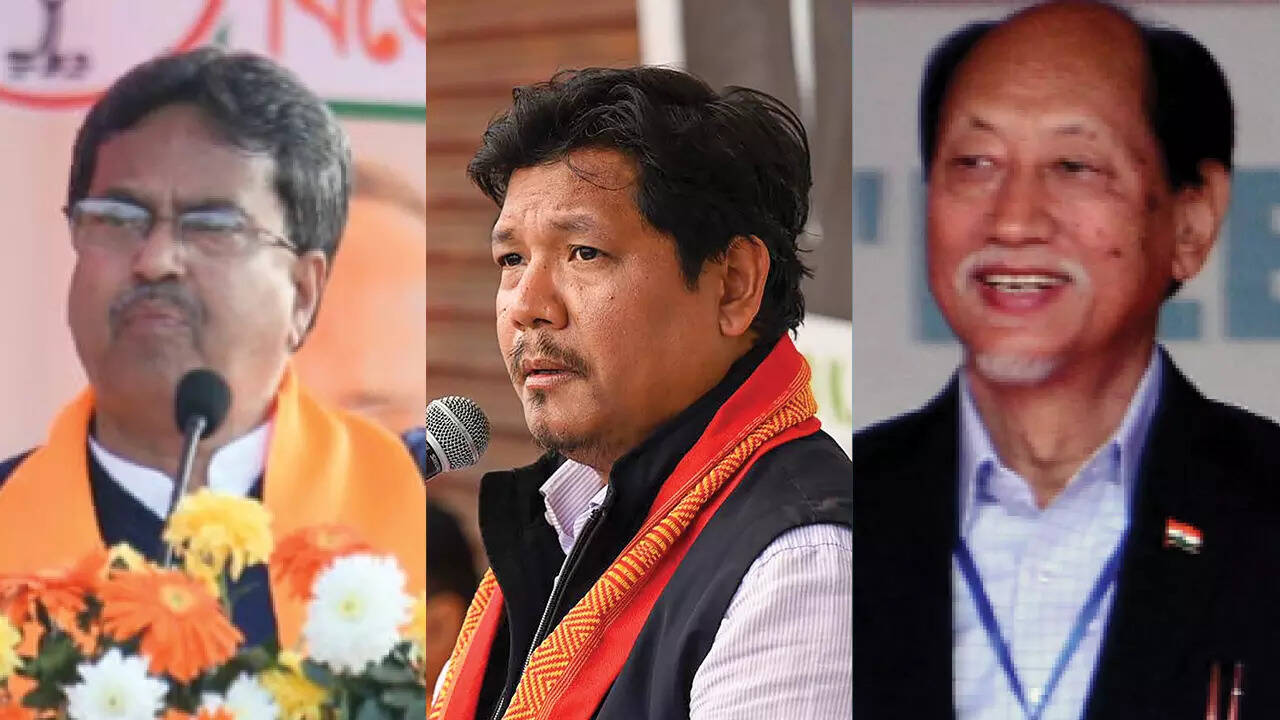 NEW DELHI: After weeks of hectic campaigning, the stage is now set for counting of votes for the assembly elections in three northeast states – Meghalaya, Tripura and Nagaland.
The stakes seem higher for the BJP as results will signal if it has deepened its roots in Tripura, a Left bastion captured by the party in 2018, and made further inroads in Meghalaya and Nagaland, or the opposition has managed to dent its influence.
What the exit polls predicted:
The BJP and allies are set to retain power in Tripura and Nagaland while Meghalaya could see a fractured mandate, various exit polls predicted. Various exit polls gave an edge to Conrad Sangma-led NPP in Meghalaya, which is projected to emerge as the single-largest party.
The BJP and its partner IPFT are expected to win around 32 out of 60 seats in Tripura, which is just above the majority mark of 31, the poll of exit polls shows.
1/19
Exit polls predict BJP win in Tripura and Nagaland, hung assembly in Meghalaya
In Nagaland, the NDPP-BJP alliance is expected to win 42 out of 60 seats while the former ruling party NPF is expected to bag just 6.
The poll of three exit polls shows that NPP is going to win around 20 out of the 59 seats that went to polls in Meghalaya. Meanwhile, the Congress and BJP are expected to bag six seats apiece.
62.8 lakh eligible voters
Around 62.8 lakh eligible voters, with women outnumbering men, hold the key to the northeast electoral contest. The three states with 60-member assemblies each together have 1.76 lakh newly eligible voters in the 18-19 age group and 97,100 voters in the 80-plus category, of whom 2,644 are centenarians.
Tight contest in Tripura
The 2018 assembly polls saw the BIP-led NDA win a comfortable majority, bagging 44 of the 60 seats. BJP won 35 seats on its own, ending CPM-led Left Front's 25-year hold on government. Congress, the main opposition party in the state since the 1970s, failed to win a single seat.
This time, CPM and Congress have formed a pre-poll alliance to counter BJP, which has retained the Indigenous Peoples Front of Tripura (IPFT) as its regional partner.
The NDAs likely to face stiff competition from new entrant Tipra Motha, led by erstwhile Tripura royal Pradyot Bikram Manikya Debbarma, who enjoys considerable support among indigenous Tiprasa people.
Four-cornered fight In Meghalaya
Though Congress emerged as the single largest party with 21 of 60 seats in the 2018 polls, the National People's Party (NPP), which won 20 seats, formed the government after forging post-poll alliances with regional parties and the BJP, denying Congress its near-continuous hold over the state that was formed in 1972.
With no overt pre-poll alliances in place and four major parties — NPP, BJP, Congress and Trinamool — contesting in nearly every seat, the competition is stiff.
Tough time for NPF In Nagaland
In 2018, the Naga People's Front (NPF) emerged as the largest party, winning 26 out of 60 seats, but failed to form the government. Its pre-poll alliance with BJP collapsed before the election and the saffron party, with its 12 seats, instead turned to the newly formed Nationalist Democratic Progressive Party (NDPP), which had won 18 seats, to form the government.
Congress, despite having won several outright majorities in the past, has seen its seat share continuously decline and, in 2018, it failed to win a single seat.
Though NPF has enjoyed several years of dominance since 2003, it is only contesting 22 seats with more than 20 MLAs having quit the party to join NDPP, led by three-time CM Neiphiu Rio. NDPP has renewed its alliance with BJP this year with a 40-20 seat split in favour of the regional party.
For more news update stay with actp news

Android App

Facebook

Twitter

Dailyhunt

Share Chat

Telegram

Koo App