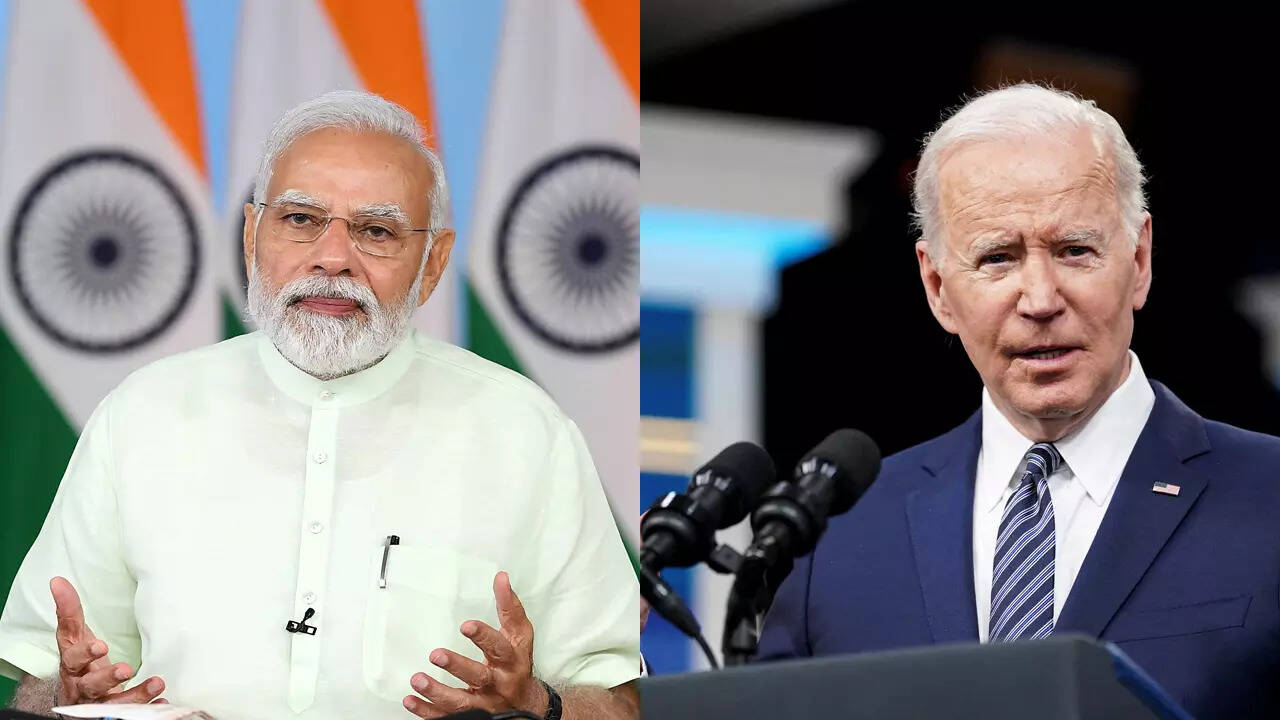 NEW DELHI: The US is expected to ask India to join the trade pillar under the Indo-Pacific Economic Framework for Prosperity (IPEF) during the visit of Prime Minister Narendra Modi, according to trade experts.
Bilateral issues like visas, market access for goods and restoration of India's Generalized System of Preferences (GSP) status by America may also come up for discussions, they said.
Stepping up defence cooperation, India and the US are poised to unveil a roadmap for industries in the sector to partner closely in co-production, co-development, and maintaining supply change during Modi's visit to the US beginning June 21.
Prime Minister Modi, during his first state visit to the US, will also hold discussions with US President Joe Biden on bettering trade and investment relations, besides forging closer ties in the technology domain comprising telecom, space and manufacturing.
The IPEF was launched jointly by the US and other partner countries of the Indo-Pacific region on May 23 in Tokyo.
The framework is structured around four pillars relating to trade, supply chains, clean economy, and fair economy (issues like tax and anti-corruption). India has joined all the pillars except the trade one.
International trade expert and former professor at Jawahal Lal Nehru University Biswajit Dhar said: "The US side would ask India to join the trade pillar as the US is the largest trading partner of India. The US expects wholesome participation of India in the IPEF".
He said that bilateral issues like visa and market access may also figure out in different meetings.
Another expert said that India is seeking the resumption of GSP benefits for a long, as it expects that the duty benefits under this scheme would help India to push its exports further in the US markets.
The 14-nation IPEF block accounts for 40 per cent of the world's GDP and 28 per cent of the world's trade in goods and services. IPEF has 14 members — Australia, Brunei Darussalam, Fiji, India, Indonesia, Japan, Korea, Malaysia, New Zealand, the US, the Philippines, Singapore, Thailand, and Vietnam.
The US has emerged as India's biggest trading partner in 2022-23 on account of increasing economic ties between the two countries.
According to the data of the commerce ministry, the bilateral trade between India and the US has increased by over 7.5 per cent to $128.8 billion in 2022-23 as against $119.5 billion in 2021-22. It was $80.51 billion in 2020-21.
Rakesh Mohan Joshi, Director of the Indian Institute of Plantation Management (IIPM), Bengaluru, too said that India provides huge trade opportunities for the US as India is the world's third-largest consumer market and the fastest growing market economy.