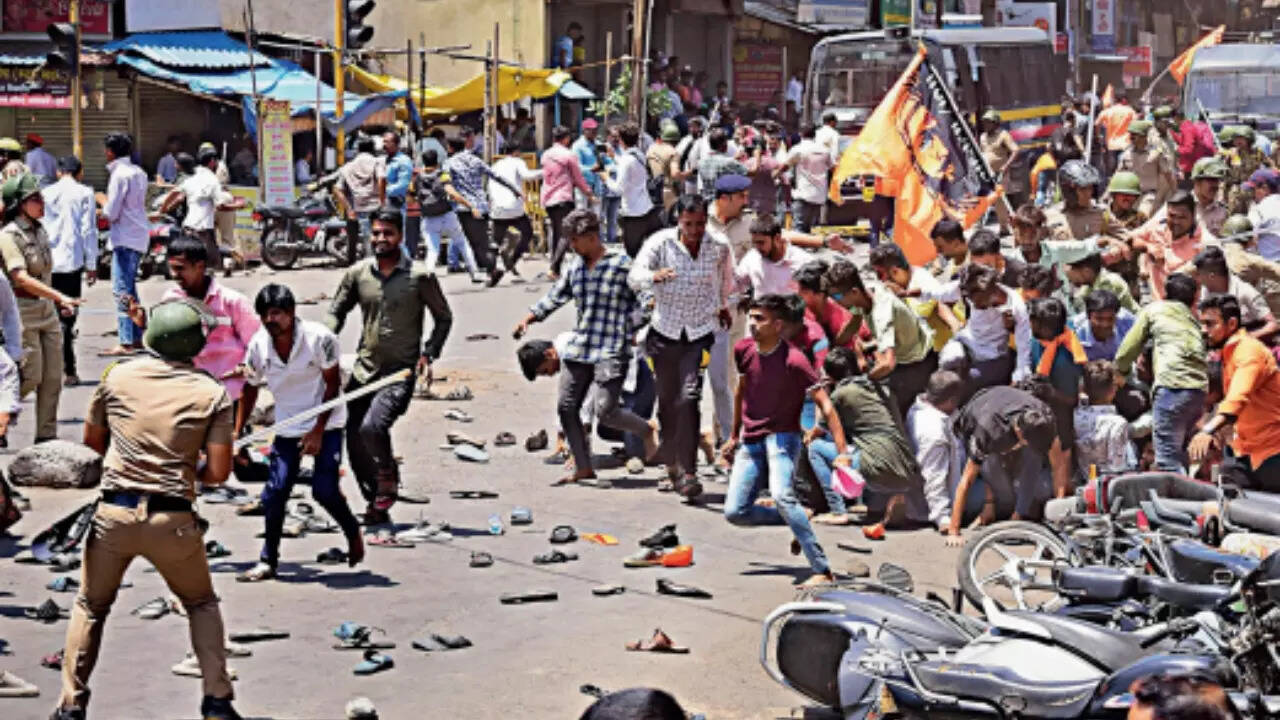 He's Been Dead For Three Centuries, But Judging By Current Discourse The Mughal Is Threat No. 1 For The State's Police And Netas
The pattern is unmistakable. In town after town over the past few months in Maharashtra, social media messages praising Mughal emperor Aurangzeb, and his pictures on WhatsApp and posters, have led to bandh calls or violence. This script has played out in Kolhapur, Ahmednagar, Dhule and Nashik over the past month.
The incidents come in the wake of the Hindu Jan Aakrosh Morcha rallies held in urban centres late last year against 'love jihad' and 'land jihad' on the BJPShiv Sena government's watch. The government's critics say communal discord is being sown to polarise voters ahead of next year's general and assembly polls, but the other side sees a bid to destabilise the government by fanning tension.
In a state known for peace and warm inter-community ties, the situation is raising concerns all around. Former director general of police Satish Mathur said, "It is difficult to believe that a post or status on social media can cause a bandh or violence in Maharashtra, which was never communally disturbed. Even during the worst communal incidents in other parts of the country, Maharashtra largely remained peaceful. It is quite obvious that somebody is deliberately provoking communities to disturb the peace. "
The renaming of Aurangabad as Chhatrapati Sambhajinagar may have been a spark, especially when government leaders pitched it as a move to undo historical wrongs and "wipe out" all mention of Aurangzeb in Maharashtra. Though the plan was in the works under the Uddhav Thackeray-led MVA, the BJP-Shiv Sena government put its seal on it in February. This was followed by the Chhatrapati Sambhaji Maharaj Jayanti celebrations in May. This steady invoking of history's most contentious chapters with the state's patronage and logistical support might have revived old fault lines.
An Old Wound
In the 1680s, after Chhatrapati Shivaji Maharaj's death, Aurangzeb launched yet another campaign to bring the entire Deccan under his sway. It had been his dream since the time he was viceroy of the region for his father, emperor Shahjahan. He even moved his court to Aurangabad against the advice of his generals and began a series of invasions. While Bijapur and Golconda states succumbed quickly, the Marathas held out.
Then in 1689 came the bloodiest chapter of the Mughal-Maratha face-off: Shivaji's son and successor Sambhaji was captured, tortured and put to death brutally. Instead of quelling the rebellious Marathas, the move spread outrage and became the biggest wound in Maratha history – a sore in the community's consciousness.
Aurangzeb died with his dream unfulfilled and was buried at Khuldabad near Aurangabad, the city named after him. Historians say his campaign to conquer the Deccan ended up weakening the Mughal empire.
Not Idolised By Muslims
Shamsuddin Tamboli, president of the Muslim Satyashodhak Mandal, says Aurangzeb has never been a cultural or religious figure for the region's Muslims. "He is not idolised by Muslims. There is a conspiracy to provoke the communities for someone's gain. If there are such strong reactions to messages on Aurangzeb, why are not similar reactions seen when Nathuram Godse is glorified?"
Yet, every post and poster glorifying the Mughal has led to protests, stone-throwing and arson, mainly in minority-inhabited neighbourhoods. Home minister and deputy CM Devendra Fadnavis has blamed "Aurangzeb's auladein (children)" for the unrest and police are prompt in picking up those allegedly responsible for the social-media posts, even if they are minors. But social activists claim they don't show the same zeal against the leaders of little-known right-wing outfits issuing bandh calls, delivering incendiary speeches or using intimidation.
Opposition Plays Safe
The controversy has put the Opposition in a spot. While the NCP – led by Maratha chieftains from western Maharashtra – has been vocal in blaming the government for its inability to maintain peace, it does not defend individuals whose misguided social media actions lead to the orchestration of violent protests. After all, it draws much of its following from the Maratha heartland.
Newly appointed NCP working president Supriya Sule said violent incidents have increased under the BJP-Sena government. "It is a complete failure of the government. Maintaining peace is a part of good governance. Before this government assumed office, there were not so many incidents of violence. "
Hasan Mushrif, NCP MLA from Kagal in Kolhapur, stresses that Chhatrapati Shivaji was a protector of Muslims and they enlisted in his army to take on the Mughals. "Aurangzeb can never be our hero," he said, cautioning coreligionists against "falling prey to divisive agendas". However, the NCP leadership has not taken on Fadnavis or his colleagues.
Uddhav Thackeray faces the same dilemma. Despite being part of the secular MVA coalition, he has not questioned the state's soft response to right-wing protestors.
But the issue resonated in theSupreme Court when it took up contempt proceedings against Maharashtra Police in March for not trying to restrain inflammatory speeches at rallies organised by Hindu outfits. In the SC's words, the state's inability to tackle hate speech showed that it is "impotent", "powerless" and "doesn't act in time".
Outrage Frequency Up
There were at least eight incidents in a week from June 6 (see box), beginning with Ahmednagar – named after the 15th-century founder of the Nizam Shahi dynasty – which the BJP-Shiv Sena government has decided to rename after Ahilyadevi, the 18th-century Holkar queen of Malwa.
A poster eulogising Aurangzeb came up days after the renaming proposal, leading to stone-pelting and a bandh call in the district's Sangamner taluka. The sequence recurred in at least seven more cases across Kolhapur, Beed, Chhatrapati Sambhajinagar, Navi Mumbai and Sangli.
Chief minister Eknath Shinde said those responsible for the social-media posts would be punished, and blamed the situation on political detractors who, he said, were frustrated after the Supreme Court refused to restore the Thackeray-led MVA government. But no word on the stone pelters and arsonists.
Planned Violence
"These incidents are in no way spontaneous. There is a clear plan to create a divide for political gain. It is happening both at the state and national levels," said Congress member and former cabinet minister Balasaheb Thorat.
Social activists, who have toured trouble spots and met people whose properties were attacked, also said the violence appears pre-planned. Megha Pansare, daughter-in-law of slain activist Govind Pansare, said, "When we spoke to the victims of the violence, they said most of the attackers were outsiders, they had no business being in that area when a bandh was called. We have also spoken to the superintendent of police, demanding that he investigate if the stone-pelters were outsiders. "
The fraying of the social fabric despite a minority population of barely 11% – far below the national average – and the fact that it has a record of peaceful intercommunity ties raises disturbing questions.
Tushar Gandhi, great-grandson of Mahatma Gandhi, said, "We talk about the strong social fabric of Maharashtra, but believe me, no fabric is strong enough to withstand the abrasion caused by hate. "
LOSING COOL OVER POSTS & POSTERS
June 6, 2023 |
Bandh against poster eulogising Aurangzeb leads to stone pelting in Sangamner taluka of Ahmednagar
June 7 |
Bandh in Kolhapur against social-media posts eulogising Aurangzeb and Mysore ruler Tipu Sultan turns violent
June 9 |
Bandh in Beed's Ashti town over a 14-year-old boy's social-media message eulogising Aurangzeb
June 10 |
Social-media user booked for suggesting a celebration of Aurangzeb's coronation anniversary in Chhatrapati Sambhajinagar
June 11 |
Navi Mumbai police book 29-year-old man for allegedly using Aurangzeb's image as his profile picture
June 12 |
Bandh called in Kagal town in Kolhapur to protest socialmedia post on Tipu Sultan
June 12 |
Parts of Ahmednagar's Parner taluka observe bandh to protest social-media post by a 22-year-old
June 12 |
Minor from Sangli booked for allegedly using image of Bijapur general Afzal Khan as his display picture on an app