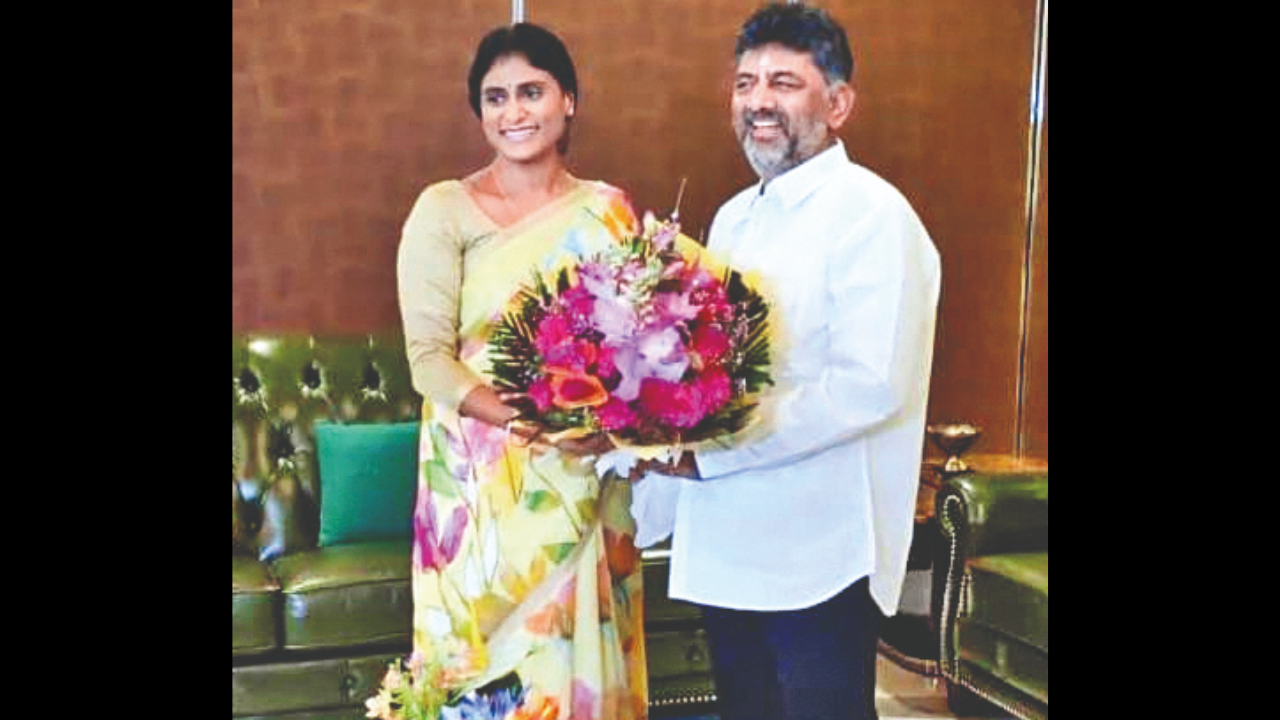 NEW DELHI: Andhra Pradesh chief minister YS Jaganmohan Reddy's sister, YS Sharmila, who started her own party Yuvajana Sramika Rythu Telengana Party (YSRTP) two years ago, is learnt to be in talks with Congress party, for a likely merger that could be coming up soon, given that both Telengana and Andhra Pradesh are headed for assembly polls in less than a year from now.
However, Congress wants Sharmila to focus on Andhra Pradesh, home turf of her late father and former chief minister of united Andhra Pradesh YSR Rajashekhar Reddy, while she runs her party in Telengana and could be reluctant in taking on her brother, according to sources.
YSR stood for united Andhra Pradesh and following the bifurcation of the state into Telengana and Andhra Pradesh in 2014, that sentiment could go against Sharmila in Telengana where she may be seen as a "outsider," as the family hails from Andhra Pradesh, explained a Congress insider.
Also, a resurgent Congress in Telengana, post its big victory in neighbouring Karnataka, the state party leaders may be hesitant to offer Sharmila a role right away. But in Andhra Pradesh, where Congress is much reduced, since YSRCP took away most of the party, it could rebuild the organisation with a part of YSR's legacy, that comes with Sharmila, to fight an incumbent Jagan Mohan Reddy. Political watchers say there could be some clear indications on this issue on YSR's birth anniversary on July 8.
That things are warming up between the two sides was clear from Sharmila's tweet on Monday wishing Congress leader Rahul Gandhi on his birthday. "Wishing Shri @RahulGandhi ji a very happy and a wonderful birthday. May you continue to inspire the people with your perseverance and patience and serve them through your sincere efforts. Wishing you great health, happiness, and success in abundance," she tweeted. This was the first time that a YSR family member had wished the Congress leader, since the bifurcation of Andhra Pradesh in 2014, after the death of YSR and Jagan Mohan Reddy forming his own party YRSCP. On May 29, Sharmila met Congress leader and deputy chief minister of Karnataka D K Shivakumar, at his Bengaluru residence and lauded his role in the Congress victory in Karnataka.
Congress sees potential in Sharmila, according to insiders, as a young, energetic leader, who ran her brother's YSRCP successfully and campaigned for him, when Jagan Mohan Reddy was in jail. On her part, Sharmila is keen for an early alliance, with assembly elections knocking on the doors for both states.
While Sharmila along with her mother, had fallen out with her brother and since started her own YSRTP, in neighbouring Telengana, keeping out of his way, her party has barely made a mark in Telengana's politics, dominated by ruling BRS, main opposition Congress and BJP making some inroads. Hence, Sharmila is looking at returning to her father's party, according to well-placed sources.